EAGAN, Minn. – When onlookers tune in to Sunday's Vikings game against the Ravens in Baltimore, Minnesota will try to extend its streak of opening with a score to seven contests.
They'll also see an offense aiming to avoid dry spells that have proved problematic in losses.
Will it be an offense that opened aggressively against Dallas with early deep shots but didn't attempt a pass 20 yards beyond the line of scrimmage after its first two possessions?
The first deep throw by Kirk Cousins resulted in a 31-yard completion to Tyler Conklin during Minnesota's opening touchdown drive. Another deep toss by Cousins during the possession didn't count because of a penalty on Trevon Diggs. Cousins just missed connecting with Justin Jefferson on a deep ball and likely touchdown (Dallas cornerback Anthony Brown fell down and left Jefferson wide open) on Minnesota's second possession.
Despite the early success, Cousins didn't target anyone 20 yards beyond the line of scrimmage the rest of the game as Minnesota's offensive line struggled in protection.
Vikings Offensive Coordinator Klint Kubiak was asked Thursday about getting the ball down the field more often and said, "It's a group effort, and it all falls on me at the end of the day."
"Probably had some more opportunities to do so, but we didn't hit them," Kubiak said. "And then you [give it to] Dallas. They did a good job playing some shell coverage and taking some things away. But there's always more opportunities to push the ball down the field."
The number of opportunities to take deep shots could be impacted by the frequency with which Baltimore blitzes, but that doesn't mean that big plays can't happen.
The Ravens have allowed 1,200 yards after catches, the most in the NFL. Baltimore has allowed 15 completions of 20-plus yards in its two losses.
"I think they're an aggressive defense, and they're going to play a lot of man coverage, play a lot of defense with a safety in the middle of the field. So there should be opportunities [for yards after catch] there," Kubiak said. "But our guys are always, each and every week we're harping yards after catch, yards after contact. Our assistant coaches do a great job of that. We have to take advantage of those opportunities and protect the football."
Here are all the ways to catch the action, a synopsis of the series history and a key topic addressed this week by Kubiak, Assistant Head Coach/Co-Defensive Coordinator Andre Patterson, Co-Defensive Coordinator Adam Zimmer and Special Teams Coordinator Ryan Ficken.
FOX (KMSP FOX 9 in the Twin Cities)
Field Reporter: Shannon Spake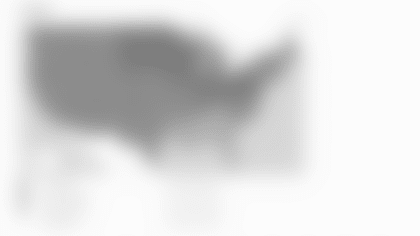 Fans who live in the blue areas shown on the map from 506sports.com will be able to watch the game on their iOS mobile devices with the Vikings app or Vikings mobile site (Safari browser only). The Yahoo! Sports app for smartphones and tablets offers another method for viewing live local and prime-time NFL games.
Radio: KFAN (100.3-FM), KTLK (1130-AM) and the five-state Vikings Radio Network
Radio Pregame Show: Hosted by Mike Mussman (10 a.m.)
Sideline reporters: Greg Coleman and Ben Leber
Play-by-Play: Marc Kestecher
Minnesota: Sirius 119, XM 387, SXM App 820
Baltimore: Sirius 146, XM 228, SXM App 802
Keep the Vikings nearby wherever you go with the Minnesota Vikings mobile app. A source for news and exclusive features, the app also will stream video broadcasts of games for people in the market/broadcast area of each game.
Click here for the full bevy of options that include over-the-air, cable, satellite, over-the-top and streaming methods.
Start your free trial of NFL Game Pass today to re-watch Vikings games on-demand. NFL Game Pass includes condensed games, live game-day audio, NFL programming and much more.
The Vikings are 3-3 all-time and 1-3 in road games against the Ravens.
Kubiak on the development of Wyatt Davis:
"Wyatt is really working his tail off. He's got some guys in front of him, but you know, we feel very confident [that], when called upon, that he'll go in and help us win games. You mentioned development – I think that's key right now … getting him involved in practice reps and getting him better. He's doing all the work, really pleased with where he's at and I know he's got a bright future for the organization."
Patterson on avoiding the allowance of late scoring drives:
"I think it's a couple things. I think one, most importantly, we've got to stop giving up the explosive play. That's the number one thing. The whole thing that flipped it at the end of the [Cowboys] game was the one play on [Bashaud] Breeland that should've been an interception. It wasn't a well-thrown ball, and if Breeland would've gotten his head around instead of tipping the ball, [he would've] intercepted it and the game would've been over. So I think that's number one.
"I think number two, we've gotta get to the point where, instead of trying not to lose the game, as players, we're gonna win the game. I think we've got some guys that are trying not to make a mistake in that situation and try not to be the guy that causes us to lose the game. And that mentality has to flip. It's gotta be 11 guys on the field that believe that they're going to go win the game — 'I'm going to make the play to win the game.' And so that's the kind of thing that we've been driving into players' heads this week."
Zimmer on riding the roller coaster of close games:
"It's what keeps me up at night. I'd like to win a game by three touchdowns, but that's not our style. We just have to keep to the grindstone, we know, and find ways to finish games at the end. That's been a focus for us on defense: put these guys in situations where we find ways to win at the end of games. I remember when we were No. 1 in the league on defense, when we had a lead on the last drive, we wanted that. We weren't standing down to that, and we need to get back to that mindset of 'We're going to go out there and get a stop.' I think if we play with that confidence and play with the technique and with the mindset that we're going to get a stop, then we're going to stop people in those situations. We've got to get back to that, and that's a big emphasis this week for us."
Ficken on Kene Nwangwu's NFL debut, in which touchbacks prevented a kick return:
"Yeah, but it's always good to go through those situations and get lined up and kind of go through the mental process of it, too, and be prepared. And he prepares really well for all those situations, but yeah it was good to see him but I would like to … see him go. I know the guys are excited for him. But when our opportunity presents itself, we'll be ready.''