EAGAN, Minn. – The Vikings (2-5) are hosting the Lions (3-4) at U.S. Bank Stadium for the 118th meeting between the franchises. Kickoff is noon (CT) Sunday.
Here are the ways to watch the action.
CBS (WCCO in the Twin Cities)
Play-by-Play: Kevin Harlan
Field Reporter: Melanie Collins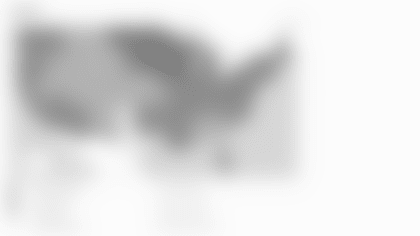 Fans who live in the blue area shown on the map from 506sports.com will be able to watch the game on their iOS mobile devices with the VIKINGS APP or VIKINGS MOBILE SITE (Safari browser only).
KFAN 100.3-FM and KTLK 1130-AM
Sideline Reporters: Greg Coleman & Ben Leber
Pregame Show: 10 a.m. (CT) with Mike Mussman
KFAN and KTLK are the flagship stations for the five-state Vikings Radio Network.
Detroit: Sirius 81 and XM 226
Minnesota: Sirius 83 and XM 225
Click here for the full bevy of options that include over-the-air, cable, satellite, over-the-top and streaming methods.
VIKINGS PREGAME ALL-ACCESS
Vikings Pregame All-Access, a new program presented by U.S. Bank, will be streamed live at 11 a.m. (CT) to Vikings.com, the Vikings mobile app, the Vikings Now Connected TV app, Twitter, Facebook, and YouTube. Vikings Pregame All-Access will deliver exclusive, behind-the-scenes content that was previously only available in the stadium, including full coverage of Vikings warm-ups, live shots from the Vikings locker room and analysis in the hour leading up to kickoff.
Tune-in after each Vikings game on the team's digital and social platforms to watch Vikings Postgame Live presented by Mystic Lake. The show will feature expert analysis, highlights, Next Gen Stats and postgame sound from Head Coach Mike Zimmer.
COORDINATORS ON THE OFFENSE, DEFENSE & SPECIAL TEAMS
Below are takeaways from Thursday's media sessions with Offensive Coordinator Gary Kubiak, Co-Defensive Coordinators Andre Patterson and Adam Zimmer, and Special Teams Coordinator Marwan Maalouf.
Kubiak on facing tough defensive fronts weekly:
There's no doubt about it, the Vikings have had a tough schedule for the first half of the 2020 season. And it seems that no matter who Minnesota faces, there's a ton of talent on the opposing defensive front.
This weekend will be no different. The Vikings are preparing for a familiar face in Everson Griffen, who signed with the Cowboys as a free agent for the 2020 campaign but will make his debut for the Lions after being traded to Detroit.
"It seems like when you go to preparation meetings every week and you go through a roster of their defense … I think it was Atlanta [who had like] nine or 10 guys who were first-round picks," Kubiak said. "But I just think it's the way rosters are built nowadays, through those early rounds. You can't miss on those players and those guys play a long time. It is funny it seems that way."
Kubiak noted Lions linebacker Jamie Collins, whom he coached against when Collins was in New England.
"I went against him in some big, big games and boy he's a fine, fine player, and the guys inside that they have accumulated, so that's just kind of part of our league. Everybody's got good players and good football coaches that prepare their guys, and I think that's why you see so many close football games."
Patterson on preparing for Adrian Peterson:
The Vikings are preparing for a reunion on Sunday with not only Griffen but also running back Adrian Peterson, who played for Minnesota from 2007-16.
Sunday will mark the third time that Peterson leaves the visitors' locker room at U.S. Bank Stadium after appearing there with New Orleans in 2017 and Washington last season. At 35, Peterson may be "old" in running back years, but Patterson isn't counting out the former Viking.
"He's big, he's strong, he's physical. He's got all the qualities that a great running back has," Patterson said. "It's a little bit different – when Adrian was here, we couldn't touch him. When he took the ball, he was going to run for a touchdown every time. We couldn't even tag on off him. A couple years back when he was with [Washington], we got a chance to tackle him in a game, and we're going to have our hands full. We're going to need everybody to rally to the ball and wrap him up because he has the ability to run through tackles, and he has great vision, and he's still a great player. We're going to have to play well to be able to contain him."
Zimmer on Kendricks' campaign thus far
Is it possible that Vikings linebacker Eric Kendricks has taken yet another step forward after last year's All-Pro campaign?
It certainly seems that way.
"He's been tremendous. I think he's playing even better than he did last year. He might not have the same PBU statistics as last year – he just got a few more opportunities [last season]," Zimmer said. "They don't throw his way very often because he's great in coverage."
He pointed out Kendricks following Packers receiver stride-for-stride down the seam on a play in Green Bay.
"That would just a small sample size of what he does in coverage," Zimmer said. "He is really instinctive, he anticipates routes, he's seen a lot of football now, so he can anticipate things before they happen. He studies extremely hard. I think he's playing as good as he ever has, better than he ever has – he's up there leading the league in tackles.
"It seemed like he made every tackle in the first half last game, just because he anticipated so many plays, and he was able to flow. The defensive line did a great job keeping guys off of him," Zimmer continued. "I think he's playing like the best 'Mike' linebacker in the NFL right now, to be honest."
Maalouf on specialists adjusting to the elements:
The Vikings have the luxury of being back inside U.S. Bank Stadium this weekend, but the following week they'll head to Chicago for their second outdoor contest in three weeks.
After last Sunday's blustery day at Green Bay, Maalouf was asked about the specialists adapting to the elements. He explained that, particularly when it comes to the kicker, communication between player and coach is crucial – both prior to kickoff and throughout the game.
"We do that every game, even if we're inside. We talk about what our parameters are going to be, and then it changes. It changes in-games," Maalouf said. "Last year, a good example of it was when we played the Chargers [in Los Angeles]. Our fans packed that whole place, but that was probably the second-worst wind that I've ever seen.
"When it's windy the way it was in Green Bay, you have to adapt," Maalouf continued. "You try to get as many kicks in pregame, and then at halftime too, because depending on what the forecast is going to be and if the wind's going to die down in the second half – which it didn't, there. It stayed pretty consistent. So you really have to talk and communicate through the entire process and make sure both the offensive and defensive coaches know where their guys are going to be. Not only do we have to pay attention to us, but what's their distance? What are they doing? I think that had a big factor, as well."