EAGAN, Minn. – The Vikings (5-6) are hosting the Jaguars (1-10) at U.S. Bank Stadium for just the seventh overall meeting between the franchises. Kickoff is noon (CT) Sunday.
Here are the ways to watch the action.
CBS (WCCO in the Twin Cities)
Play-by-Play: Beth Mowins
Note: Mowins will become the first female to deliver play-by-play of a Vikings game for a TV network. We caught up with Mowins this week to get her thoughts on the game and discuss her career progression.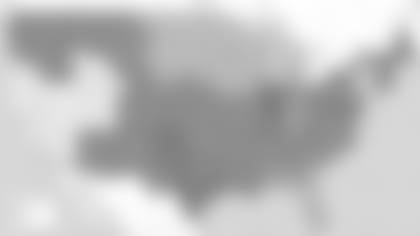 Fans who live in the orange areas shown on the map from 506sports.com will be able to watch the game on their iOS mobile devices with the VIKINGS APP or VIKINGS MOBILE SITE (Safari browser only).
KFAN 100.3-FM and KTLK 1130-AM
Sideline Reporters: Greg Coleman & Ben Leber
Pregame Show: 10 a.m. (CT) with Mike Mussman
KFAN and KTLK are the flagship stations for the five-state Vikings Radio Network.
Jacksonville: Sirius 138 and XM 381
Minnesota: Sirius 81 and XM 226
Click here for the full bevy of options that include over-the-air, cable, satellite, over-the-top and streaming methods.
VIKINGS PREGAME ALL-ACCESS
Vikings Pregame All-Access, a new program presented by U.S. Bank, will be streamed live at 11 a.m. (CT) to Vikings.com, the Vikings mobile app, the Vikings Now Connected TV app, Twitter, Facebook, and YouTube. Vikings Pregame All-Access will deliver exclusive, behind-the-scenes content that was previously only available in the stadium, including full coverage of Vikings warm-ups, live shots from the Vikings locker room and analysis in the hour leading up to kickoff.
Tune-in after each Vikings game on the team's digital and social platforms to watch Vikings Postgame Live presented by Mystic Lake. The show will feature expert analysis, highlights, Next Gen Stats and postgame sound from Head Coach Mike Zimmer.
COORDINATORS ON THE OFFENSE, DEFENSE & SPECIAL TEAMS
Below are takeaways from Thursday's media sessions with Offensive Coordinator Gary Kubiak, Co-Defensive Coordinators Andre Patterson and Adam Zimmer, and Special Teams Coordinator Marwan Maalouf.
Kubiak on Cook's continued success:
Dalvin Cook has been rolling for the Vikings.
Through 12 games, the fourth-year running back has 219 carries for 1,130 yards and a league-leading 13 rushing touchdowns.
Kubiak said that Cook's success can be credited to a "combination of things."
"All those great ones that I've been around, kind of the more they touch [the football] over the course of the game, they get going and they're eventually going to make something happen," Kubiak said, "because they just keep banging away and they understand schematics and those types of things. We are 12 weeks into this thing, and obviously Dalvin is a huge part of this football team.
"It's just been fun for me to be around him," Kubiak added. "I've been fortunate to be around some really good ones along the way. It's fun for me to watch this guy work and get ready to play. He's special."
Patterson on defensive students of the game:
During their session with media members, Patterson and Zimmer spoke about the way that Eric Kendricks and Shamar Stephen study the game and are able to diagnose and anticipate offensive plays.
"They're looking at it from our eyes as coaches," Patterson said.
He explained that the Vikings coaches look to bring in players with those types of qualities.
"[When] we meet with them at the [NFL Scouting Combine], or they come in here for the Top 30 [visits], we really try to drill them on, 'OK, explain to me your defense. Draw up your defense, show me how you play,' " Patterson said. "So if it's a defensive lineman – if all he can do is draw one circle and where he lines up and what he does, then I know what I'm dealing with, OK? If he lines up the whole defense or can tell me what the whole front does, then I know that's a guy that puts in the time and effort to study the game. Those are the guys that I get excited about."
Zimmer on young CBs tackling:
Minnesota's defense has relied all season on young cornerbacks, including 2020 draft picks Jeff Gladney and Cameron Dantzler.
Zimmer emphasized the importance of cornerbacks being efficient tacklers in the run game, especially when opposing offenses are "really trying to get the ball to the perimeter."
"We are stout inside against the run with Shamar [Stephen] and Eric [Kendricks] and Eric [Wilson]. They do a great job with the interior run, and teams have started to try and hit us to the outside," Zimmer explained. "Jeff and Cam, really, have done a nice job of perimeter run support for us, and then especially since Jeff is playing so much nickel, he's really involved in the run front a lot of the time. For him to go in there and not shy away and have a lot of courage in there to stick his nose in there and make tackles is huge for us. It helps in every way.
"If you're going to play nickel in this league, you're going to have to tackle, and that's been a really strong point of his game since he's been here," Zimmer added.
Maalouf on Vikings long snapper situation:
Minnesota earlier this week waived long snapper Austin Cutting. The second-year specialist had been inactive for the Vikings past two games, and veteran long snapper Andrew DePaola had been elevated from the practice squad for game days.
Maalouf was asked about the decision to release Cutting.
"The field goal snaps, I think you guys see it on the field as well, they weren't to the standard of what he did last year, and I think he struggled a bit with that," Maalouf said. "I think he's done a good job for us since he's been here, but we've got to make sure that the timing and rhythm of our field goal operation is on point, and I don't think it was, so we had to make a change."
He also addressed the addition of DePaola and his smooth transition working with punter Britton Colquitt and kicker Dan Bailey.
Maalouf said he had "known of" DePaola for a long time, although the two didn't officially cross paths before Minnesota.
"I've known what a great pro [Andrew] is. He's done it in NFL games. He's done a really good job," Maalouf said. "He's actually a very good leader in that group, as well. He's blended in right away. It's been a seamless transition."