EAGAN, Minn. – Vikings and Browns coaches have done their best this week to downplay personal ties between the coaching staffs of both teams.
It's understandable, given the magnitude of every game in an NFL season, even one that expanded this year to a 17th regular-season game. They also can readily point to connections on other teams across the NFL.
Patrick Peterson already went through his "return game" back in Week 2 at Arizona. He's also now experienced playing at U.S. Bank Stadium for the home team. Much like broadcast coverage that week, I'd expect reunions to be part of the storyline for this week's CBS crew.
The focus for coaches and players is taking care of business, and the Vikings (1-2) hope that means a faster start than Week 3, even though Minnesota rallied for a 30-17 win against Seattle, as well as avoiding lulls that undermined the team in narrow road losses in Weeks 1 and 2.
The Vikings appreciated the return of fans as U.S. Bank Stadium hosted its first regular-season game in more than 630 days, but it also meant taking a deep breath amidst the hype and the defense honing its pre-snap communication as the crowd roared.
"We just have to find a way to come into the game a little more settled, not playing on the edge, starting off the game on the edge," Peterson said. "You want to be as relaxed as possible … to help get yourself through downs."
Vikings Co-Defensive Coordinator Adam Zimmer said it was "a completely different atmosphere, for sure."
"We had to do a great job of communicating because the fans were really loud; we had to communicate the calls, signal the calls all across the board," Zimmer said. "I thought Nick [Vigil] and Eric [Kendricks] did a great job of organizing that for us throughout the game and we're going to have to continue to do that these next couple weeks."
Here are all the ways to catch the action, a synopsis of the series history and a key topic addressed this week by Vikings Offensive Coordinator Klint Kubiak, Assistant Head Coach/Co-Defensive Coordinator Andre Patterson, Zimmer and Special Teams Coordinator Ryan Ficken.
CBS (WCCO in the Twin Cities)
Play-by-Play: Kevin Harlan
Field Reporter: Melanie Collins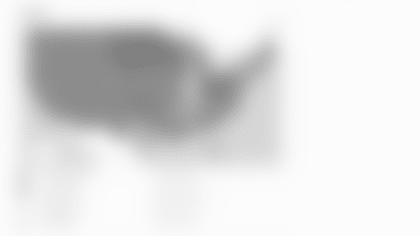 Fans who live in the blue areas shown on the map from 506sports.com will be able to watch the game on their iOS mobile devices with the Vikings app or Vikings mobile site (Safari browser only). The Yahoo! Sports app for smartphones and tablets offers another method for viewing live local and prime-time NFL games.
Radio: KFAN (100.3-FM), KTLK (1130-AM) and the five-state Vikings Radio Network
Radio Pregame Show: Hosted by Mike Mussman (10 a.m.)
Sideline reporters: Greg Coleman and Ben Leber
Cleveland: Sirius 148, XM 389, SXM App 807
Minnesota: Sirius 106, XM 231, SXM App 820
Keep the Vikings nearby wherever you go with the Minnesota Vikings mobile app. A source for news and exclusive features, the app also will stream video broadcasts of games for people in the market/broadcast area of each game.
Click here for the full bevy of options that include over-the-air, cable, satellite, over-the-top and streaming methods.
Start your free trial of NFL Game Pass today to re-watch Vikings games on-demand. NFL Game Pass includes condensed games, live game-day audio, NFL programming and much more.
The Vikings are 12-4 all time and 7-2 in home games against the Browns (includes a victory in the 1969 NFL Championship). Minnesota went 4-0 at Metropolitan Stadium thanks in part to the "Miracle at the Met" in 1980. The Vikings were 4-2 against the Browns in the Metrodome. This is Cleveland's first game at U.S. Bank Stadium.
Kubiak on Rashod Hill getting a vet day Wednesday and Darrisaw practicing fully for the first time since undergoing a surgical procedure:
"Right now is about focusing on today; [offensive line coach Phil] Rauscher is getting Rashod ready and, in spurts, giving [Darrisaw] his repetitions. Not just trying to throw it at him all at once. He had zero practice, so he's got a lot of catching up to do. He's doing a heck of a job with everything he can control."
Patterson on trying to rotate the defensive line group when Seattle was preventing substitutions:
"We put that [nickel rush] group on the field for first and second downs so we wouldn't be stuck [without them on third down]. We did that for about two series … I said, 'Forget that, I'm getting my big boys out there. I don't care what [Seattle does].' That's what we did. You've just got to trust with your gut your plan and why you've gotten certain guys out there for certain reasons. That's why you have them out there. The second quarter, I think it was, we went two series with our nickel group playing base downs, and then we went back at the end of that quarter to our regular group going out there.
Zimmer on facing Baker Mayfield, the third QB who is a former No. 1 overall pick the Vikings will face in their four games:
"Over the last three weeks we've had to deal with mobile quarterbacks. I think Baker does a good job of once he makes a read and his read isn't there, he gets out of the pocket and tries to create. Hopefully we can get some pressure in his face and make him make some bad decisions and force him to make some throws that we'll end up with."
Ficken on Greg Joseph bouncing back to make all of his kicks (three field goals and three extra points):
"I thought it was great. But I expect that out of him. I wasn't surprised by any means because I know how talented he is, so he came back, and it was great to see him rebound, and I expect that to happen all the time. But I wasn't surprised by any means, though. It was good to see."