This is Allen's third year of eligibility and third year as a finalist. He will be considered by the Hall of Fame's Selection Committee during a virtual meeting. The Class of 2023 will be unveiled to the public on Feb. 9 during NFL Honors.
Instead of the Metrodome that Allen sent into a tizzy (2011), the University of Minnesota where Adam Thielen recorded his first touchdown catch (2014) or U.S. Bank Stadium (2016-19; 2021), the teams will meet in Chicago for the first noon (CT) kickoff at Soldier Field since 2015.
Justin Jefferson came within 17 yards last season of the record once held by Randy Moss (1,632 in 2004). Jefferson eclipsed that mark and enters Sunday's game leading the NFL in receptions (124), yards (1,771), yards per game (110.7) and 14.0 yards per touch (catch or run).
Here are all the ways to catch the action, a synopsis of the series history and a key topic addressed this week by Vikings Offensive Coordinator Wes Phillips, Defensive Coordinator Ed Donatell and Special Teams Coordinator Matt Daniels.
FOX (KMSP in the Twin Cities)
Kickoff: Noon (CT) Sunday
Play-by-Play: Kenny Albert
Sideline reporter: Shannon Spake
Fans in the blue areas on the map below from 506sports.com will be able to watch the game over the air or on their iOS mobile devices with the Vikings app or Vikings mobile site (Safari browser only).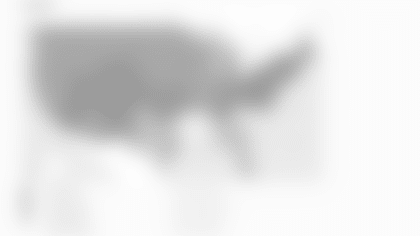 Radio: KFAN (100.3-FM), KTLK (1130-AM) and the five-state Vikings Radio Network
Radio Pregame Show: Hosted by Mike Mussman (10 a.m.)
Sideline reporter: Ben Leber
New this year: People in Minnesota are able to listen to the Vikings Radio Network broadcast through the iHeartRadio app on their smart devices.
New for the 2022 season, the Vikings will air a Spanish broadcast of all games.
You can hear the Vikings on Tico Sports at WREY "El Rey" 94.9-FM and 630-AM in the Twin Cities and on Tico-Sports.com, elrey949fm.com and vikings.com. Additionally, the stream will be available as part of NFL+.
Play-by-Play: Gabriel Rios
Analyst: Isaias Nunez Zendejas
Minnesota: SiriusXM 113 or 383 and the SXM App
Chicago: SiriusXM 83 or 229 and the SXM App
Keep the Vikings nearby wherever you go with the Minnesota Vikings mobile app. A source for news and exclusive features, the app also will stream video broadcasts of games for people in the market/broadcast area of each game.
Click here for the full bevy of options that include over-the-air, cable, satellite, over-the-top and streaming methods.
NFL+ and NFL+ Premium provide all the action when you are on the go. It is available in the NFL app and at NFL.com/plus.
NFL+ is available for $4.99/month or $39.99/year and offers the following:
· Live out-of-market preseason games across devices
· Live local and prime-time regular-season and postseason games on your phone or tablet
· Live game audio (home, away & national calls) for every game of the season
· NFL library programming on-demand, ad-free
NFL+ Premium is available for $9.99/month or $79.99/year and offers all of the NFL+ features and the following:
· Full-game replays across devices (ad-free)
· Condensed game replays across devices (ad-free)
Minnesota is 64-57-2 all-time in 123 games (includes 0-1 in NFC Playoff games) against Chicago.
The Vikings have won four of the past five games, including at Soldier Field in 2020 and 2021.
Phillips on being mindful of field conditions, proper equipment and 'small margins for error':
"We definitely have to take field conditions into account, and we have to be professional about whatever the environment [is] we're playing in. The margin for error in this league is small, and I imagine you're talking about guys slipping [in Green Bay], and it was noticeable that it happened with us; it didn't happen with them. It was something that was addressed, but guys have to understand that the margin for error is so small that it can't be, 'Ugh, I'll get it next time.' You don't know how many times you're gonna have that play to change a game or to continue a drive, and we've gotta be professional about it and have to make sure, whether it's technique at times – you cut off the wrong foot on any surface, you're gonna fall down – but it was noticeable and it has been addressed prior to the game and postgame. We've gotta be better there."
Donatell on rotating in younger players on defense:
"We're just looking for little things in how they can help us in a playoff run. It was two-fold, as I had mentioned before: It takes a little bit of the reps off our veteran players and also develop[s] [the younger players]. There's all kinds of little things that we're learning.
"To me, it's really easy because all we do is adjust on defense," Donatell later added. "We treat it like a guy went down or something of that sort and know that there's a positive lining in it that, no matter what, you're building for growth and you're building depth when you play other people. I just listen to whatever the [directions] are for that time and adjust. And see it with a positive spirit."
Daniels on Damar Hamlin's cardiac arrest, progress and personal impact:
"It's been very triggering for me because my father actually went into cardiac arrest right before he was about to get double lung transplant surgery, so when I saw that take place, it was just a very triggering moment for me. It's been weighing heavy on my heart. Just seeing some of the great news that just came out on him being awake and alert and no neurological damage is a miracle in itself. I can't say how much I've been praying for him and his family. And everything that they're going through, I have – I can't say 'I can only imagine,' because I can imagine what that's like. So to see the progress he's had and that he's moving in the right direction is a true blessing, as we continue to keep him and his family in our prayers. I ask that you all do the same. But man, what a blessing that is."