EAGAN, Minn. – The Vikings defense (5-5) might encounter its toughest pre-snap challenges of 2021 on Sunday when they visit the 49ers (5-5).
During the open part of Minnesota's Wednesday practice, Vikings linebackers went through the motions. As many pre-snap looks and movements as they could get to in preparation for San Francisco's attack that begins before hiking the football.
Rather that refining techniques for dropping into coverage and catching passes, a large amount of time was spent on the mental preparation.
"It's more about getting lined up in the right spot for each formation they do or the personnel group and any of those things," Vikings Co-Defensive Coordinator Adam Zimmer said. "It's making sure everybody is on the right spot and knows what play we can anticipate and, 'If they go a certain way, we have to react a certain way.' It's pretty much making guys feel comfortable with where they're going to be before the snap."
The Vikings have seen similar concepts with Cleveland and Green Bay — and Minnesota's offense used pre-snap movement effectively last week against the Packers — but this version is turbo charged with extra shots of espresso added by five-time Pro Bowl fullback Kyle Juszczyk and 2019 First-Team All-Pro tight end George Kittle. Their abilities add substantive threats once a team gets past the window dressing.
"They're both really good players. They both do a lot of — one of the things that's showing up in the NFL now is, usually a tight end will motion across the formation now, he's kind of being a rocket guy so that they can get angles on defenders, so they're doing a lot with both those two guys," Head Coach Mike Zimmer said. "The fullback and Kittle both, they line them up as wide receivers, they line them up all over the place. I think they're the number-one motion team, motion/movement team in the NFL."
Assistant Head Coach/Co-Defensive Coordinator Andre Patterson said there's a little less for defensive linemen to work through, but eye discipline and reading keys will be important.
"You line up with the guy that you're in front of, use your keys, and that's the guy you've gotta go beat," Patterson said. "With the linebackers and the secondary, it makes a difference with those guys. So what you try to do is put them in position where they understand by coverages.
"Each coverage dictates how we handle a motion or a rocket or a flash, or whatever you want to call it," Patterson said. "And then we put them in positions where they understand, 'OK, with this kind of motion, this is our adjustment.' 'With this kind of a rocket, this is our adjustment.' So we try to do a great job throughout the course of the week to put them in those positions that they have their eyes in the proper place."
Here are all the ways to catch the action, a synopsis of the series history and a key topic addressed this week by Offensive Coordinator Klint Kubiak, Patterson, Adam Zimmer and Special Teams Coordinator Ryan Ficken.
TV: FOX (KMSP FOX 9 in the Twin Cities)
Play-by-Play: Kenny Albert
Field Reporter: Sara Walsh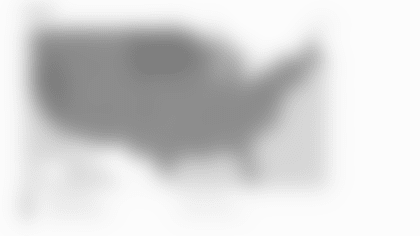 Fans who live in the blue areas shown on the map from 506sports.com will be able to watch the game on their iOS mobile devices with the Vikings app or Vikings mobile site (Safari browser only). The Yahoo! Sports app for smartphones and tablets offers another method for viewing live local and prime-time NFL games.
Radio: KFAN (100.3-FM), KTLK (1130-AM) and the five-state Vikings Radio Network
Radio Pregame Show: Hosted by Mike Mussman (1 p.m.)
Sideline reporters: Greg Coleman and Ben Leber
Play-by-Play: Ted Robinson
Minnesota: Sirius 158, XM 382, SXM App 820
San Francisco: Sirius 83, XM 225, SXM App 827
Keep the Vikings nearby wherever you go with the Minnesota Vikings mobile app. A source for news and exclusive features, the app also will stream video broadcasts of games for people in the market/broadcast area of each game.
Click here for the full bevy of options that include over-the-air, cable, satellite, over-the-top and streaming methods.
Start your free trial of NFL Game Pass today to re-watch Vikings games on-demand. NFL Game Pass includes condensed games, live game-day audio, NFL programming and much more.
The Vikings are 23-24-1 all-time (including 1-5 in playoff contests) in 48 games against the 49ers.
Kubiak on the weekly meetings that Kirk Cousins and Mike Zimmer have credited for helping this year:
"Yeah, I think their relationship has grown through those meetings. And anytime Kirk or Sean [Mannion] or any of our quarterbacks or players can spend any time watching film with the coach and learning more about defensive football, it's only going to benefit them and I know that's been the case with Kirk this year."
Patterson on San Francisco's success in the red zone (ranked No. 1 — 77.8 percent) and with goal-to-go (No. 2 at 83.3 percent) situations:
"Well, they're really good running the football. So it's a lot like when we played Cleveland. There's a lot of motions, shifts, rockets they run, and a wide variety of different types of running plays. There's no way we can practice them all through the course of the week. Their running backs run hard and physical. Their receivers do a great job of blocking. So they're committed, and they know what they're doing. I think that's the thing that makes them different. There's been games where they run the ball 12, 13 balls in a row on a drive. So if they get it going, they're going to stick with their running game, and I think they do a tremendous job of it."
Zimmer on Anthony Barr's role against the run:
"He's extremely important. He's physical against the run. There were a couple of times in this last game where he went in there and was aggressive and got the back down and limited the gain when there might have been a seam. … He grades really high in the run defense for me."
Ficken on specialists working outside to prepare for remaining outdoor venues despite most of Minnesota's practices moving inside because of weather:
"This week, we took our period of practice on Wednesday and Thursday and went outside. We got our work in outside with the elements, the wind and kicking on grass and being able to see that ball travel a distance. We did that on Wednesday and Thursday, so our guys have a good mindset with that and the way they approach it. It's important. We've got a couple more outdoor games, and we'll get to that as the season progresses."
Note: the forecast for Sunday afternoon is 72 degrees Fahrenheit with minimal wind, so the practices the past two days might be more comparable for conditions at Chicago (Dec. 20) and at Green Bay (Jan. 2, 2022).