EAGAN, Minn. – The Vikings are opening a season — their 60th — at home against the Packers for the first time in franchise history.
The start of Minnesota's 60th season will be historic and unprecedented because no fans will be in attendance at U.S. Bank Stadium.
A large swath of the country (shown in the map below) will receive the broadcast by FOX at noon (CT).
VIKINGS PREGAME ALL-ACCESS
Vikings Pregame All-Access, a new program presented by U.S. Bank will be streamed live at 11 a.m. (CT) to Vikings.com, the Vikings mobile app, the Vikings Now Connected TV app, Twitter, Facebook, and YouTube. Vikings Pregame All-Access will deliver exclusive, behind-the-scenes content that was previously only available in the stadium, including full coverage of Vikings warm-ups, live shots from the Vikings locker room and analysis in the hour leading up to kickoff.
Here are all the ways to catch the action, followed by a roundup from Vikings coordinators' Thursday sessions with media members.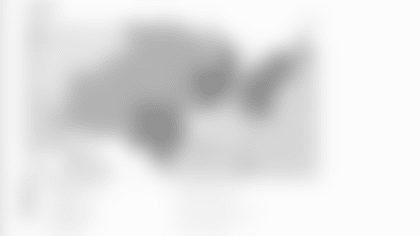 FOX (KMSP FOX 9 in the Twin Cities)
Play-by-Play: Chris Myers
Sideline Reporter: Jen Hale
Fans who live in the green area shown on the map from 506sports.com will be able to watch the game on their iOS mobile devices with the VIKINGS APP or VIKINGS MOBILE SITE (Safari browser only).
Play-by-Play: Sean Kelley
KFAN 100.3-FM and KTLK 1130-AM
Sideline Reporters: Greg Coleman & Ben Leber
Pregame Show: 10 a.m. (CT)
KFAN and KTLK are the flagship stations for the five-state Vikings Radio Network.
Green Bay: Sirius 111 and XM 382
Minnesota: Sirius 83 and XM 225
Click here for the full bevy of options that include over-the-air, cable, satellite, over-the-top and streaming methods.
Tune-in after each Vikings game on the team's digital and social platforms to watch Vikings Postgame Live presented by Mystic Lake. The show will feature expert analysis, highlights, Next Gen Stats and postgame sound from Head Coach Mike Zimmer.
COORDINATORS ON THE OFFENSE, DEFENSE & SPECIAL TEAMS
Kubiak explains connection with LaFleur
Sunday will be the first time Gary Kubiak faces Green Bay as Minnesota's offensive coordinator, but he's plenty familiar with Packers Head Coach Matt LeFleur.
LeFleur got his first NFL coaching gig from Kubiak, who hired him as an offensive assistant with the Texans in 2008.
"Matt is a very bright young man. Really studies the game, very good with people, relates to people very well. I think he's done a great job there with Aaron [Rodgers] and their football team," Kubiak said. "He understands his strengths as an offensive football mind and those types of things. He's got a veteran defensive guy (Defensive Coordinator Mike Pettine) with him, which I think is very important. But Matt is just a good, young football coach."
LeFleur may be a product of the Kubiak coaching tree, but sometimes the teacher learns from the student.
"I learned a long time ago how smart these young coaches are," Kubiak said. "As an older coach, you've got to sit there every day and listen to them because they've got great ideas. They're seeing things different than maybe you've seen them the last 20 or 30 years. So I'm watching Matt's film all the time, I'm watching Kyle [Shanahan's] film, Robert Saleh.
"We all kind of grew up somehow, some way and have many people who influenced us," Kubiak added. "It's kind of fun to watch these guys being very successful, and they're good people as well."
Patterson on challenge Rodgers presents
There's no denying that the Vikings will face one of the NFL's top quarterbacks in Rodgers Sunday.
Co-Defensive Coordinator Andre Patterson was asked how Rodgers' ability to improvise stresses an opponent's secondary.
"When he's able to get out of the pocket, that's when bad things happen," Patterson said. "When he gets out of the pocket, having the ability to extend plays, he has the ability to make unbelievable throws down the field. You try to do the best job you can, as a defense, to keep him in the pocket for that reason. The biggest thing is, that's a team effort in order to get that done, and that's always been our approach when we play him."
Zimmer on addition of Eden Prairie native Ryan Connelly
The Vikings on Sunday claimed linebacker Ryan Connelly off waivers when he was released by the Giants.
The Eden Prairie native arrived in Minnesota this week and got to work with Co-Defensive Coordinator Adam Zimmer, who maintained his role as linebackers coach in addition to assuming co-defensive coordinator duties.
"I've really enjoyed working with Ryan so far. He's really conscientious," Zimmer said. "He picks things up quickly. He was actually in here for our Top 30 (official visits) that draft weekend, so I know him a little bit. And obviously being from here helps.
"I think he's a really athletic kid that has a good long-speed," Zimmer added. "He's really instinctive and can read plays quickly. I watched his film with the Giants last year. He made a lot of plays with his instincts and awareness. I think he's a good addition for us, and I'm happy we were able to go get him."
Maalouf on returnees and options at returner
On the spectrum of experience, the Vikings special teams unit has both ends pretty well covered.
A major benefit for Minnesota is the return of all three specialists from last season. Kicker Dan Bailey, punter Britton Colquitt and long snapper Austin Cutting worked together as a well-oiled machine in 2019, which makes all the difference heading into a 2020 without any preseason games.
But the Vikings also will be relying on some rookies and fresh faces to make contributions on special teams.
Vikings Special Teams Coordinator Marwan Maalouf explained his anticipation for how everything comes together for the young group Sunday.
Maalouf specified that he's looking for the guys to "play fast" and to see their style and approach to the game.
"Everybody's got to carve out their own special kind of style, and this is going to be the first chance that we're going to see, everybody is going to see how that guy translates everything to a game-day atmosphere," Maalouf said. "That's probably the most exciting thing for me, as far as being a coach goes, and hopefully our fans, too. Hopefully they can start picking out their favorites like they always do and cheer for those guys.
Maalouf was asked about fifth-round draft pick K.J. Osborn. Although the former Miami receiver/returner is listed as the punt and kickoff returner on Minnesota's unofficial depth chart that the team released earlier this week, Maalouf noted that it's "going to depend on the situation."
"We've got a great group of guys who have done it before, which is always nice to have," Maalouf said. "You think about the situation we were in last year, we were still looking for that guy, so the good thing about K.J. is he's had some veterans, even at practice, he can kind of watch and emulate, and I think that's really helped him since we haven't had those game reps yet.
"With that being said, if he gets the opportunity, I know that he's ready, and we've been putting a lot of pressure on him in practices and making sure that there are guys in his face if he's going to be out there catching a punt, or even if he's going to be out there catching a kickoff," Maalouf added. "The good thing is we've got some guys who have done it before in games that we feel really comfortable with."
Ameer Abdullah (kickoff) and Chad Beebe (punt) have both served as returners for Minnesota. Abdullah, who averaged 25 yards per return in 2019, also plays gunner for the Vikings punt coverage teams.