EAGAN, Minn. — The Vikings (4-2) will close out their NFC North road slate by visiting the Lions in Detroit (2-2-1) at noon (CT) Sunday.
According to 506sports.com, the FOX broadcast will air in a wide swath of the country.
The 116th meeting between the teams will air throughout Minnesota, Iowa, Missouri, North Dakota, South Dakota, Wisconsin, Michigan, Illinois and Utah, as well as in most of Montana, Wyoming, Colorado, Nebraska, Indiana, Ohio, Kentucky, Tennessee, North Carolina and West Virginia.
A broad band of central-to-southwest Florida, eastern Kansas, eastern Nevada, western parts of New York, Pennsylvania and Maryland, and portions of Virginia, South Carolina, Mississippi, Arkansas, Oklahoma and Idaho also will get the game.
A blackout in the Cincinnati market will affect parts of Ohio, Indiana and Kentucky.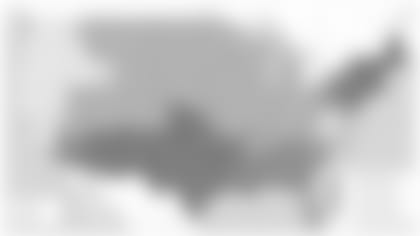 Here's the broadcast information:
FOX (KMSP in Minneapolis/St. Paul)
Play-by-Play: Brandon Gaudin
Sideline Reporter: Shannon Spake
KFAN 100.3-FM/KTLK 1130-AM in Minneapolis/St. Paul
Sideline Reporters: Greg Coleman & Ben Leber
Radio Pre-game Show: Mike Mussman | 10 a.m. (CT)
KFAN and KTLK serve as the flagship stations for the five-state Vikings Radio Network.
Sirius: MIN 127 or Streaming 819; DET 119 or Streaming 819
XM: MIN Streaming 819; DET 230 or Streaming 810
Click here for the full bevy of options that include over-the-air, cable, satellite, over-the-top and streaming methods.