EAGAN, Minn. – The Vikings (0-3) and the Texans (0-3) are scheduled to meet for just the fifth time at noon (CT) Sunday.
Here are the ways to watch the action as each team seeks its first victory of 2020.
FOX (KMSP FOX 9 in the Twin Cities)
Play-by-Play: Chris Myers
Field Reporter: Brock Huard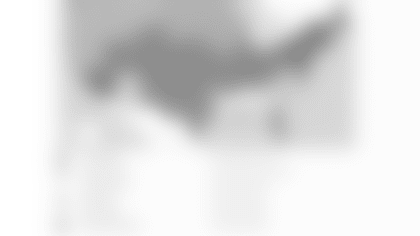 Fans who live in the green area shown on the map from 506sports.com will be able to watch the game on their iOS mobile devices with the VIKINGS APP or VIKINGS MOBILE SITE (Safari browser only).
KFAN 100.3-FM and KTLK 1130-AM
Sideline Reporters: Greg Coleman & Ben Leber
Pregame Show: 10 a.m. (CT) with Mike Mussman
KFAN and KTLK are the flagship stations for the five-state Vikings Radio Network.
Minnesota: Sirius 82 and XM 383
Houston: Sirius 133 and XM 227
Click here for the full bevy of options that include over-the-air, cable, satellite, over-the-top and streaming methods.
Tune-in after each Vikings game on the team's digital and social platforms to watch Vikings Postgame Live presented by Mystic Lake. The show will feature expert analysis, highlights, Next Gen Stats and postgame sound from Head Coach Mike Zimmer.
COORDINATORS ON THE OFFENSE, DEFENSE & SPECIAL TEAMS
Below are takeaways from Thursday's media sessions with Offensive Coordinator Gary Kubiak, Co-Defensive Coordinators Andre Patterson and Adam Zimmer, and Special Teams Coordinator Marwan Maalouf.
Kubiak on Jefferson's progression
Justin Jefferson had a historic performance in his third NFL game and first start, putting up 175 yards receiving (including a 71-yard touchdown) against the Titans on Sunday.
What makes Kubiak most happy is the way Jefferson's come along – amid the COVID-19 pandemic – since being drafted 22nd overall in April.
"I think the thing I'm most impressed with is his progress, watching him go through training camp, after this different offseason, what was expected of him," Kubiak said. "We got, I think, 30-plus plays out of him on opening day, another 30-something in Indianapolis, and now he goes and plays 50-plus and plays the way he played.
"I just think the progress he's made as a young player, a very bright future, and I'm just looking forward to him continuing to make plays," Kubiak added. "The progress, the quick progress, the job that [receivers coach Andrew Janocko has] done with him has been very good."
Patterson on Ngakoue's skill set
The Vikings now have seen Yannick Ngakoue in three games for Minnesota, and the defensive end is establishing himself within the defense and showing why the Vikings pursued him via trade.
"He's got a unique feel for getting the ball out of the quarterback's hand," Patterson said of Ngkaoue, who has recorded a sack, tackle for loss and forced fumble in each of the past two games.
"I don't know if I've ever been around a guy like that that has such a unique feel when he gets close to the quarterback to find a way to get the ball," Patterson continued. "I mean, he's had two sacks and hasn't put the quarterback on the ground yet, which is kind of unique."
Patterson noted that Ngakoue is becoming more comfortable every day with Minnesota's defensive system and with the things Patterson is working on "to help improve his game."
"I just think he's going to continue to grow, and I'm happy he's with us," Patterson said.
Zimmer on safeties' responsibilities
Following the Vikings game against the Titans on Sunday, Vikings Head Coach Mike Zimmer commented on a couple of chunk plays by Tennessee in which the safeties could have responded differently.
Adam Zimmer was asked on Thursday's call about how safeties read an underneath route versus a deep one.
"Playing safety in this league isn't an easy job," he emphasized. "There's a lot to look at, you want to have them help support the run, you have to have them support the corners on post routes or over routes, so there's a lot of things they have to look at. We're trying to hone in on the things we do good not only with the safeties but with our young corners – what we can do well to keep from giving up the big plays that we've given up these first few weeks.
"Trying to make things simple for them where they can just go and play fast because that's what Harrison [Smith] and Anthony [Harris] do well – they play fast, they react to what they see," Zimmer continued. "But we've got to hone in on the details of how we're doing things and make sure that we're sound and not giving up the home runs that we've been giving up. If we make a team drive the field, we feel like we can get off the field, number one, or hold them to a field goal once they get into scoring range, which we've done a really good job of in the red zone. It's not easy to play safety in this league but those two are two of the best. We're just going to clean up some details with them and hopefully we show improvement every week like we have so far from Week 1 to now."
Maalouf on kickoff return duties
After rookie K.J. Osborn handled kickoff return duties for Minnesota in Weeks 1 and 2, Ameer Abdullah filled the role against the Titans when Osborn was inactive.
Maalouf explained that the inactives list is the head coach's decision.
"But Ameer is a seasoned guy. He's done a good job with it, especially in the past, last year, like I said I think before, we finished sixth in the NFL in kickoff return drive starts," Maalouf said. "He makes good decisions and is a very efficient and effective runner, which we love."
Maalouf did say that he's seen improvement in Osborn's game through his first couple of opportunities.
"He's a young rookie, and he's getting better every week. He's really good, as far as the decision-making goes. I love how hard he runs," Maalouf said. "Whoever is up is going to play between those two. It's just a matter of what decision Coach [Zimmer] goes with toward the end of the week and how healthy your team is and some of the other factors that contribute to it."