Mark Mullaney and Dennis Ryan were both rookies to the Vikings locker room in 1975.
Mullaney, 22 years old and the Vikings first-round draft pick, initially was skeptical of Ryan, a sophomore in high school hired on part-time as an assistant for Vikings equipment manager Jim "Stubby" Eason.
"I just remember them bringing in Dennis Ryan, this young teenage boy with acne, and wondering, 'Who's this guy?' " recalled Mullaney. "But I quickly came to realize how hard a worker he was … a young man of strong character, hard work ethic, and I think he impressed all of the veteran players right away."
Little did Mullaney know, that skinny high school kid would help extend his football career – and possibly save the future careers of many others – nine years later.
In the first half of the Vikings-Falcons game on Sept. 23, 1984, Mullaney was poked in the right eye by Atlanta tackle Eric Sanders.
"It was described by the doctor as 'up to the second knuckle,' " Ryan said of the force of the injury.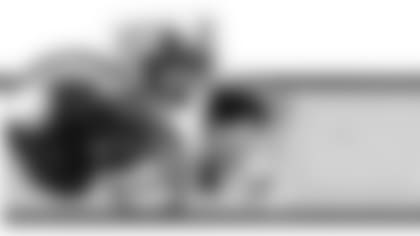 Mullaney suffered a blowout fracture of the orbit, the bony structure in which the eye sits. According to the later description of Dr. Donald Doughman, Chief of Opthamology at the University of Minnesota Hospital, the injury "was equivalent to your body getting hit by a truck."
Blood ran down Mullaney's cheek as he was helped from the field, but Vikings trainer Fred Zamberletti was unable to find a source of the bleeding.
"[Vikings Head Coach] Les Steckel wanted to put me back in the game, and Fred was holding me out," Mullaney recalled.
An ophthalmologist who happened to be attending the game asked for an escort down to the field after seeing the collision and resulting injury.
"The blood was pouring out of my tear duct," Mullaney said. "[The doctor told them], 'You get him to the hospital. His retina is bleeding. If you put him back in the game, he'll never see again.' "
Mullaney was hospitalized and declared legally blind by what most considered to be a career-ending injury. He wasn't ready to hang up his cleats, however.
Despite compromised vision, the defensive end searched for a way to protect his eye and return to the field. He first attempted goggles similar to the ones worn by Rams running back Eric Dickerson, but Mullaney found the goggles didn't fit right beneath his helmet, especially when making tackles.
"When I tried those, they would come down and break my nose," Mullaney said. "It was just too uncomfortable; I couldn't play with them."
But after suffering such a traumatic injury, Mullaney feared playing without protection. Instead, he asked Ryan about an exterior shield or comparable option.
While brainstorming for an alternative solution, Mullaney proposed a concept similar to the shield of a motorcycle helmet.
Ryan went to a Harley-Davidson shop to see if the shield of a motorcycle helmet would be transferrable to a football helmet. Although he soon realized the shapes and angles of the helmets weren't similar enough, he wasn't ready to give up on the idea. Ryan contacted hospitals to see about having a piece of plastic molded and was eventu
ally put in touch with a company that was able to help mold and create the protective shield.
"That was all Dennis – he did all the research and development of the mask," Mullaney said. "But that's the kind of guy he was. He went way out of the realm of his job description or call of duty."
On Oct. 14, Mullaney returned to his starting position at defensive end after missing only three games. While the Vikings narrowly lost the contest 23-20, Mullaney had one of his better performances of the season, recording seven tackles and a sack of Raiders quarterback Marc Wilson.
According to Mullaney, viewing the field from beneath the protective shield gave him "great confidence" in returning to the sport he loved.
Throughout the process, Ryan was encouraged to bring the invention to a patent attorney, but he emphasized that it wasn't his goal or focus at the time.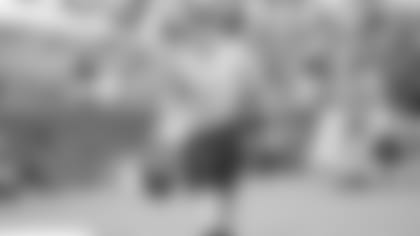 "It was more important to get Mark back on the field," Ryan said. "And we did."
Ryan's approach was fitting then for anyone who knew him, and it's a mindset he still carries today.
In nearly 40 years as the Vikings equipment manager, very few players have come to know the background and story of the protective shield that so many players wear today. And if someone does find out, it's never from the mouth of Ryan himself.
"I think other people in the organization might share it," Ryan said. "If someone sees me putting one on a facemask, they might kiddingly say, 'You know, that's the guy that invented it.'
Added Ryan after a pause: "Usually they don't really believe it, but if they get pressed on it, then I kind of have to tell them the story."
Thirty-three years after Ryan designed the shield, Brian Robison never plays a game without one. The Vikings defensive end, who was just a year old when Mullaney returned to the field against the Raiders, has worn the eye shield throughout high school, college and 10 seasons in Purple.
When asked about the piece of protective equipment, Robison was surprised to hear the inventor is a man he has weekly – if not daily – interactions with.
"That's really cool – I didn't know that," Robison said. "Growing up wearing contacts and things like that, I always wanted to protect my eyes. And then even now, with me having the brightness issues that I have with my eyes and things like that, I have a tinted visor. So it's pretty cool that Dennis had a hand in that."
Former Vikings tight end Jim Kleinsasser also was caught off guard when told about Ryan's invention several years ago.
"It's one of those things where you go, 'Oh? Oh. OK.' " Kleinsasser said with a laugh. "You're like, 'Should I believe this, or not?' "
But he added that it only further illustrates Ryan's character for which he's so respected.
"You know, it's just that old-school mentality," Kleinsasser said. "Through his eyes, he's just doing his job.
"Of course he would never want anything focused on him," Kleinsasser added. "But rightfully so, it is."
In the office of Mullaney's son-in-law, the first tinted shield attached to his original helmet sits on a shelf.
The dinged-up, purple helmet, given to Mullaney by Ryan upon his retirement following the 1987 season, serves as a memento of the impact Ryan made on Mullaney's career and beyond.
"How many eyes that Dennis has saved – not only football but in hockey or other places where they've started to use that shield to protect their eyes," Mullaney said. "And just how many injuries like mine have never occurred because of what he invented and brought to the NFL. He's been a huge blessing to many people."