In the six-week break that he had after mini-camp ended in June and training camp started in July, Harrison Smith went to Iceland for just three days.
The Vikings safety hired a tour guide for the quick trip and had a full schedule each day he was in the country of fewer than 350,000 people, which is a smaller population than the city of Minneapolis.
"In and out … I saw everything I wanted to see in three days. It was cool," Smith said. "I just felt like going, honestly. I thought it'd be a peaceful vacation."
Smith's favorite spot was the Gljúfrabúi waterfall. The name aptly translates to Canyon Dweller because it is obscured by walls of a huge cliff and oft unknown by thousands of visitors who arrive by the busload to walk around Seljalandsfoss less than one-half mile away.
But you're not alone if you didn't know Smith went abroad, as the 29-year-old posted just one simple photo of himself on social media next to the aforementioned waterfall.
It was the perfect getaway for the low-key All-Pro.
"I like to enjoy things in the moment and be present," Smith said. "I like to show people where I went and stuff like that and tell them it's a great spot to go, but I feel like sometimes when you're trying to capture things to show other people, you're kind of cheapening the moment for yourself.
"It's nice to look back and remember some pictures, but I like to enjoy where I'm at," Smith added.
Smith's attitude toward keeping a low profile on vacation also applies to his mindset on the football field.
He is simply more content with putting in a solid day's work on Sunday and then slipping out of the locker room unnoticed while his teammates get the praise for another stout defensive performance.
On the field, it seems No. 22 simply makes the play, looks to the sideline for the next call and gets ready to line up and do it again.
"I've always kind of been that way, just because, realistically, I'll get too tired if I'm celebrating all the time," Smith said with a laugh. "And I know there's more games to be played. It's fun to celebrate when teammates make plays and get people going and some of that stuff, but if that's what you're spending the majority of the time on, it's going to be hard to give everything you have in between the whistle.
"If I make a big play, then I'm like, 'Cool, we've got the next play.' If it's a third down and we get off the field, then you can maybe have a little more fun," Smith added. "But first down and second down, it's like, 'Whatever, let's focus on the next play.' "
Added Vikings defensive backs coach Jerry Gray: "I think he internalizes a bunch of stuff. He understands it, and he absorbs it. He doesn't talk a lot, but he talks when he needs to. He's a guy where it's like, 'I'm a good football player, and I don't have to tell you I'm good.' He just goes out there and does his job.'"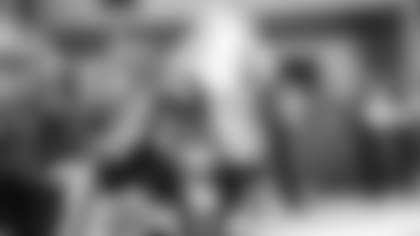 The 2012 first-round pick has made plenty of those big plays in his career in Purple.
Smith ranks 10th in franchise history with 20 career interceptions. But he has returned four of them for touchdowns, which puts him atop the list for Vikings defensive players.
Smith has been at it again in 2018, as he ranks second on the Vikings with 89 total tackles (team stats) and has eight pass breakups, nine tackles for loss, two fumble recoveries and a forced fumble.
Vikings Head Coach Mike Zimmer has been with Smith since the start of the 2014 season.
Zimmer recently explained why he's able to use Smith all over the field rather than having him just patrol the secondary as a regular safety would do.
"He's a very instinctive player. I'm able to put him in positions where I can talk to him during the week," Zimmer said. "A couple weeks ago, I said, 'I want you to do this.' And he said, 'Well, that's usually where [fellow safety] Anthony [Harris] lines up.' I said, 'Not anymore, you're going to line up there.'
"He went in there and did it a couple times and made some good plays," Zimmer added. "The guy is just really smart and disguises extremely well. He makes it tough for the quarterback."
Gray noted how there are safeties who excel in pass defense, while some are in a different class when stopping the run and others get home to the quarterback on a regular basis.
Smith may not be the best player in the league at a specific category, but add up his complete body of work, and there might not be a better player at his position across the league.
"I think there's a lot of guys that do different things, but he's just a really good football player all-around," Gray said. "He can get the ball out of the air, he can make tackles, be close to the line of scrimmage and he can be in the middle of the field.
"He's the standard that way of being an all-around player. A lot of guys can't do that because they don't have the range or the ball skills or the smarts," Gray said. "They are good football players, but he's a guy that can separate himself. He's set a standard … young guys are looking up at the level he plays."
That consistent, yet unflashy, level of play recently earned Smith his fourth consecutive Pro Bowl honor. He is the only safety in the NFL to be named to four straight Pro Bowls in recent years.
Smith said he's honored to represent the team each year and that the annual all-star game is a byproduct of his hard work and performance.
But he also added that his relationship with being recognized in the spotlight is a Catch-22 of sorts.
"I always liked to make plays, and I always liked being a playmaker. The spotlight comes from making plays," Smith said. "I don't, like, hate the spotlight.
"I don't mind it, I just don't need to overly celebrate it, I guess. I want to be in the spotlight; if I'm not, it means I'm not making plays," Smith added. "I'm not necessarily going to be [self-promotional]. But I do like to make big plays. Naturally, that attention happens or comes with being in the NFL. I'm fine with that."
Now in his seventh season with the Vikings, Smith has racked up a handful of Pro Bowl appearances to go along with a 2017 First-Team All-Pro honor in which he was a near-unanimous selection.
If the safety can keep up his trademark consistency and high level of play, Smith might just find himself in the Pro Football Hall of Fame in Canton, Ohio in a dozen years or so.
Gray said he believes it could happen if Smith racks up a few more yearly awards that would help elevate his national profile.
Smith naturally wanted no part of that topic, saying he doesn't look at the big picture of his career and that he instead is focused on helping the Vikings win today and earn their third trip to the playoffs in four seasons by defeating Chicago on Sunday.
"That's not really for me to determine," Smith said. "I can control what I can control, and that's like so next level that I don't even think about that.
"I feel like, as a current player, it's probably disrespectful to compare myself to guys that are in there and they've done it. They helped build the game to what it is now," Smith added. "That's not even on my radar."