The expression on Harrison Smith's face said it all.
As he emerged from the cockpit of a retro silver plane with the red nose that was built well before Smith was even born, the Vikings Pro Bowl safety was beaming with exhilaration.
"Now that was a good time!" Smith exclaimed on an overcast July afternoon at the Anoka County-Blaine Airport.
Smith's entire focus is currently on the Vikings as they march toward a potential playoff berth, but the former first-round pick indulged in one of his favorite hobbies this summer when he spent a day flying and geeking out in the air.
Smith was in elite company, sharing a plane with Curt Brown, a former NASA space shuttle commander and retired Air Force Colonel.
The duo teamed up to man a 1943 SNJ-4 Navy aircraft that was used to train pilots in Pensacola, Florida, during World War II. The old bird was in fine form as Smith and Brown flew in formation with pilots of two other planes, smoke trailing from the engines in a perfect pattern.
Smith and Brown then branched off and did some tricks of their own.
Smith said he had just done some basic flying before he got in the cockpit with Brown, who showed him a new thing or two.
"I wanted to expose him to a little bit different kind of flying than he has been exposed to. I know he's a rated pilot, so I wanted to introduce him to some of our warbird flying, which is in our World War II-type aircrafts," Brown said. "We introduced him to a little bit of formation, which is something you never get when you are just getting your license.
"And then also I took him out and we did a little bit of aerobatics. Aileron rolls and loops and those kind of things. Going upside down," Brown added.
Brown said he knew Smith was enjoying the ride midway through the hour-long flight.
"I think he really liked the upside-down stuff," Brown said. "I could tell because he made one comment, when we were making a turn, he said. 'Woo, that's a little bit more than the 30 degrees that I'm used to.'
"In a Cessna, you go about 30 degrees bank, and that's it," Brown added. "In these aircrafts, we do 90 degrees bank and we do loops and whatever. He got surprised by that, I think."
Smith said the experience was the thrill of a lifetime, adding that he gained a whole new appreciation for this intense type of flying.
"This is one of the first times I've been able to flip the plane upside down and things like that," Smith said. "Flying with a legend is pretty sweet. Very fortunate to be able to do it and couldn't be happier that they let me come out here and hang with them.
"The formation flying is what we started with, doing a low pass with the smoke going. That was just incredible how close they get to each other and then break off and switch around," Smith added. "Then we broke off and did a couple aileron rolls and loops, which was a lot of fun. You get to feel some g-forces. It was awesome."
Although clouds and rain hampered the chance for a gorgeous view of the Minnesota landscape, Smith took in the experience like a wide-eyed child.
He began exploring how to obtain his pilot's license a few years ago as a way to overcome a small fear of flying. Smith had roughly 100 hours in the air by July but noted he doesn't keep an official log of it.
While Smith has overcome his fear of flying, he has gained an appreciation for what all goes into getting the plane off the ground, circling the skies and touching back down again.
"It's something, I think, that is a level of responsibility that you don't find doing a lot of things," Smith said. "It teaches you a lot of skills as far as preparation, organization, communication … just a lot of things, the actual mechanics of flying.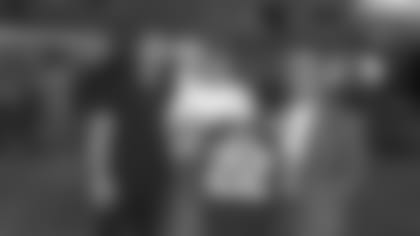 Harrison Smith with former NASA space shuttle commander Curt Brown (middle) and pilot Robin Crandall
"I think it's great for anyone who gets the chance to get into it because it can teach you so much about yourself and just help make you a more skilled person," Smith added.
While Smith had flown with other co-pilots before, it's unlikely one matched the status of Brown.
The North Carolina native with a dry sense of humor was fascinated by the skies as a child even though he had no family connection to flying. But he pursued his dream and landed at the United States Air Force Academy before moving on to Fighter Weapons School, which Brown said is the Air Force's version of Top Gun.
"I'm slightly taller than Tom Cruise … other than that we're the same," Brown cracked. 
But Brown had his eyes on an even bigger role, and he eventually became a space shuttle commander for NASA in 1987. He flew six missions in seven years and took former astronaut John Glenn, the first American to orbit Earth and one of Brown's childhood heroes, back up in space in 1998.
Brown retired for a few years but missed being at the controls, so he is now a commercial airline pilot.
A man of many accomplishments, Brown said, "I just go by Curt," and that he puts his pants on the same as anyone else.
Yet even Brown said he was elated to share the skies with Smith, as the two chatted about aerial lingo and pilot jargon.
"I can talk to safeties that have played in the NFL and have been very successful and kind of speak the same language and get what they're talking about," Smith said. "With these guys, I'm a novice. I'm nowhere close, so just hearing some of their stories and the things they've done and their past, it's interesting." 
Smith is no novice on the field, however. He has made back-to-back Pro Bowls and appears to be on track for another nod this season.
The safety has collected 62 total tackles (according to coaches' tally) to go along with a team-high three interceptions and 1.5 sacks.
Vikings defensive backs coach Jerry Gray said Smith's versatility makes him one of the NFL's elite players at his position.
"He's made a lot of impact plays these first [nine] ball games," Gray said. "Anytime you've got a guy who can cover, who can rush [the quarterback] … and do it at a high level … that only helps you. He's not just a cover guy or a rush guy, he can do both.
"He is a guy who I would say is going to show you by example and then go do his job at a high level," Gray added. "That's how you look at this guy as a leader. To me, he's always been a captain."
As Smith mentioned above, he has gained skills and traits from flying to ensure he is at his sharpest when he is in the cockpit.
Gray noted that he'd already seen most of those characteristics from Smith well before he took to the skies, but it's only made him a steady and reliable pilot.
"When you're a pilot, you know that you have yourself and the people that are riding with you, their life is in your hands," Gray said. "You have to pay attention to detail and to everything that's going on around you.
"I see him doing the same thing on the football field," Gray said. "He does the things you want to see good football players do on a consistent basis day-in and day-out."
Smith had perhaps the time of his life with Brown on that July afternoon as he flew with an aviation legend in one of the most unique planes around.
But don't expect the hard-hitting safety to take up his hobby during the season, especially during one that could see the Vikings take home an NFC North crown.
While flying is one of Smith's biggest passions, he reported to training camp roughly a week after flying with Brown.
Smith has been locked in ever since.
"That's my main focus. There's really no balance when it comes to football. As long as I'm fortunate enough to play, that will always be No. 1. And that's it," Smith said. "When I have time, I try to expand my horizons and get into things such as aviation. But when it comes to football, there's no balance. 
"I put all of these things on hold once the season comes around. I'll have to jump in after the season," Smith added. "Hopefully I don't have much time to train next year because we play so late into the year."