EAGAN, Minn. – The NFL family has been showing support for one of its brothers since the moment Damar Hamlin collapsed Monday night during the Bills-Bengals game.
As the Bills safety remains in critical condition at the University of Cincinnati Medical Center, fans, peers and coaches have raised – as of Wednesday morning – more than $6.5 million for Hamlin's foundation/give-back efforts.
Vikings defensive tackle Harrison Phillips also is giving support for Hamlin in a unique way.
Phillips, who teamed with Hamlin in Buffalo during the 2021 season, on Tuesday evening purchased dinner for Hamlin's family, the Bills training staff who are with him, and the doctors and nurses working on the ICU floor.
Phillips spoke with media members via videoconference Wednesday and noted that he'd first heard the news of Hamlin's cardiac arrest while attending the Timberwolves game with teammate Sheldon Day and their fiancées.
"We left the game early, and I was just refreshing Twitter every second, reading every tweet out there, just waiting to hear what's going on and what could happen. I sent out a bunch of text messages to almost all my [former] teammates," said Phillips. "For all the teammates that were rallied around them there, it was a very hard scene to see. You can try to picture it as best you can, but it was a very hard scene. So I've obviously been praying. I got on my knees, praying and trying to figure out, 'What can you do?' There's nothing really to do than try to reach out to everyone you can and make sure that they know that they're loved and bring as much support as you can."
Phillips worked throughout the day Tuesday to connect with someone at the medical center who could help him arrange a meal for the Intensive Care Unit staff and others.
"I found a sandwich shop and ordered food — chips, drinks and sandwiches, everything I could find, salads, whatever — for all the doctors, nurses on the ICU ER floor, the members of Damar's family that were there, the training staff of the Bills. They were able to deliver that for dinner last night," Phillips said. "I have a buffet of Chipotle stuff [Wednesday night] coming for dinner for all of the doctors and nurses – I think there's 50 or so. I just wanted to try to do something.
"My foundation, Harrison's Playmakers, the children that I work with have bigger hearts than any of us. They wanted to find ways to help out, too. I donated to [Hamlin's] fund, but some parents and some kids were asking me, 'What else can we do as Playmakers?' " Phillips continued. "So I opened a little branch of my foundation that they can support […] to do an event in Damar's honor that will hopefully be a celebration of his life and his recovery in the months to come. But they were just asking for an outlet of what else they could do, so I wanted to provide one for them."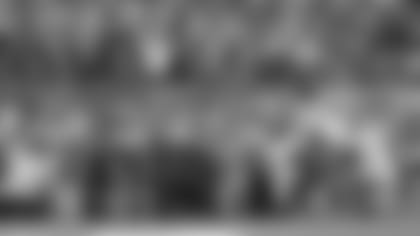 Anyone who would like to donate through Harrison's Playmakers can do so here.
Phillips emphasized the type of person Hamlin is and mentioned that while the two were together in Buffalo, Hamlin helped out where he could with the Harrison's Playmakers foundation.
"But I was a bit surprised at how many people who have zero ties and zero connections to him, myself or to Buffalo … how much they've impacted," Phillips said. "[But it's] because we are a brotherhood."
He added that the NFL Players Association has made sure to provide resources for players and family members who may have questions, concerns or anxieties following Monday's traumatic event.
"I'm sure every single significant other of a player has said to that player, 'This could have been you.' So it touches — really, really hard for us," Phillips said.
Vikings Head Coach Kevin O'Connell also spoke with reporters and acknowledged the difficulty of processing such a troubling game-day scene and continuing to have uncertainty around Hamlin's condition or potential recovery.
O'Connell reached out to players Monday night to support them and let them know they were being thought of, and he's continued that open dialogue over the past two days and into Wednesday's team meetings at Twin Cities Orthopedics Performance Center.
"I understand how hard that has to be to watch as an NFL player, knowing that one of your brothers in this league – regardless of team – these guys all look at each other as part of one, as part of the brotherhood of playing in the NFL. I was fortunate enough to consider myself part of that, as well, as a former player," O'Connell said. "I wanted them to know how much I was aware of what they may be going through, that all of us collectively were going to be thinking about Damar and having our emotions, thoughts and prayers with him."
O'Connell reiterated the Vikings internal mental health resources available for players, coaches and staff and expressed understanding that every individual will deal with this type of situation differently.
"We just want to be there for them. Their mental health, their emotional health, is very, very important to me and our entire organization," he said. "So we just want to make sure they understand that the resources are available to them, and then I did want to educate them on some of the things that we do have at our games – at all NFL games – from a medical personnel standpoint. And the type of planning and response that is in place in the event of an incredible challenge like that."
Vikings outside linebacker Pat Jones II, who teamed with Hamlin at Pittsburgh, described the surreal feelings he experienced while watching Monday's game broadcast.
"I've never really seen nothing like that before. So initially, it really caught me off guard. I didn't really know what was going on," Jones said. "I just kept saying in my mind, you know, 'Get up, get up, get up.'
"I just saw how the whole thing played out and that's when I just started praying for him and just thinking of his family and just keeping everybody in my prayers, just hoping that it wasn't anything like it was, and just that it would be better," Jones added. "I've just kept keeping him in my prayers, and his family, too."
As he discussed in a "Getting Open" segment this spring, Jones understands the importance of looking out for one another and supporting one another – and that couldn't be more necessary than during a time like this.
"I think the biggest thing is just being there for everybody," Jones said. "People may be going through stuff you don't know about, and you've just got to really be there for them, pray for people and always just cherish people."
Everyone remembers the Vikings-Bills game earlier this season when Minnesota pulled off a comeback win for the ages.
But in the wake of Monday's events, there's no talk of rivalry – simply family.
"We compete like hell when we're out there against each other, but that is a brother that I look across when I look across the line of scrimmage," Phillips said. "So I'm loving the support and prayers.
"I believe in the power of prayer heavily. And I believe that's helping move the needle," he added.
In addition to comments made Wednesday, Vikings players have shown their support across social media since Monday evening. We've included some of those posts below: