EAGAN, Minn. – As Jenny Haag walks from a construction trailer and up a dusty drive, she takes in TCO Performance Center, the grandiose structure cutting lines against a gray-blue sky and yet-to-be-developed landscape.
It's a stark contrast rivaled only by the pairing of a Vikings Purple hard hat with black high heels that clack across the pavement to announce Haag's arrival.
The combination of accessories is a unique one, but it represents the job in which Haag takes great pride.
The Vikings Senior Manager of Construction and Partnerships watched the facility built from the ground up, and to now see her peers arriving to work daily and appreciating the new space makes long days and meticulous meetings more than worthwhile.
Then there's her family. When Haag's 4-year-old daughter, Elly, sprints across the turf of the Indoor Practice Facility, she proudly boasts, "Mommy built this."
And while Haag never physically hammered a nail or lifted a beam, her influence runs deep through the Vikings headquarters.
The Iowa native helped to oversee architects and the general contractor, making sure that everything within the building's interior is designed and executed with the Vikings brand standards in mind.
Haag engaged in discussions with various departments within the organization, including Vikings Entertainment Network, to understand and then communicate specific department needs – related to space or design – to ensure functionality.
"Every office, every workspace, every common area needed to be well-thought through," Haag explained. 
"The first day when staff was in here and so many people made comments to me about how beautiful it looked, that was more important to me than anything," Haag added. "The novelty of the building, having been in and out as it was being built every day over the course of the last year, it was seeing reactions of other people that was the coolest part."
The anticipation of an exciting end result has always driven her.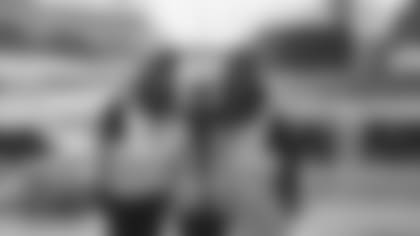 Following graduation from the University of Kansas, she moved to Chicago to take a job with a small sports marketing agency, where she excelled and grew her craft. A friend connected Haag with her now-husband long-distance, and she eventually made the move to Minnesota (but not after first finding a job in the Twin Cities).
Haag took a unique opportunity with a company called VEE Corporation, where she did sales and business development for their production business working with clients like *Sesame Street Live, *Target, Kraft, the NCAA and a number of local and national agencies. Her most notable project was working with the NBA on designing and building out its Jam Session All-Star Fan Fest.
But then in 2014, another opening – this one also unpredictable but equally intriguing to Haag, who always had hoped to work on the team side of professional sports.
The Vikings were seeking a manager of new stadium partnerships to work on the team's new stadium, scheduled to open in the summer of 2016.
"I had that agency side, and I also had a little bit of production experience. But I don't think anyone at that time knew my path into construction," said Haag, who initially worked on a small New Stadium team with John Penhollow and Tanya Dreesen.
Haag began working with the Vikings partners to build out their respective spaces in U.S. Bank Stadium – from Mystic Lake's Club Purple, to The Hyundai Club, to the Delta Sky360° Club. Before long, she was also working on signage and directions within the stadium and with the Minnesota Sports Facilities Authority on approvals.
"I had so much fun working with the partners and seeing their spaces come to life," Haag said. "And then it just kind of expanded into a role that I don't think any of us here, including myself, knew it would." 
The construction role may not have been expected when Haag accepted the role with the Vikings, but it quickly became her favorite aspect of the position.
"I loved my hard hat and my construction world. I liked the blue-collar mentality of the construction world," Haag said. "There's just something about the construction industry and people who put on their boots and their hard hats and work really hard. There's a humbleness to that whole experience and actually building things from the ground up – that's what kind of drew me to that.
"And yet I still could be involved with [meetings between] corporate partners and executives – it was kind of fun to bridge the gap between both," Haag added.
Haag and her husband, Nick, welcomed twins Maddy and Charlie shortly after U.S. Bank Stadium's grand opening, and she spent three months on maternity leave.
Upon her return to work, Haag spoke with Vikings executives, including Chief Operating Officer Kevin Warren, and told them that she hoped to continue her construction role with the planning of the team's new headquarters in Eagan.
"The unique thing was, we don't know what the future holds," Haag said. "So it was kind of a jump into, 'Hopefully this role grows and expands,' but not knowing exactly at the time."
Now a year after Haag moved full time into her present role, she is loving the position and part she played in the design and construction of TCO Performance Center.
"This was much more heavy construction, so managing everything from our furniture procurement, to construction project management and all of the installations. What I managed a lot of was the finishes, working with the architects and the general contractors – similar to U.S. Bank Stadium – but more so from a marketing and facilities side of things," Haag said. "I was a little bit of an internal Vikings resource."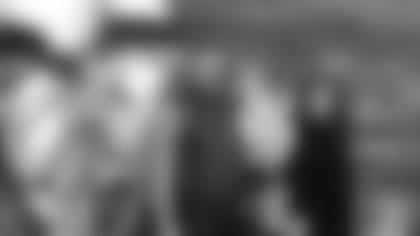 With the excitement of continued development of Viking Lakes, Haag is fully invested in projects currently heading the Vikings way, including currently working on the upcoming Vikings Museum and eventual STEM building lab space.
Haag said she has enjoyed all aspects of the two major construction jobs she's had a hand in, but there are specific features that become especially memorable. Along with the museum project in progress, the Vikings Voyage exhibit at U.S. Bank Stadium is near and dear to Haag's heart.
"I wasn't necessarily a Vikings fan before starting with the team, so it's not only special by bringing this cool experience to our fans, but I've learned more about the history of the franchise myself," Haag said.
She may not know entirely what the future of her position holds, but Haag is along for the ride and is grateful for the experience.
"I think it's really interesting, (A) being a female working for a professional sports team and then (B) to be a female that's working in construction. You combine those together, and I think it's a really unique story," Haag said.
Haag doesn't plan on taking off her hard hat any time soon.
"I'll walk into a room of 20 construction workers in their hard hats, and they can hear me coming from the trailers. They hear my high heels, and I walk in, and I think in some ways it surprises them and takes them aback – in the sense that I'm not 'just' a female. I know what I'm doing," Haag said. "I haven't had a negative experience, but I think maybe sometimes there could be preconceived notions until I actually demonstrate that I'm capable."
"I think it's a really unique aspect in having two daughters myself," Haag said. "It's showing them, 'You can do whatever you want to do, and you can go into industries that maybe aren't traditional for women. Carve your own path, and set your own way.' "