EDEN PRAIRIE, Minn. — The words were incredibly heartfelt and inspiring.
"All right boys, we've come this far this season. Let's finish up on a high note and get to an 8-8 record," a young man and dedicated Vikings fan named Jeremy told players on Saturday.
Jeremy was part of a group from **Merrick, Inc**., a non-profit in Vadnais Heights that empowers adults with disabilities, which visited Winter Park for the final practice of 2016.
Jeremy was joined by fellow Merrick clients James, Jesse and Mary during the visit, and all proudly wore Vikings gear from head to toe.
Vikings Head Coach Mike Zimmer explained the role of Merrick to players and invited Jeremy into the middle of the huddle to break the team down.
Jeremy's message was well-received by a team that was bruised and battered from a rough and emotionally trying season.
The team followed with a 38-10 victory over the Bears to reward Jeremy's continued support.
Anthony Barr, Sam Bradford, Audie Cole, Chad Greenway, Eric Kendricks, Xavier Rhodes, Kyle Rudolph, Harrison Smith and Adam Thielen all personally welcomed the guests, signed autographs and posed for photos.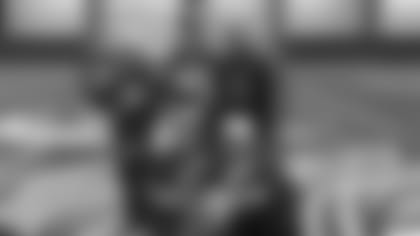 The visit also included a tour of the team's headquarters.
"It's pretty exciting to be hanging out with all of the guys on the current roster," Jeremy said. "I just wished the boys luck tomorrow."
Jeremy said he became a Vikings fan when Brett Favre arrived in Minnesota. He donned a Teddy Bridgewater jersey and also enjoyed the time that Bradford spent with him. Jeremy also passed along a special message to Bridgewater, who is recovering from a dislocated knee.
"Hey Teddy, if you happen to watch this at whatever vacation spot you're at, I just hope you appreciate me supporting you," Jeremy said. "We look forward to seeing you back home in Minnesota next season. Take care of that knee, buddy."
Merrick's roots go back to the east side of St. Paul when it began serving 15 young adults. Today, the organization helps provide life enrichment and vocational services and support for 375 adults with intellectual and developmental disabilities.
"We really strive to provide those things that improve cognitive and physical health and improve quality of life to work activities, whether they're working on site, on a crew at a business or as a direct hire by an employer," said Merrick Executive Director John Wayne Barker. "We have about 230 that are working every day, generating wages and using that money to be an active member of their local community."
Dede Hauck with Merrick said the organization links clients' abilities with particular jobs.
"They work in all kinds of agencies. They do secretarial work, they do admin-type stuff, cleaning, warehouse work, whatever their skills, abilities and interests are," Hauck said. "We also have an on-site program where we teach people social skills, work skills, living skills, daily hygiene skills, anything they'd need to be a member of their community. We provide community integration, transportation, anything they need to get out and about and be part of the world."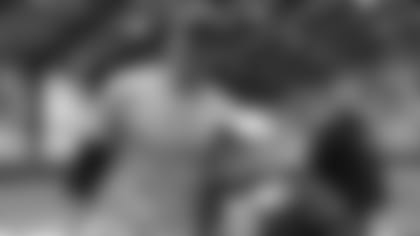 Barker said proper placement of clients is helping break down misconceptions or underestimations
"I think more often now people in the community are encountering people with disabilities, and that's a good thing," Barker said. "The more often that happens, you realize people with disabilities are more like us than not and just like us, a working-age adult with disabilities wants to be valued and respected for being a contributing member through work and then using those earnings to participate in the local economy.
"It's a critical part of their self-esteem," Barker added. "They feel good about completing the work and getting paid for it, and for us as an organization, it's every day that you see success stories, so it's a fulfilling career."
Hauck has worked at the organization for 30 years and said that Saturday's visit was one of the best days because of how much the clients enjoyed the experience.
Barker concurred, saying, "Today has been a lot of fun because the clients we brought and most of the clients we serve are big sports and Vikings fans in particular, so to come down and see the last practice and meet the players was quite exciting. There was a buzz the whole week [leading up to the visit]."