EDEN PRAIRIE, Minn. —Each year, the hype and spectacle that surrounds high school athletes and National Signing Day seems to get even bigger.
Back in 2001, there was none of that for Vikings linebacker Chad Greenway.
Speaking with "Voice of the Vikings" Paul Allen on KFAN 100.3-FM on Wednesday morning, Greenway said there was little fanfare when he committed to the University of Iowa.
"I went to school and learned how to fax something," Greenway said. "I was with my principal and signed it and faxed it and that was it."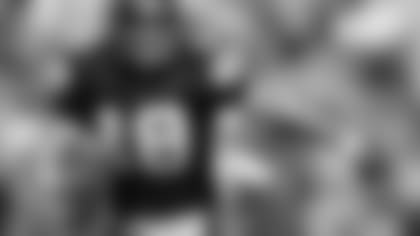 Greenway, who played 9-man football in a small South Dakota town, starred at quarterback and safety in high school. He said the Hawkeyes were the only ones to give him a scholarship offer.
"I think they upgraded me from a one to a two-star (recruit) just because I got an offer," Greenway recalled. "I was not on anybody's radar … not the (Minnesota) Gophers, not the (Nebraska) Huskers, anybody."
Greenway redshirted that first year on campus, but developed into a first-round pick. He just completed his 10th season in Minnesota.
Greenway also spoke with Allen about Sunday's Super Bowl matchup between Denver and Carolina.
The veteran didn't give a prediction but said both teams have plenty of strengths.
For Denver, it starts on defense.
"Their defense is so good and their guys on the outside are so good," Greenway said. "And their pass rushers are elite, coached by Fred Pagac.
"I think it's going to make for a great ball game."
Pagac, Denver's outside linebackers coach, was with the Vikings from 2006-13.  Greenway credited Pagac for his lengthy career.
"From a fact of cutting your teeth, he was so important," Greenway said. "He wants players to go play. I think without him being my coach, I have a different career."
Greenway also praised the Panthers, saying quarterback Cam Newton is undoubtedly the league MVP this season. He also talked up fellow linebacker, Luke Kuechly.
"He doesn't have the prototypical size," Greenway said. "He's very fast and athletic, yes. But he's so fast … I've never seen instincts from a linebacker like that. He's setting himself up for a career that's going to be unbelievable."
Greenway said a big storyline is how the Panthers will fare against Denver quarterback Peyton Manning and his repertoire of audibles at the line of scrimmage.
Greenway said when Minnesota faced the Broncos in Week 4, Vikings Head Coach Mike Zimmer came up with a crafty plan to stop Manning. While the Vikings lost 23-20, Greenway said it highlighted Zimmer's talents.
"His communication is great as to how we can beat this guy," Greenway said. "Here's our plans, whether we're going to sit back and play coverage or pressure him or pressure him the normal amount.
"He gives that plan to us but he's constantly critical of how we're doing it. He has a plan and he executes it."
Greenway, a two-time Pro Bowler, was also on Allen's show to promote his newly announced partnership with Aspire Beverage Company.
Greenway said he got on board with the sports drinks because they are a healthy option for himself and his family.
"They're giving them all natural products," he said. "There is way less sugar, and it tastes good."
"We have to give them something good," Greenway added. "My kids are athletes, and I want to put something good in their bodies."