By Lindsey Young, for Vikings.com
HUTCHINSON, Minn. — Earlier this year, veteran linebacker Chad Greenway made quite an impact on the field when he snagged a one-handed interception and ran it 91 yards for six points. On Tuesday, he made another impact — and he wasn't wearing cleats. Greenway and his wife, Jenni, unveiled the seventh "Chad's Locker" at Hutchinson Health.
Originally launched in 2012, the program provides area hospitals with lockers filled specifically with kid-friendly electronics and games to make hospital stays easier on children, whether they are patients themselves or family members of a patient.
"This is an honor. Clearly this is something that Hutchinson was ready for," Greenway said as he introduced the newest locker installment. "There's definitely a need, and we're so excited to be here. The goodies that are inside [the locker] can go a long way to help any little bit that we can. Sometimes it's just enough to throw some cartoons on the iPad or do something like that to pass the time. It's an honor for us to bring it here, and we're certainly excited about that."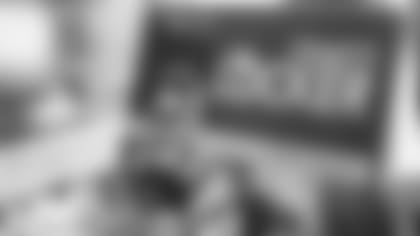 Up until now, most of the lockers have been located in larger hospitals near the cities. Greenway credited REACH Program Director Chad Harlander with connecting his own town to the program. REACH seeks to support students in finding academic and interpersonal success and partners with Greenway to put on the annual "Day to REACH" football camp in Hutchinson. As their relationship grew, Harlander generated and pursued an idea to further involve Greenway in the community.
"I knew Hutchinson Health would be a great opportunity to take what Chad and [his wife] Jenni are doing throughout the state and bring it here to Small Town, U.S.A. We're excited to have him here," Harlander said. "Chad is the most genuine person you will ever meet. He is all about relationships—he makes a connection with each and every kid he comes across. He just does so much to give back all he can."
Hutchinson may not be a large city, but the significance of Tuesday's event proved undeniable. Greenway genuinely smiled upon arriving at the event, saying he had never seen such a large turnout at previous locker launchings. From doctors, nurses and parents dressed in Vikings gear to excited children wearing bright yellow "Day to REACH" T-shirts, a large crowd greeted the linebacker.
Greenway and Harlander performed the ceremonial ribbon-cutting together before Greenway invited several kids to be the first ones to open the Vikings-themed locker.
"We adults don't know how to use most of the things in there anyway," he laughed.
Although initially wary of handling the electronics, several of the kids excitedly pulled out iPads, Nintendo DS's, DVDs and even Barbie dolls, holding them up for their parents to see.
"Seeing those looks on the kids' faces — it's phenomenal," Jenni Greenway said. "It never grows old. We've opened seven lockers, and it's the same feeling every time. It's the most gratifying experience to watch kids be able to go in, have a smile on their face, and even to see the parents' genuine happiness. It's the best."
Following the event, Chad and Jenni mingled and visited with patients, doctors and family members. Greenway held a stack of glossy 8x10 photos that he carefully signed and handed out to the guests; he shook hands, listened to stories and posed for pictures with anyone who asked. One nurse assisted a young patient in a wheelchair, and she asked Greenway to sign a photo she had brought. He provided his autograph, then gestured to the scrub cap she was wearing—purple, patterned with Vikings horns.
"Can I sign that?" He asked, laughing.
She of course obliged, smiling and commenting that she could now never wear the cap to work again.
Seven-year-old Rowan Molinaro, who recently ended up at the Hutchinson Health ICU after developing severe pneumonia, attended the event.
The young Vikings fan eagerly, albeit tentatively, watched Greenway address the crowd before venturing to explore some of the electronics. Molinaro hopes to one day play football like Greenway, and he was thrilled to see his favorite item — an iPad — in the locker.
When asked about meeting the linebacker, Molinaro's eyes lit up as he answered simply, "He was cool."
Molinaro's sentiments were shared by all who attended the ribbon-cutting, including Steven Mulder, M.D., Chief Executive Officer at Hutchinson Health.
"We were made aware of this opportunity and [Greenway's] willingness to bring a locker out here, and we were very excited about it," Mulder said. "To be able to have some of these electronic toys available for kids to help distract them and give them enjoyment in an otherwise very stressful or boring environment is a huge benefit."
Greenway has always had a passion for helping others, specifically kids. During his father's illness, Greenway spent a lot of time in the hospital with his own children and realized the difference a positive distraction could make in those situations. For Chad and Jenni, it was a no-brainer to start the Chad's Locker program and help as many people as they could through the effort.
"Once we had our own children, we saw even more importance, because you instantly put your child in that situation," Jenni said. "To think that if we were in that spot and someone could help us the way we're able to help now, it would mean the world."
In just three years, the linebacker has helped install seven lockers to benefit both short- and long-term patients to have a more enjoyable hospital stay.
"We're on a roll," Greenway said. "If there are people who need to stay at the hospital, we just want them to use the locker and let us know what else they need."
Greenway may not know if he'll get the chance to score another touchdown for the Vikings this season, but he does know he'll continue to touch lives by making a positive impact on countless individuals throughout the Upper Midwest.