MINNEAPOLIS — NFL Commissioner Roger Goodell visited U.S. Bank Stadium during its construction in November 2015 and expected grand things.
After strolling through multiple areas — from clubs and suites spaces to upper bowl seats — of the 1.75-million-square-foot sparkling facility before the Vikings hosted the Packers in the first regular-season game on NBC's Sunday Night Football, Goodell told members of the media that the venue had delivered on its potential.
"I saw it last year. You could see it had the makings of being something truly remarkable, and it's exceeded my expectations," Goodell said. "You know where you are. You're in the Vikings stadium, and this is part of the Minnesota community."
Goodell was able to see the Vikings Legacy Ship, where his daughter has a Legacy Brick that was gifted to her as a Christmas present, on the southwest corner of the site, just beyond the world's largest pivoting glass doors that are open for the game.
Goodell, who was joined during the tour and game by Vikings Hall of Fame quarterback Fran Tarkenton, said he was impressed by the integration of Vikings traditions into the state-of-the-art venue.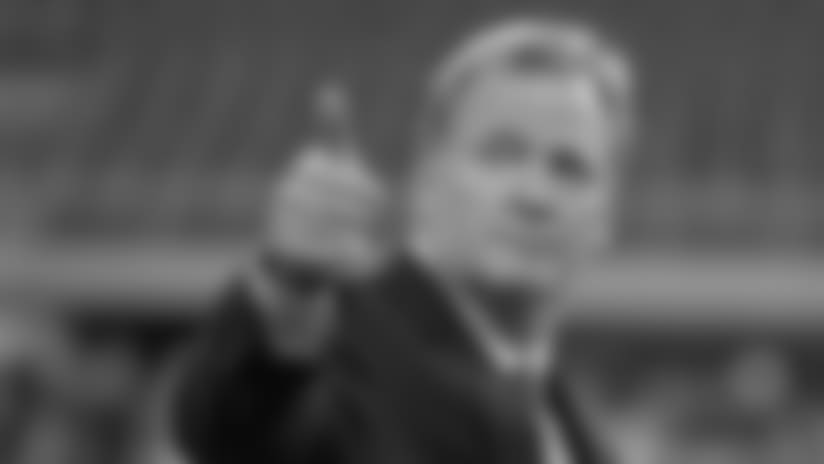 "The way they brought the tradition and the history of the team in, I think it's incredibly well done, and I hope it's a sense of pride," Goodell said. "I know it is for the Wilf family. Stadiums are complex and difficult, and they deserve a lot of credit for doing this incredibly well."
Goodell credited the Vikings Ownership group for its commitments on and off the field.
"I'm incredibly impressed with their vision," Goodell said. "They knew exactly what they wanted to do. Obviously the ups and downs during that period of time, they were never deterred from reaching their vision.
"They were always committed, 100 percent, and I think you're seeing the effects of it, not just on the field, which is obviously important, they're committed to fielding a championship team," Goodell said, "They've also built a great facility here that's going to be a big part of this community and bring in events that everyone here can be proud of, including the Super Bowl."
U.S. Bank Stadium is scheduled to host Super Bowl LII on Feb. 4, 2018.