Garrett Bradbury signed an extension this spring to stay with the Vikings, who drafted him out of N.C. State in 2019. For him and his wife Carson, Minnesota has become a second home.
He pointed out the familiarity and comfort of the Vikings organization and culture, and he emphasized the camaraderie with teammates past and present.
"I love this locker room. [The] front office does a good job of bringing not only good players but good people in," Bradbury said. "I've just gotten to meet so many awesome people throughout the years … and the offensive line room has meant the world to me. Getting to play with those guys again means a lot. I love playing with them, I love hanging out with them and doing everything with them."
We caught up with Bradbury for a Water Break, presented by Crown Royal.
Q: The offensive line has really found its groove; what is the biggest reason for that?
A: I don't think you can point to one thing. We've gotten a lot of narratives and opinions in my five years here, and there's been some ups and downs, but I think there's an expectation and a standard that we know we can play at, and even the good games, there's things we still think we can do better. But we have a bunch of competitive guys in the room, and I think that competitive drive can take you a lot of places. … It's kind of a little bit of everything. We're jelling together as a unit, we're kind of taking this momentum and riding with it.
Q: With Kirk being sidelined for the remainder of the season, how do you as the starting center build chemistry with a new QB?
A: You have to dial into the details of practice a little bit more. You take things like the quarterback-center exchange and have to be a little more serious during that drill. I feel like it's kind of a different responsibility because Kirk is in Year 12 and has run the show at such a high level for so long that I could kind of lean on him. […] So this is an opportunity for me to step up and help the quarterback out now. It's a new opportunity for everyone, and we've just got to make the most of each practice rep we get, each meeting, each day.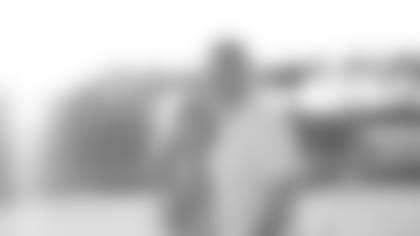 Q: We recently passed the 4-year anniversary of your engagement. You popped the question at TCO Performance Center, right?
A: Yes! We had about 30 or 40 friends and family fly up to surprise her afterward, but I had to figure out where to propose and didn't really know the Twin Cities that much. Carson had been living in Baltimore and working for Under Armour at the time, and she made a big commitment to come and move out to Minnesota with me. The Vikings brought us to Minnesota, brought us to live together, and it just kind of felt right – 'We'll do it at the very reason we're here.' I convinced her I had to go do some rookie duties at the facility. We went to dinner before, and then I proposed on the Wilf deck and had a really awesome celebration waiting for us back at our apartment.
Q: And now you recently welcomed your first child – congratulations! What was your reaction when you found out you were having a girl?
A: Probably a little scared, to be honest. At first. But then it was just excitement. It's such a new journey for us, and it's such a new world that you're not ready for. You find out the gender, but all you really care about is that she's a healthy baby. That's where all our attention turned. Carson rocked the whole pregnancy – she did awesome – and her water broke Tuesday morning after the Monday Night Football game over the Niners. We got a huge win, Carson went to the game, and we woke up, her water broke, and we went to the hospital. Blake Elisabeth was born at 10:24 p.m. on 10/24, which was pretty cool.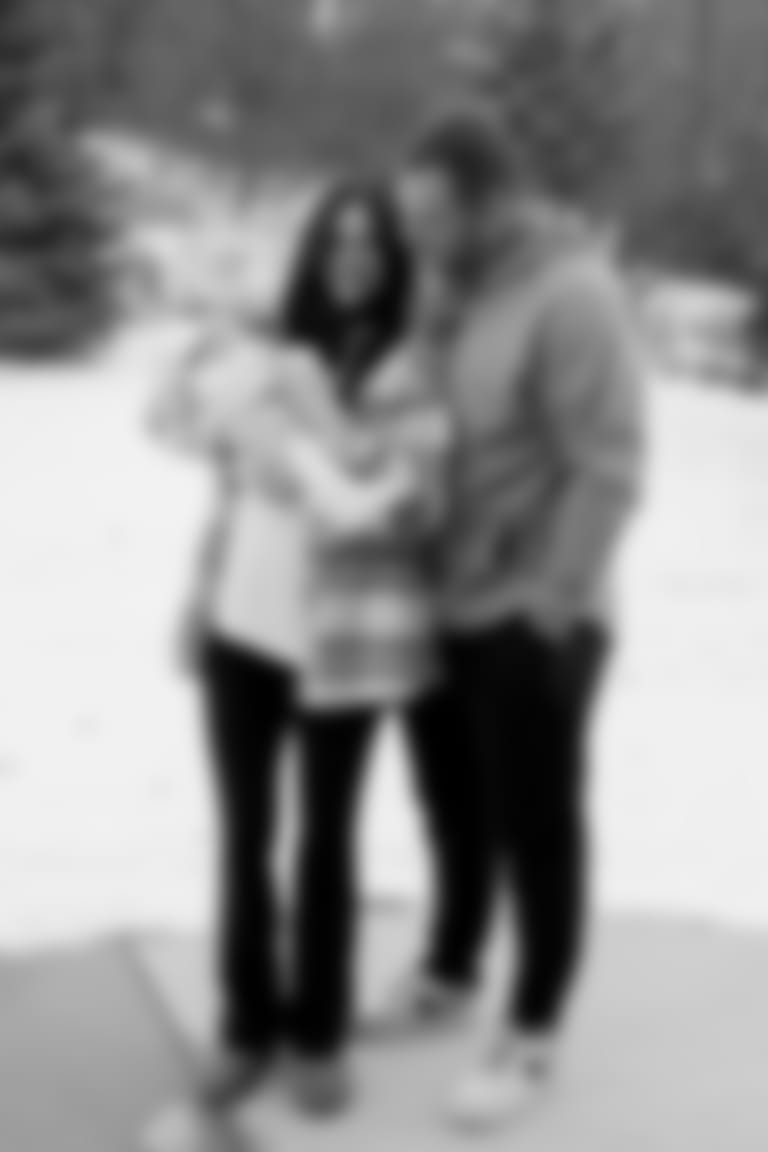 Q: How did you decide on the name Blake Elisabeth?
A: Carson's name is a gender-neutral name, and she and I have both really loved those types of names, especially for girls. We actually didn't really sit down and talk baby names throughout the whole pregnancy, though. But at the very beginning, we both had thrown out Blake and were like, 'Oh, I really like that.' As the months went on, names would pop up here and there and it was, 'Yeah, I like that, but I still like Blake better.' Nothing else really topped the list for us. She was born at 10:24 and we didn't name her until the next morning. We were like, 'Let's just kind of sleep on it.' But we went with Blake. Carson's middle name before she changed it was Elisabeth, so we liked that. It's spelled with as S, which is a little unique. It just flows well with the first and last name, we thought.
Q: Does Blake Brandel want to believe she's named after him? (Hint: She isn't.)
A: Blake had a lot of reactions. First, he was honored that we 'named her after him.' Then he was honored that I don't hate him so much that I wouldn't name my daughter Blake, even though I loved the name, because of him. And now the o-line calls me 'Blake's Daddy,' and I don't know how much Blake loves that one. So, it's been quite the roller coaster. But it's all fun.
Q: I know it's super early, but what has fatherhood been like so far?
A: It's just awesome that I get to go home and cuddle up and hold my sleeping baby. She's doing awesome. She's sleeping great, feeding great, and it's just such a new experience and fun to share with my wife, who is loving every second of it. It's been absolutely everything we dreamed of so far.
Q: Tell me about the gift your offensive line teammates gave you.
A: In a meeting after she was born, David Quessenberry took the floor and said, 'Garrett, as a dad myself and you entering fatherhood, we wanted to kind of pitch in and buy you a gift.' They hand me a Nike shoebox signed by all the o-linemen, and they were first-edition Nike Air-Monarch 1s. They're some pretty awesome dad shoes. That was a pretty great gift. I mean, they're built for functionality. They're comfortable, they look good. And then they also got me a 'Papa Bear' coffee mug that I've got at my desk in the meeting room. They've all been awesome with the whole thing, and it's fun to share this not only with family but with friends and teammates.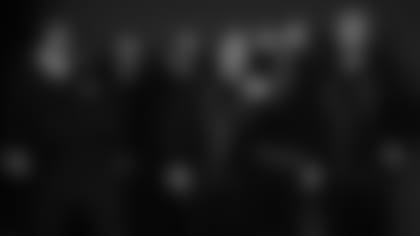 Q: Does being a dad now change your mindset at all when you come into work every day?
A: Yeah, I think a little. I'm definitely checking in with Carson more throughout the day, like, 'Hey, how is Blake doing? How's everybody doing?' And then like I said, when I'm about the leave the facility, I just get excited to see her when I get home. When we went to Green Bay, it was my first time being away from her, and coming home after a win and seeing her was pretty special.