EAGAN, Minn. — Garret Dooley spent the past three seasons working his way up from special teams contributor to a starting linebacker spot at the University of Wisconsin. 
All the while, Dooley focused on the three principles preached by the Badgers — being smart, tough and dependable. 
Those pillars could also apply to what Vikings Head Coach Mike Zimmer wants in Minnesota, where Dooley just wrapped up rookie minicamp with the Vikings this past weekend.
Although Dooley went undrafted in late April, he jumped at the chance to work with Zimmer and his son, Adam, the Vikings linebackers coach. 
"You know that they're both really invested in the football team," Dooley said of the father-son duo. "My agent told me they love guys who work hard, who are tough and dependable, and who want to play for the team and not themselves.
"I think that fits into what I've been doing for the last four or five years," Dooley added.
Dooley redshirted in 2013 and did not play in 2014. He earned his first letter in 2015, playing in 11 games and helping primarily on special teams. The following season, Dooley played in all 14 Badgers games (two starts), working his way to a starter's role last fall.
Only a few days into his NFL career, Dooley appears to have the right approach.
But he's been plenty busy as he transitions to a different defensive role, albeit in the same position group he played with the Badgers.
Dooley started all 14 games at outside linebacker for Wisconsin in 2017, recording 41 tackles, 12.0 tackles for loss and 7.5 sacks to earn Second-Team All-Big Ten honors from conference coaches and Third-Team All-Big Ten accolades from the media.
He still lined up at outside linebacker with the Vikings at rookie minicamp, but was a few yards off the line of scrimmage. Instead of surging around the edge each play, Dooley was tracking running backs and tight ends in the passing game while crashing down on run plays.
"This is a 4-3 defense, and I've been playing a 3-4 outside, so I was on the line of scrimmage most of the time. I was setting the edge and rushing the passer a lot," Dooley said. "Here, it's a little bit different, playing off the ball and getting different run fits and different schemes. I'm starting to get used to it.
"You kind of have a little bit more freedom to run around. You can cover, you can rush off the edge … that's something I did a lot of at Wisconsin," Dooley added. "You have a lot of different things you can do, so you have to be versatile. I think I bring that to table as well."
Yet as he adjusts to a position change, Dooley said mastering the defense isn't even his first priority. That would be in the third phase of the game, where an undrafted college free agent is most likely to contribute right away. 
Especially on a top-ranked defense that returns all three starters from its base defense a season ago. Dooley could follow the similar path to linebacker Eric Wilson, an undrafted free agent a year ago who played a key special teams role as a rookie in 2017.
"I think I can be a core special teams guy and contribute," Dooley said. "As a linebacker at the next level, you need to be able to make it as a special teamer. That's one of my main focuses … I want them to teach me what I need to get better at."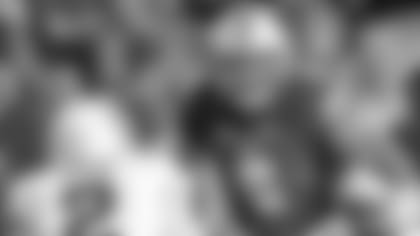 Dooley admitted to being a tad overwhelmed early on last week as he adjusted to his new surroundings and the blitz of information and schemes coming at him.
But by the time the weekend came around, Dooley had settled in and was ready for the upcoming grind of trying to land a job in the pros.
"It's been great. This is something I've been dreaming about my whole life, so to finally be here is just a blessing," Dooley said. "To be with these guys and get to know them and have new teammates … it's a great experience. We're flying around and having fun."