Three games remain in the regular season, but the Vikings can earn the right to take the field in the postseason.
Minnesota (6-6-1) will host Miami (7-6) at noon (CT) Sunday while Green Bay (5-7-1) visits Chicago (9-4).
Vikings fans can take two mindsets as they scoreboard watch this one: 1) Root for the Packers to win and sweep the Bears to keep alive Minnesota's slim chance at winning the division (a victory by Chicago in any of the final three games wraps it up); or 2) Cheer for Green Bay get its eighth loss of the season and have its playoff hopes dwindle to less than one percent.
In addition to the Vikings game at noon, the Twin Cities market is scheduled to receive the Seahawks (8-5) at 49ers (3-10) on FOX and the Patriots (9-4) at Steelers (7-5-1) on CBS. Since Seattle defeated San Francisco 43-16 just two weeks ago, fans might want to flip from the NFC to the AFC.
The Seahawks will clinch the No. 5 seed in the NFC Playoffs with one win in their final three games.
The Eagles (6-7) will visit the Rams (11-2) on NBC's Sunday Night Football.
A win by Philadelphia — without taking into account any other results — would give the Eagles a 42-percent chance of making the playoffs, but a loss would drop those chances to seven percent.
The Saints (11-2), who have already clinched the NFC South, will visit Carolina (6-7) for the first of two meetings between the division foes in the final three weeks.
Here are notes on the Seahawks-49ers, Eagles-Rams and Saints-Panthers games.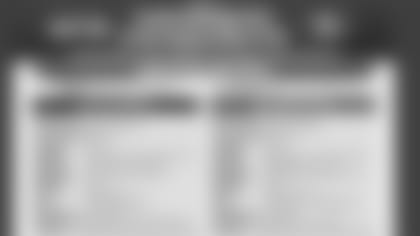 Seahawks (8-5) at 49ers (3-10)
Kickoff: 3:05 p.m. (CT) Sunday
Sirius: 78 (SEA), 83 (SF) | XM: 234 (SEA), 225 (SF)
The Seahawks have won the past nine games in the series. As Vikings fans know, Seattle leads the league in rushing — and perhaps illegal field goal blocks that should have been penalized.
The 49ers threw a monkey wrench in the Broncos playoff chances last week to snap a three-game losing streak.
Russell Wilson threw four touchdown passes and no interceptions against San Francisco on Dec. 2. He is fourth in the NFL with a passer rating of 111, despite being limited to a career-low 37.9 by the Vikings on Monday.
Tyler Lockett has set career highs of 755 receiving yards and nine touchdown catches this season.
Jaron Brown had 67 yards and caught two touchdowns against the 49ers in Week 13.
Nick Mullens passed for a career high 414 yards against Seattle in Week 13. He had two touchdowns and an interception for a passer rating of 95.3.
George Kittle had seven catches for 210 yards last week for the third-highest yardage total by a tight end in a game. He is the first tight end in 49ers history to have more than 1,000 receiving yards in a season.
DeForest Buckner had 2.0 sacks against Seattle in Week 13 and has 4.5 sacks in his past five games.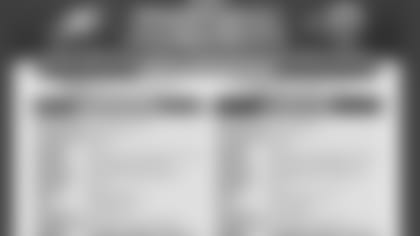 Eagles (6-7) at Rams (11-2)
Kickoff: 7:20 p.m. (CT) Sunday
National Radio: Westwood One
Sirius: 81 (PHI), 83 (LAR) | XM: 226 (PHI), 225 (LAR)
The Vikings didn't get help from the Rams last week in Chicago (of course), but they would welcome a dose this week against the Eagles.
Carson Wentz (279-of-401 passing, 3,074 yards, 21 touchdowns in 11 games) reportedly suffered a fractured vertebra last week. Nick Foles (54-of-82, 451 yards, one touchdown in two games) could be in line to make his third start of 2018.
Darren Sproles had a receiving touchdown last week and is the only player in the NFL since 2011 with at least 15 rushing touchdowns (17) and 20 receiving touchdowns.
Malcolm Jenkins had 10 tackles last week for his 10th career game with double-digit tackles.
Jared Goff will try to bounce back from a dismal game against the Bears when he completed just 20 of 44 passes for 180 yards and suffered four interceptions for a passer rating of 19.1. In six home games this season, Goff is undefeated, has completed 70.1 percent of his passes and has 18 touchdowns against two interceptions.
Todd Gurley leads the NFL with 19 touchdowns (15 rushing, four receiving) and ranks second in the NFL with 1,203 rushing yards this season.
Aaron Donald leads the NFL with 16.5 sacks and 20 tackles for loss. He's had 6.5 sacks and three forced fumbles in his past four games.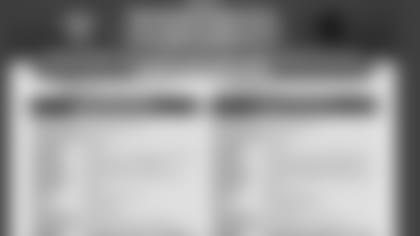 Saints (11-2) at Panthers (6-7)
Kickoff: 7:15 p.m. (CT) Monday
Sirius: 81 (NO), 83 (CAR) | XM: 226 (NO), 225 (CAR)
The Saints will have the benefit of knowing what the Rams did the previous night in their race to secure the No. 1 seed in the NFC. The Panthers are trying to win for the first time since Nov. 4 and have lost their past four games by a combined 17 points.
Drew Brees leads the NFL with a 75.7 completion percentage. In his past five games against Carolina, Brees has completed 140 of 198 passes with 13 touchdowns and three interceptions. He's averaged 304.2 yards per game.
Michael Thomas had 11 receptions for 98 yards in Week 14, bringing his season totals to 102 receptions (second in the NFL behind Adam Thielen's 103) and 1,218 yards (fifth).
Marshon Lattimore had an interception and forced fumble in Week 14, his third game in a row with a forced fumble.
Cam Newton has five rushing touchdowns in seven home games against the Saints.
Christian McCaffrey had 101 scrimmage yards (63 rushing, 38 receiving) and two touchdowns in Week 14. It was his sixth game in a row with at least 100 yards from scrimmage.
Cornerback Donte Jackson leads NFL rookies with four interceptions.
Los Angeles improves to 11-3 and clinches a playoff berth; Kansas City falls to 11-3 but has a tiebreaker on the Chargers if the teams finish with the same records.
3:30 p.m. (CT) Saturday Game
Texans (9-4) at Jets (4-9)
7:20 p.m. (CT) Saturday Game
Browns (5-7-1) at Broncos (6-7)
Packers (5-7-1) at Bears (9-4)
Lions (5-8) at Bills (4-9)
Buccaneers (5-8) at Ravens (7-6)
Cardinals (3-10) at Falcons (4-9)
Raiders (3-10) at Bengals (5-8)
Titans (7-6) at Giants (5-8)
Dolphins (7-6) at Vikings (6-6-1)
Redskins (6-7) at Jaguars (4-9)
Cowboys (8-5) at Colts (7-6)
3:05 p.m. (CT) Sunday Game
Seahawks (8-5) at 49ers (3-10)
3:25 p.m. (CT) Sunday Games
Patriots (9-4) at Steelers (7-5-1)
7:20 p.m. (CT) Sunday Night Football
Eagles (6-7) at Rams (11-2)
7:15 p.m. (CT) Monday Night Football
Saints (11-2) at Panthers (6-7)