EDEN PRAIRIE, Minn. —Excelling in basketball came naturally to Nick Truesdell.
The 27-year-old's attempt to play in the NFL, however, has been a long and winding road.
Truesdell's father, Richard Scantlebury, played pro basketball in England after playing at Coastal Carolina. Truesdell's uncle, Peter Scantlebury played collegiately at Winthrop before returning to England and becoming one of the most decorated players in British basketball. Peter Scantlebury received designation as a Member of the Most Excellent Order of the British Empire for his contributions to basketball as a player and coach.
"They both had pretty good careers," Truesdell said. "My uncle was the highest scorer in their league and also got an award and was knighted by [Queen Elizabeth II]. I don't really know what that means, but that's cool for them."
Truesdell played basketball as his "main sport" and football since early childhood, but didn't get hooked on the gridiron until his senior year of high school.
"I started playing receiver, and that's when I started growing in football a lot," said Truesdell, who signed with the Vikings in March.
After helping his Anderson High School team go 13-2 and win the Ohio Division II crown in 2007, Truesdell was able to stay close to home at the University of Cincinnati. He appeared in six games but did not yield stats before his dismissal from the team.
Truesdell transferred to Grand Rapids (Michigan) Community College but suffered a torn ACL in his first game. In addition to recovering from that injury, Truesdell had to look within and tell himself that he could avoid mistakes and bad decisions that resulted in legal trouble.
After he did, he was invited to the Bengals rookie minicamp in 2013 when he was 23 years old. He also received a tryout with the Titans.
"There was a time a couple of years ago, I got in trouble in college and had to re-evaluate my life," Truesdell said. "From there, one day, I was just like, 'Man, I need to get back on track and work hard and not give up on my dream,' " Truesdell said. "For the past three years I've been playing arena football, and I've had a couple of different coaches, different trainers, traveling around everywhere. I've just made it a point to work harder to get to this point."
Truesdell spent parts of 2014 with the Colorado Ice (now Crush) of the Indoor Football League and defunct Bemidji Axemen, where he caught 28 passes for 402 yards and nine touchdowns in seven games, eventually garnering a tryout from the Packers.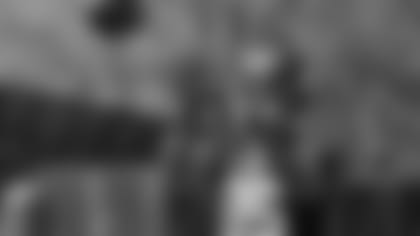 But it was back to the AFL for Truesdell, who caught 33 passes for 355 yards and seven touchdowns in nine games with the Spokane Shock in 2014 and followed with 80 receptions for 977 yards and 23 touchdowns a season later.
After being assigned to the Portland Thunder (which soon changed its nickname to Steel), Truesdell spent a stint with the Colts last summer.
He was assigned to the AFL's Arizona Rattlers and directed his training to transitioning from receiver to tight end, gaining 20 pounds, and preparing for the NFL's Veteran Scouting Combine.
"The first month was kind of tough because you had to get your body used to all that heavy lifting and eating, so I wasn't gaining what I wanted and was getting frustrated," Truesdell said, "but when that second and third month hit, I was eating five-six times a day, drinking protein shakes, I was lifting five-six days a week."
He started packing on pounds last August and reached 255 pounds by March but actually increased his speed as well.
"I made sure I kept my speed and agility and everything. I actually got a little bit faster," Truesdell said. "It was kind of crazy to see myself gain weight and get faster. It was fun, though. I feel good at the weight I'm at."
Truesdell blazed through the 40-yard dash in an attention-grabbing 4.59 seconds, prompting interest from multiple teams. He opted to sign with Minnesota.
"At first it was a little overwhelming, but I had always planned for that day to happen. It was overwhelming but part of me was like, 'Man, it's here, but it's only the start of it,' " Truesdell said. "I knew from then I'd have to step it up a notch and work even harder, not in the weight room, specifically, but in the playbook and learning everything and getting used to, I mean, the NFL atmosphere is completely different than Arena and stuff like that."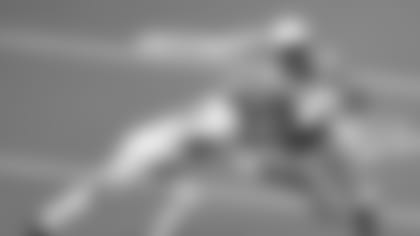 Listed at 6-foot-6 and 252 pounds, Truesdell is now picking up the playbook and putting in extra time studying so that he can reach for his full potential.
Truesdell and the Vikings have been participating in the progressive offseason program. The team had its seventh of 10 voluntary Organized Team Activity practices on Monday and will have three more this week before a mandatory minicamp June 13-15.
The time has been particularly valuable for Truesdell, allowing him the chance to work with new tight ends coach Clancy Barone and learn from Kyle Rudolph, who turned in a career-high 83 receptions in 2016. Truesdell also has picked up tips from David Morgan and Kyle Carter, who were coached by Vikings Offensive Coordinator Pat Shurmur last season.
"I've always played receiver, so this past year has been the hardest because I had to gain 20 pounds and then learn the tight end stuff," Truesdell said. "I'm still learning every day, going and meeting with my coach and all of that stuff just to get caught up on everything. I just have to use all of my time and dedicated to football. That's how it always is anyways, studying and learning new stuff. It's just kind of extra for me now until I get to the point where I'm comfortable. It's been a crazy ride for sure."
Barone helped former Bronco Julius Thomas, who played football and basketball for Portland State, break out with 24 touchdown receptions from 2013-14. Barone also coached Antonio Gates, one of the most notable basketball-to-tight end converts, in 2007-08. Gates already had three selections to the Pro Bowl by that point but continued his streak up to eight in a row (2004-11) with help from Barone.
"You try to put them in a position where they can have success and take their God-given talents and find ways to be creative to use that to their benefit," Barone said. "Along with that, he has to learn all of the other aspects in that position. Guys that are good athletes, and especially guys that are big-bodied guys that are really good athletes, it's always good to find ways to help highlight that."
Barone and Shurmur said Truesdell is in the same boat as several players who are new to the team this season.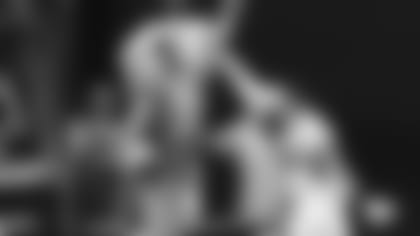 "This is new for him, this style of football, believe it or not. But he's picking things up," Shurmur said. "You can see he's flashing and making plays as a pass receiver; he's becoming more efficient as a blocker, and he's competing. So it's a big challenge for a guy coming in and trying to learn a pro-style offense, and to this point, he's making really good progress."
Truesdell said previous experience of playing fast to find success in the compact dimensions of indoor football is helping his transition to interior routes.
"The speed of arena is just — snap, snap, snap — quick. Everything happens in two to three seconds, and the field is so much smaller so you don't have much room to work," Truesdell said. "Out here, it does move fast still, but once I'm getting everything down and now that I can slow stuff down and have room to work, it's nice. I like being back outside for sure."
Barone said he considers indoor football and the NFL to be two different sports because of the dimensions and because of other duties that NFL tight ends must perform like blocking.
"That's not a natural trait for any basketball player or anyone who never had to block before," Barone said. "You have to keep giving them tools to use, and he has to find ways to find progress in that each and every day.
"There's no doubt that the guy studies," Barone said. "He's always come to me with good questions and is willing to learn and try new things. That's to his credit."