EDEN PRAIRIE, Minn. –Vikings fullback Zach Line experienced a bevy of firsts in 2015.
He scored his first NFL touchdown in Week 2 against Detroit and his first receiving touchdown against Chicago in Week 15.  
Line and his wife, McKenzie, became first-time parents when their daughter, Blake Kathryn, was born in November. The family has moved into the first home purchased by Zach and McKenzie.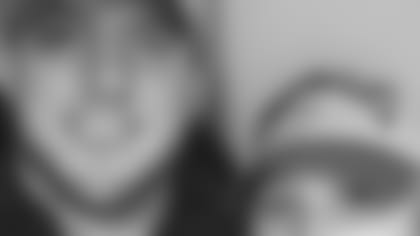 "Life changing," Line said of being a father. "From day one I felt a whole new love in my life. There has always been a strong love for my wife, my family, my career, and so on...my daughter has brought a whole new wave of love into my life. I enjoy watching not only the joy she brings into my life, but also the joy she brings to my wife and family."
Line said he and McKenzie feel blessed to be parents and are looking forward to watching Blake grow up.
"I don't feel overprotective, yet. I hope to teach her what's right and what's wrong and hope that she will make the best decisions as she gets older. It's hard to see her as more than my little princess at this point," Line said.
"I know I was overprotective of my sisters growing up, [so] maybe that will come into play when boys become a factor," he added, laughing.
Until Line has to worry about fending off suitors, he'll hone in on blocking defenders away from Adrian Peterson, the league's leading rusher.
In 2015, paving the way for Peterson became a full-time job for Line. After playing just four games in his first two seasons combined, he played all 16 games for the Vikings and started five of them.
Line helped Peterson rush for 1,485 yards and 11 touchdowns on 327 carries, and the Vikings occasionally used him in pass blocking situations for quarterback Teddy Bridgewater and on special teams, as well. In addition, Line wrestled his way into the end zone for two touchdowns in back-to-back games against Detroit and San Diego, respectively.
Vikings Head Coach Mike Zimmer said in January he was pleased with the way Line performed throughout the season.
"He's a good athlete," Zimmer said. "He's blocked a lot better than I anticipated he would throughout the course of the [year]. He's a good kid, he's tough. In the past he's been injured a little bit, and he's been healthy and goes about his business and does a good job. He does a lot of really good things."
Peterson echoed Zimmer's sentiments. When Peterson received an invite to the 2016 Pro Bowl but heard Line didn't get the nod, he was surprised.
"I have no idea how [Line] didn't make the cut," Peterson said. "The number's he's had, I don't think you could find another fullback that would match."
While Line didn't earn Pro Bowl accolades this season, praise from Peterson is a high honor in itself. Line knew it could take time to develop chemistry with a dynamic veteran like Peterson, but the two worked well together.
Line credits former Vikings fullback Jerome Felton with teaching him so much not only about the position but also about blocking for Peterson specifically.
"Being here with Jerome, I got to see what Adrian liked, and I just try to get out of his way as best as possible but still make a good block," Line said. "I think we have a good relationship going, and I think as the season went on we got more and more comfortable with each other."
Felton spent three years in Minnesota, including the 2012 season in which he helped Peterson rush for 2,097 rushing yards on 348 carries. Line, who signed with the Vikings as an undrafted free agent in 2013, said he watched Felton's mentality as a player and also noticed that opposing defenses viewed him as a threat and worked game plans around him.
"[Zach] has done a great job coming in and picking up right where Jerome left off," Peterson said. "Really putting a stamp on that position, and just being that true fullback that can go in and create holes for you."
Line hopes to garner the same respect from his opponents that Felton developed.
"I'm hoping when they watch the [Vikings] fullback, they have to gear up for me," Line said.
The uptick in involvement this season proved invaluable to Line, who wakes up every day with a sense of drive and determination. Line said it was difficult to watch from the sidelines for two seasons.
"I don't really like just collecting a paycheck and not doing anything [other than practicing]," Line said. "It was fun getting to be a part of the offense and making some plays on special teams."
The year's momentum made it even more difficult when Line's third season came to an end earlier than he – or his teammates – hoped. Line said he wasn't ready for Minnesota's Wild Card loss to Seattle to close down the 2015 season, adding that he "didn't want to be ready."
What he is ready for, though, is the direction this team is headed. Line said if he had to describe the Vikings in just two words, it would be "tough" and "physical." Both sides of the ball demonstrated great amounts of tenacity during the season, and the team's work ethic shined throughout the season. Line knows the ceiling is high for the Vikings, and he hopes to be back in Minnesota to continue the effort in 2016.
"I think you see how much we're building under Coach Zimmer and the players we have and the leadership we have in this locker room," Line said.
"This has been my home," he added. "I really like this team and what we have going on here."
For now, Line is spending the offseason in his other home, in Michigan. A native of Oxford, Michigan, Line recently built a home in Holland and is enjoying his time with McKenzie and Blake.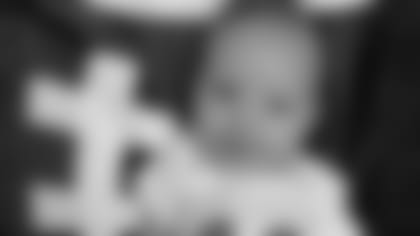 Becoming a father changed Line's life for the better, but it did not change the way he goes about his work. If anything, his motivation on the field may be stronger. Not only does football allow Line to provide for his family, but it remains something he's passionate about.
"I'm a competitor," Line said. "Football provides me with opportunities to refine my skills and be the best at what I'm asked to do."
Even during the offseason, Line is already using the sting of this season's end to drive him moving forward.
"At this point the bitter taste in my mouth is still very fresh," Line said. "I hope my teammates feel the same way."
Line and the other Vikings running backs still texted back and forth during the playoffs and about Sunday's Super Bowl.
"We know we were good enough to still be playing," Line explained.  "We were a good team this year and we will be even better next year."
Line has a lot of things driving him this offseason … as a fullback and a father.