Nearly 13,000 trees were planted in 10 communities across the state from May of 2017 through Tuesday's final installation of 18 trees at Highwood Hills Elementary. The trees included 800 substantially sized trees and more than 12,000 seedlings at Chippewa National Forest.
Vikings Ring of Honor running back Chuck Foreman, Viktor the Viking and Minnesota Vikings Cheerleaders visited the school to support students who participated in the final planting and a pass-off ceremony of the Golden Shovel to Atlanta, which will host Super Bowl LIII.
The hillside behind the school was baking in the sun after a rare span of extremely high heat on Tuesday morning, but by midday, trees that will provide shade and animal habitat had been placed by enthusiastic fifth graders to leave a legacy to future students.
Many were first-time planters. Some dived into digging with direction of members from Tree Trust and volunteers from Verizon and Andersen Corporation. Other students appeared more timid with regard to digging but learned the important roles that trees can play.
"It's hot, number one, but it's a great event," Foreman said. "The tree planting, the kids are involved in it, it's something for the environment and something they'll remember forever because this is a big thing the NFL puts on.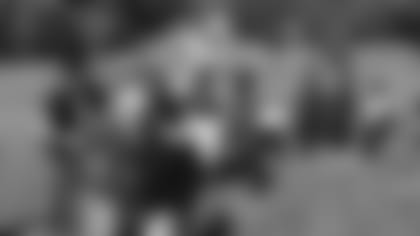 "There's a lot of firsts here," Foreman added. "It's going to be something they can nurture and play their part in it."
**Tree Trust** Director of Community Forestry Karen Zumach said the organization that is based in St. Louis Park appreciated the opportunity to partner with the Minnesota Super Bowl Host Committee, the Vikings and NFL Green.
"It's been great as part of a nonprofit that kind of specializes in planting trees mostly across the Metro area," Zumach said. "This opportunity presented itself to get us into places like Winona. It's just been really great to bring trees to different communities. We need them more than ever now, so it's great to have new and exciting opportunities to do that."
Jack and Susan Groh — with an H, not a W — are a married couple who work as Director and Assistant Director of the NFL Environmental Program.
It was clear how much Jack enjoys encouraging young people to be stewards of the planet and learn more about ways to be green. Jack had the students pledge they'd "promise to recycle everything and anything every day, paper, plastic, aluminum, quarterbacks" as the youth repeated everything he said.
He also asked that they be mindful of turning off the faucet while brushing teeth, save energy on electronics and to eat ice cream in a cone instead of from a cup to reduce waste.
The NFL launched green initiatives to offset the environmental impact of the Super Bowl in Jacksonville (Super Bowl XXXIX). Ever since, a shovel has been passed to each host community and a nameplate has been added to the handle.
Each green program is unique to the host community. Here, for instance, the window in which to plant trees is widely different from host cities that have much warmer winters.
"In Minnesota, we ended up planting trees a lot earlier," Susan explained. "Normally we start in the fall and plant right through the Super Bowl, but that didn't work too well here with the colder weather. We actually started planting trees here in May [of 2017].
"It's fun, and it's great to see a legacy project like that. To leave those kids behind, where we know they're going to grow and habitat for animals and shade for the kids, it's one of our favorite projects to do."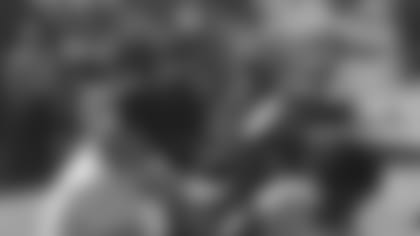 Susan said she appreciated the opportunity to bring the program to Minnesota for first-time planters or those with more experience.
"A lot of kids have never had their hands in the dirt and planted things like this," Susan said. "We also do community gardens sometimes, so it gives kids a chance to feel connected to the earth and realize that they can have an impact through their own actions, and hopefully they'll remember this going forward years later and want to jump in on these environmental events.
"The Vikings have been a phenomenal partner in all of this," she added. "They've supported many of these tree plantings and all of our environmental initiatives, including Super Kids Super Sharing where we collected 46,000 books, pieces of sporting goods and school supplies."
Zumach said there are lots of ways that people can support Tree Trust.
"They can plant trees with us any time in the spring or fall," Zumach said. "We always have opportunities available on our website, and there's always this great need for funding for trees, so whatever people can donate to provide more trees to the communities, we'd be happy to take them into their parks and publics spaces.
"That's one of the key programs that we have, our 'Learning with Trees' program where we bring trees into schools, and the students actually plant the trees in the community," she added. "Most of these plantings have occurred with community members, so people who maybe use the park or are just interested in helping green their communities."