EAGAN, Minn. – It's never ideal to have key pieces of your roster sidelined, but the Vikings always have a plan in place.
The Vikings announced that Adam Thielen, who suffered a hamstring injury in Week 7 during 2019's first meeting between the Vikings and Lions, is doubtful for Sunday's matchup.
Two other starters – left tackle Riley Reiff and running back Dalvin Cook – left Monday night's game with injuries. Reiff (concussion) is designated as questionable; Cook, who has maintained confidence throughout the week that he will play Sunday, did not receive a status and should be good to go.
But regardless of who's in the lineup come Sunday at noon, the Vikings coaching staff will be ready with a game plan.
Vikings Offensive Coordinator Kevin Stefanski spoke with Twin Cities media members on Thursday and explained the approach.
"You always sit there on Monday and Tuesday, and you're working with the training staff on who they think might be available, so you're putting a plan together and you have a, 'If this guy is ready, we'll do it out of this formation, and if he's not, it'll be this formation,' " Stefanski said. "So, it's certainly something that we're talking about throughout the week, and even on game day you have to have those conversations.
"Luckily, I have a really good coaching staff that can help me through that and say, 'All right, hey, we've lost this guy, now we're out of that personnel group. Now the next time you want to do that, let's do it out of this personnel group,' " he added.
If Reiff isn't able to play this weekend, tackle Rashod Hill would get the nod in his place.
Since the Vikings signed him off the Jaguars practice squad in 2016, Hill has played in 39 games for Minnesota and made 15 starts.
Stefanski highlighted Hill's versatility as a swing tackle who prepares throughout the season to step in on the right or left side, depending on where he's needed.
"You saw in that game [against the Seahawks] he came in, and I thought he performed pretty well," Stefanski said of Hill. "Riley's a captain of this team, [and we] certainly want him out there. If he's not available to go, that's why you have backups that are on point like Rashod, like he showed this last week.
"Rashod is certainly a guy that we've leaned on," Stefanski added. "He's come in during a game before. He's come in during the week. He's really taken the bit as being a player that is always ready to go."
The Vikings on Friday announced that Thielen (hamstring) is doubtful, and Reiff (concussion) is questionable.
DT Linval Joseph (knee), RB Dalvin Cook (chest), DE Everson Griffen (knee), DT Shamar Stephen, LB Eric Wilson (shoulder) and S Harrison Smith (hamstring) were not given a status on Friday's report and are likely ready to go.
The Lions ruled out DL Da'Shawn Hand (ankle) and QB Matthew Stafford (hip/back).
DE Austin Bryan (hip) is doubtful, and CBs Jamal Agnew and Rashaan Melvin are each questionable.
DT Damon Harrison, Sr., (calf/knee/resting vet) and P Sam Martin (abdomen) did not receive a status and likely will play on Sunday.
How is our practice squad doing? Anybody there "coming on"? In particular, offensive linemen?
The Vikings currently have just one offensive lineman on the practice squad in center John Keenoy. He was with the team in training camp but came back last month. Aviante Collins had been on the practice squad for most of the season, but he was recently elevated to the 53-man roster.
Some names to keep an eye on might be tight end Brandon Dillon, who originally made the 53-man roster out of camp, and defensive end Stacy Keely, who could show growth next year in OTAs and training camp.
Thanks for the support, and SKOL!
"This is just about the next game. It's about getting back on track. Stacking good play together and building some momentum leading into that potential playoff run. The only thing we're trying to do is get a ticket to the dance; once we get in, it's anyone's game. It's about whatever team shows up to play on that given Saturday, Sunday, Monday – I don't even care what day it is. The only thing we want is a ticket in, and then we're going to take care of business."
- DE Stephen Weatherly on if there's a "higher sense of urgency" this week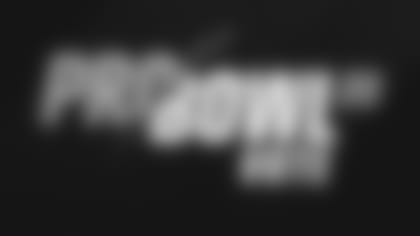 Pro Bowl Voting
Last chance! Vote to help make sure all your favorite Vikings make the 2020 Pro Bowl in Orlando. Voting ends Dec. 12, 2019.
Cook and Company could play a key role for the Vikings on Sunday.
Minnesota is 6-1 when gaining at least 150 net yards rushing.
Against Detroit in Week 7, the Vikings racked up 166 yards on the ground. Dalvin Cook led the way with 25 carries for 142 yards and two touchdowns. If he in any way has a limited workload, however, the Vikings have equal confidence in rookie running back Alexander Mattison, Ameer Abdullah and Mike Boone.
"I think you saw at the end of this last ballgame we didn't have Dalvin. and we're in a two-minute throwing session and not much changes," Stefanski said. "We look at it as our backups know the game plan cold, and they're ready to go. Are they the same player as a Dalvin Cook? No. We understand that, but we're not going to limit ourselves and what we can do without any one of our players."
FOX (KMSP in the Twin Cities)
Play-by-Play: Thom Brennaman
Sideline Reporter: Shannon Spake
KFAN (100.3-FM/KTLK 1130-AM in Minneapolis/St. Paul)
Sideline Reporters: Greg Coleman & Ben Leber
Radio Pre-game Show: Mike Mussman | 10 a.m. (CT)
KFAN and KTLK serve as the flagship stations for the five-state Vikings Radio Network.
Sirius: DEN 133 or Streaming 809; MIN 81 or Streaming 819
XM: DEN Streaming 809; MIN 225 or Streaming 819
Click here for the full bevy of options that include over-the-air, cable, satellite, over-the-top and streaming methods.