EAGAN, Minn. — Thursday's game between the Minnesota Vikings and the New England Patriots will feature a special reunion. But it won't come from the players on the field.
On one sideline will be first-year Vikings Head Coach Kevin O'Connell. On the other is long-time Patriots Head Coach Bill Belichick, who coached O'Connell in his rookie season.
O'Connell was one of New England's two third-round draft picks in 2008 and quickly became the team's backup quarterback behind Matt Cassel after Tom Brady tore his ACL in the season opener.
While O'Connell only spent one season with the Patriots, he said he learned a lot from Belichick and he's carried those lessons into his inaugural year at the helm for Minnesota.
"[Belichick] is one of my coaching influences, regardless of the fact that at the time I knew I was going to get into coaching or eventually become a head coach. Those characteristics, those foundational things you learn there — even in the short time that I was there — have stuck with me," O'Connell said. "I still have old notebooks with team meeting notes that are always great to go back and look through. As I've said many times, it's been a huge part of my football journey to be able to experience being there for that period of time, and it helped me grow tremendously.
"As far as coaching against him and his team this week and his coaching staff, you just know what the challenge is going to be," O'Connell continued. "They're going to play good football, they've got really good players and schemes that challenge you in every way, shape or form."
After a stagnant outing Sunday against Dallas, the Vikings had to quickly move on to prepare for the short turnaround this week.
O'Connell said when he was with New England, he remembered Belichick's messages to the team after tough losses.
"It was about acknowledging the reality of the game, what happened, what took place," O'Connell said. "The things we did or didn't do in the football game that might have contributed to losing that game. And then how do we fix those things, how do we rectify any problems? That sticks with me to this very day, just as an example of what it's like to coach in those moments where adversity hits and how you need to be at your best for your team."
O'Connell added Belichick's decades of success as a head coach have not just come from the players he's had but also the ability to adapt with the evolution of the league and its players.
"I think the success and the results have all come from the process and the details that go into those guys over a lot of years and a lot of different players learning principles and playing really good football, and having the ability to reinvent, maybe schematically how that looks with new personnel and changes," O'Connell said. "This league, the ebbs and flows and the changes that inevitably occur on rosters and within organizations, I just think it's spectacular how he's been able to continue to produce a football team that plays at such a high level. [It] is a real problem to deal with whenever you play them, wherever you play them. No matter how long you have to prepare, it's a heck of a challenge."
Here's what Sam Thiel, Lindsey Young and Craig Peters of Vikings.com will be watching for in Thursday's game:
Feeling the rush | By Sam Thiel
The Patriots pass rush Thursday certainly won't look like a Thanksgiving Turkey Trot.
A few days after facing the NFL's top pass rushing team Sunday in Dallas, the Vikings will have the challenge of taking on the next one in line with New England.
The Patriots are ranked second in the NFL with 36 sacks (the Cowboys have 42 entering Week 12) and are in the top five in several other categories as a defense. New England is second in points allowed per game (16.9) and has only given up 11.8 points per game since Week 5 (fewest in the NFL).
New England's defense is also second in opposing passer rating (74.0) and fourth in total yards allowed per game (302.8) and passing yards per game allowed (188.3).
Patriots linebacker Matthew Judon leads the NFL with a career-high 13 sacks this season and is fourth on the team in tackles with 40.
"I think Judon is having one of the best defensive seasons going right now in our league," O'Connell said. "When you turn on the tape, it's easy to see why — incredibly talented, strong and can win in so many different ways, and then how dialed in the rest of that group is."
New England defensive end Deatrich Wise, Jr., is second on the team and tied for 20th in the league in sacks with 6.5. Wise and cornerback Jonathan Jones each have two forced fumbles. Jones, along with fellow cornerbacks Jack Jones and Jalen Mills, and safety Devin McCourty each have two interceptions.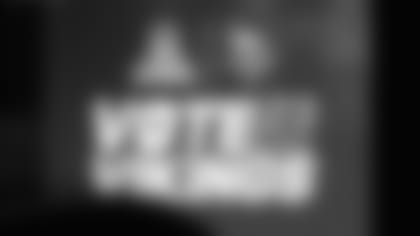 Pro Bowl Voting is Open!
Cast your vote to send your favorite Vikings to the 2023 Pro Bowl Games.
Linebacker Ja'Whaun Bentley leads the Patriots in tackles with 64, followed by McCourty and safety Adrian Phillips with 46.
"Their operation is very clean. The personnel groupings they use provide a lot of stress, obviously, for your players. You're trying to quiet their mind, and I feel like we've got a good plan," O'Connell said. "Players are digesting it as we go, but make no mistake about it, it's going to be a heck of a challenge again for our guys up front and really all 11 in the run and pass game. Obviously sacks affect the game as much as anything, but we want to be able to run the football. We want to be able to do the things that allow us to stay true to who we'd like to be as an offense."
Vikings quarterback Kirk Cousins said it will be important to find answers for whatever the opposing defense is presenting.
"Those answers can be different play-to-play, game-to-game. But you certainly want to have answers and then just react to whatever the defense is going to do," Cousins said. "Because teams are going to show all kinds of looks and do all kinds of different things and there's a lot of different possibilities pre-snap and post-snap. As long as you know your answers, then you're going to have to plan when the ball's snapped and that's what's so important."
The Vikings will also go into Thursday with a missing piece on their offensive line. Left tackle Christian Darrisaw exited Sunday's game before halftime with his second concussion in as many weeks. O'Connell has already ruled Darrisaw out for Thursday.
Stuffing the backs, not the turkey | By Lindsey Young
The Patriots have established a solid run game between the tackles with Rhamondre Stevenson and found him in the passing game.
New England has totaled 285 carries, which is the league's 10th most, and 1,154 yards that rank 17th in the NFL. Stevenson has accounted for 644 of those rushing yards, which ranks 15th in the NFL, and he has the third-most rushing yards between the tackles (407), according to Next Gen Stats. That trails Josh Jacobs (564) and Jonathan Taylor (486).
Stevenson leads the Patriots with four rushing touchdowns and in receptions (24) and receiving yards (197) since Week 7.
Damien Harris, who so far this season has 79 carries for 367 yards and three touchdowns on the ground.
The Vikings defense, which currently ranks 18th in the league by allowing an average of 121.6 rushing yards, will need to be at the ready Thursday. Minnesota struggled Sunday, allowing Cowboys running backs Tony Pollard and Ezekiel Elliott to combine for 236 scrimmage yards (122 rushing) and four touchdowns.
Can Vikings reboot offense and sustain drives? | By Craig Peters
The Vikings will try to reboot their offense, which stumbled out of the gate with a costly turnover against the Cowboys.
Minnesota responded by driving the field but fell shy of the end zone on its next possession, settling for a tying field goal.
The next seven possessions ended with punts. None of Minnesota's 10 opportunities lasted more than 3:43, and five had a duration less than 2:04.
It added up to the Vikings offense being on the field for just 22:36, which means the defense was on the field for a whopping 37:24.
Heading into a short week of rest, it will be important for the Vikings offense to sustain drives better against a challenging Patriots squad.
As successful as Justin Jefferson has been (72 receptions for 1,093 yards and four touchdowns), the Vikings running game led by Dalvin Cook might be key to reestablishing a rhythm.
According to NFL Media Research, 639 of Cook's 799 rushing yards have been gained outside the tackles this season. That's the third-most yards outside the tackles in the league behind Nick Chubb (807) and Derrick Henry (661).
The Patriots have allowed 795 rush yards outside the tackles (12th in NFL) but only 355 between the tackles (third fewest in the NFL).