In honor of the Vikings 60thseason, the team will be honoring its 60 Greatest Fans throughout the year. To nominate a fan for this recognition or to view selections thus far,click here.
The Vikings have been a part of Marion Doheny's life for almost as long as she can remember.
A Minnesota native, Marion grew up in Le Centre but later moved to Bloomington, where she lived just four blocks from Metropolitan Stadium. As a young adult, she bundled up and attended Vikings games at the outdoor venue during the team's inaugural 1961 season with her cousin, a Season Ticket Holder.
Marion purchased the season tickets from him a few years later and has been in the stands ever since, experiencing all three of the Vikings "permanent" homes in addition to the team's 2014-15 stint at the University of Minnesota.
In 1966, Marion became a flight attendant for Northwest Airlines, an occupation she'd hold for 42 years.
Marion's supervisor – knowing her affinity for the Vikings – approached her six years into the job with an opportunity: Would she like to work on the Vikings charter flights?
"Of course, I couldn't say no," Marion said with a chuckle.
And so for the 1972 and 1973 seasons, Marion served the Vikings on their road trips.
She recalled quarterback Fran Tarkenton re-joining Minnesota after five seasons with the Giants, and she called Hall of Fame Head Coach Bud Grant "cool," noting that and he sat in coach with the rest of his staff, making sure starters and veteran players occupied the aircraft's 24 first-class seats.
After games, Marion said, Grant allowed the players to have two beers apiece – but under no circumstances was a third libation allowed.
"We had to leave at the third quarter and [prep the airplane], and we would put two beers in everybody's seat pocket," Marion said. "We served them a steak on the flight home, and they were about 2-3-inch steaks.
"I probably shouldn't tell this, but Bud would take the leftovers for his dogs," she added, laughing.
Marion's favorite player at the time was Paul Krause, who played for Minnesota from 1968-79.
"I don't know why. I just liked him from the very beginning," she said. "My current favorite player is Kyle Rudolph, and for the same reason – I just thought they were pretty neat people."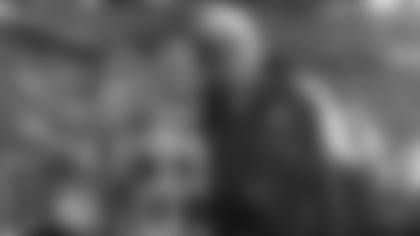 Marion attended all four of the Vikings Super Bowls – Super Bowl VIII against the Dolphins after flying with the team's charter and the other three as a "regular" fan.
"It wasn't as big of a deal back then," she says now, citing inexpensive tickets.
Through six decades of Vikings football, Marion has remained a loyal fan. She married her current husband, Dan, in 1996, and the two have been attending Vikings home games together for 25 years.
They had second-row seats at the Metrodome, and Dan recalled the exhilaration of watching Randy Moss change the game in 1998.
"When he was a rookie, the very first touchdown pass he caught was in the end zone, and we were on the 10-yard line, so we were literally, like, 30 yards from him and saw the catch," Dan said. "That was pretty exciting."
"I can't even start to name all of the fun and the thrills of being at the Vikings games, and the people that we met around us," Marion added. "Every time we changed stadiums, we changed seats and had to meet new people, but they've all been so much fun."
There have been electrifying wins and crushing losses, but Marion has stuck with her team through it all. And in some of her darkest hours, the Vikings have brightened her days.
In August of 2018, Marion was diagnosed with pancreatic cancer. She underwent chemotherapy and radiation that wreaked havoc on her body; and yet, she never missed a Vikings game, even when she had trouble walking.
Marion was declared cancer-free approximately one year after her initial diagnosis. But during follow-up scans this spring, doctors discovered that Marion's cancer had returned – and spread to her liver. She has suffered from complications, including severe leg swelling that has confined her to a wheelchair and interrupted her chemo treatments.
But much like her beloved Vikings, Marion has a fighting spirit.
"I'm praying. And I've been on so many prayer chains and gotten so many cards, that I know they're all helping," said Marion. "I do think [staying tuned-in to the Vikings] it has helped me.
She added happily: "Even at the stadium, I have some of the ushers praying for me."
Dan said the Vikings are "a big highlight" for Marion, who organizes several purple outfits for game day ("classy, not gaudy," Dan notes) and proudly sings the Vikings fight song after every Minnesota touchdown.
"If I was going to create a fan that I'd want for my team, it would be someone like Marion," Dan said, admiration clear in his voice.
And although the Vikings 2020 season isn't going as anyone hoped, Marion loves them just the same.
"I always stand up for the Vikings," she said. "Before I got really sick again, I was able to make some Vikings masks [for COVID-19]. I had mine on recently, and this guy looked at me and said, 'You aren't going to wear that all day.' And I said, 'I most certainly am.' Win or lose, I'm proud of them, regardless."