Zach Line has transitioned from college running back, where he chased Eric Dickerson's yardage and touchdown records at SMU, to helping Adrian Peterson pursue records that Dickerson set during his NFL career. Line has helped Peterson overtake the Hall of Famer's TD mark, but Peterson needs 1,819 yards to overtake Dickerson's career total.
"It is neat that in college I was chasing the same guy he's chasing," Line said. "I know that's not his goal, but that's what he's doing. It's really awesome. I wasn't able to reach all the TDs I wanted, so to have the opportunity to help somebody else try to reach that same thing but at the next level, it's a pretty cool thing."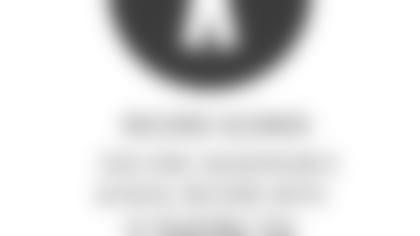 Q: How does the experience you have as a running back help you understand the blocking schemes?
A: A lot of times we're running we'll say read it like you have the ball. Sometimes the play is designed to go certain places but a lot of times, you're going off the sleeve and kind of adjusting to what they do because it's going to let you go where you want to go. It definitely helps seeing the holes, and now that I've had some time with Adrian, I know how and where he likes to go. I would say vision.
Q: Is there anything different when you block for Adrian Peterson compared to other running backs?
A: I don't block any differently so I guess I don't notice there. I'm sure the defense is a little more scared when Adrian is in there.
Q: You've had some opportunities for short-yardage carries. What's the mindset you have when you know there's going to be a lot of hammering on a play like that?
A: On those, I don't even notice the hits I'm taking because all you want to do is get to that white line and get a touchdown because your number doesn't get called very often and you want to take advantage of those limited opportunities. Those are very fun plays. Every once in a while it's fun to be rewarded, but as a fullback you don't expect it very often.
Q: There were different results with your spikes after those two TDs. One went sky-high, and the other was a little hard to gather but shot across the field to the sideline.
A: The first one, I got a lot of credit for. Terence Newman said it was a "grown-man spike." The second one, I got no love for. Once it slipped out of my hands, it felt like 10 minutes and I couldn't get a hold of that thing. By the time I got a hold of it, I didn't know if I should even spike it anymore, but I had to.
Q: You've also had an opportunity in the passing game where you've been able to find some openings and you've gotten the ball in space. What's it like to find some running room?
A: It's part of our play-action game. Obviously they're going to buy the fake with Adrian, and a lot of times, as soon as they see the fake, they run deep and I'm sneaking out underneath. You see that a lot with Adrian getting the ball, and Matt [Asiata] and Jerick [McKinnon] too. It kind of works the same for me. I'll be in the flat and they're all dropping deep, and it opens up a nice window for us.
Q: The catch in Arizona was something because you had to make a challenging catch and then two defenders pinballed off of you. What do you remember about that play?
A: When I first released into the flat, I didn't see there was that much commotion around me, so I thought it was going to be a clean catch. As soon as I caught it, I took a hit. I didn't really expect it, but you know, you've got to tackle in this league, and they didn't wrap up. I looked ahead and saw that Adam was getting his block. For a second there, I thought I might take it to the house, but I couldn't find that next gear I guess.
Q: You got hit as a surprise and then got hit again. How did you keep your balance?
A: I think the ball took me off balance to begin with. Who knows, I could have fallen after catching it, but they kind of stood me back up. After I watched it a couple of times, it looks like they actually helped me keep my balance.
Q: What do you love about playing special teams?
A: It's another opportunity to be out on the field. You always want to be a part of that final score. You win, you lose, you want to have some hand in the game. It makes you feel more invested in the win and makes you hurt that much more when you lose. It's another opportunity to be out there and make a play.
Q: You had a gash on the bridge of your nose that kind of runs in the family, but you guys are pretty proud of that one aren't you?
A: Yeah, I think both of my brothers had the same gash during football season. I don't know what it is. I think that spot was just not made for a football helmet. I think the gash on the nose matches the cowboy collar pretty well though. I think I've got a good thing going.
Q: You recently became a first-time father. How's it been?
A: It's been awesome, such a blessing. It's a lot of work that goes into it because it's just amazing to see her every day when I come home. I try to take as much off my wife as possible when I come home because I know she's had her hands full all day, give her a little free time.
Q: What name did you select?
Q: Was it a lot of work picking out a name? Did you know what you were going to go with ahead of time?
A: No, we didn't. There were a couple of names she liked, and I knew somebody with that name. There's a couple I liked and the same thing for her. She liked Blake, and it grew on me. I really like it now.
Q: What's been the biggest surprise of the first month of parenthood?
A: I would say having kids kind of puts everything in perspective. That's kind of the biggest surprise, how much love I feel by having her around. You've got football on your mind all day and you come home and I don't even think about football anymore. I didn't think it was possible to take that out of my mind.