Long before Kevin Stefanski watched from the Vikings sidelines as Brett Favre threw a Hail Mary touchdown to Greg Lewis for a Vikings win, he witnessed Reggie Miller nail a 3-point buzzer-beater to force overtime in the 2002 NBA Playoffs.
The emotions between the two contrasted starkly.
Kevin cringed at Miller's bucket and clung to the edge of his seat as the Pacers tied Game 5 against the New Jersey Nets, whom his father, Ed, was general manager of at the time. Miller managed to extend the contest even farther, slamming home a dunk as the first overtime period expired. Fortunately for the Stefanskis, however, the Nets pulled away for a 120-109 victory to seal the game and the series before advancing all the way to the Finals.
"That was incredible," Kevin recalled. "There were just some amazing moments in that era of Nets basketball."
For most of Kevin's childhood, his father worked as the President of a mortgage banking company while sharing his passion for sports, particularly basketball, with his four sons. Ed made what he calls "the best move" of his life in his early 40s. When Ed accepted the GM position in New Jersey, Kevin was in high school.
"His moving to the Nets kind of coincided with when they got good," Kevin said. "Jason Kidd showed up, so they went to the Finals a couple years in a row."
Added Kevin: "It was fun to see him living out his dream, and we kind of got a first-row look at that."
Ed served as the Nets GM from 1999-2007 before accepting the same position with the Philadelphia 76ers, where he stayed until 2011. For the next three seasons, he served as the Toronto Raptors Executive Vice President of Basketball Operations; he then moved to Memphis to take over as the Vice President of Player Personnel for the Grizzlies, where he's been since 2013.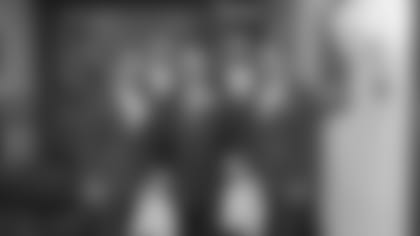 As a teenager watching his father achieve the career goals he had set for himself, Kevin became passionate about following a similar path.
"I saw him doing it at the professional level, and I thought that I could, too, if I just chased it," Kevin said.
While his father excelled as an NBA executive, Kevin chose the coaching journey.
To this day, Ed knows it was the right direction for him.
"Even though I went into the business world first, it was always in the back of my mind to get into the basketball world. So I understand exactly where he was coming from," Ed said of Kevin's pursuit of coaching. "I'm his father, so I'm [biased], but he has the makeup, the intelligence and the character to be a good football coach."
Kevin, who played defensive back at the University of Pennsylvania and was a two-time All-Ivy League selection, used an old adage to describe his decision to pursue coaching.
"There's this saying: 'Those who can't, teach,' " Kevin said. "I think for me it was, 'Those who can't, coach.'
"Once you're done playing, and you missed that [next level], I think the closest you can come to replicating that joy or that passion is on the coaching side," he continued. "I just think there's something about being in the meeting room, on the field – there's something about the purity of the game and getting really close to that."
After completing an operations internship with the Eagles in 2005 and also serving as Penn's assistant director of football operations, Kevin accepted a position with the Vikings. From 2006-08, he was the assistant to former Head Coach Brad Childress.
"I can't tell you that it was a grand plan [to end up with the Vikings]," Kevin said. "But I can tell you that when the opportunity was there, I jumped on it because I thought it might be once-in-a-lifetime."
Kevin assisted quarterbacks coach Craig Johnson from 2009-13.
The 2009 season, in which Brett Favre crossed the border and donned Vikings Purple, was an exciting year to coach Vikings quarterbacks.
When asked to describe his experience of coaching Favre, Kevin offered one word: "Amazing."
He recalls the days of sitting in meetings and observing Favre's way of thinking as an incredible way to kick off his first foray on the offensive side of the ball.
"From a football, Xs and Os standpoint, it was awesome," Kevin said. "But then just on a personal level, just to be around him and hear some of his corny jokes, but also to see how his teammates loved him."
Kevin said the transition to and adopting of Minnesota was immediate for Favre; the moment he stepped foot in the Vikings locker room, he embraced his former opponents as friends and teammates.
"He put his arm around them, figuratively, and sometimes he smacked them," Kevin said with a laugh. "But he really just brought the team in, from the offense to the defense. It didn't matter if you were a rookie or a veteran, he was just so inclusive in how he was a leader.
"That was a great lesson to learn," Kevin added. "For a young coach, for young players just to be around that type of leader and how gregarious he was, that was special."
Kevin still remembers the feeling in the Metrodome when Favre connected with Lewis in the very back of the end zone for a last-second victory over the 49ers.
Re-living the play, Kevin said the atmosphere was "electric."
"It was magical," he added. "Those guys don't come around very often."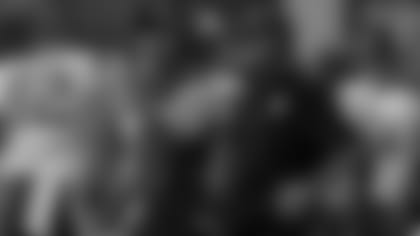 Kevin accepted the role of tight ends coach in 2014 when Vikings Head Coach Mike Zimmer took the helm. After holding the position for two seasons, Stefanski transitioned to running backs coach in 2016 and will once again be coaching quarterbacks for the 2017 season.
Ed believes Kevin's people skills have helped him be an effective coach that's well-liked by his players.
"He's intelligent, he's got a good personality, he can relate to people," Ed said. "In any business … you can be most intelligent person in the world, but if you can't relate and communicate and tell people what your ideas and thoughts are, you aren't going to be successful.
"Kevin knows what he's talking about, but he [also] communicates extremely well, and he's personable," Ed continued. "And I think people want to be around someone like that."
In 11 seasons, Kevin has worked under four different offensive coordinators: Darrell Bevell (2006-10), Bill Musgrave (2011-13), Norv Turner (2014-16) and most recently Pat Shurmur, who took over midseason when Turner resigned last November.
Kevin said coaching different positions in a range of offensive systems has made him a better teacher and allowed him to "speak different languages."
"If we sign a free agent and he was with a team that I know ran 'this' system, I can kind of speak his language," Kevin explained. "I think that's really valuable. And to be fluent in those languages, so to speak, really can help you in the transition process for a player as you're teaching him."
Because of his experience with changing terminology and the transition that comes with it, Kevin was just as impressed as anyone – if not more so – at the speed in which quarterback Sam Bradford learned the Vikings offense when he was acquired via trade less than a month before playing his first game in purple.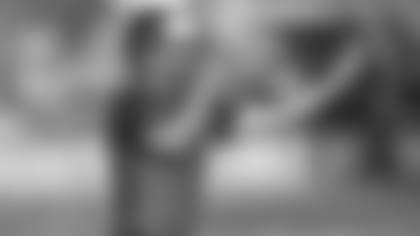 "Sam is an intelligent guy, so he's got the aptitude to do it," Kevin said. "But it's really hard, and it takes a while. It means grinding in here, it means being in the meeting room and staying late.
"He was just so diligent about getting around his teammates, getting around those players and understanding them," Kevin continued.
After observing Bradford's transition from across the hall in the running backs room last year, he now has the opportunity to directly coach the quarterback.
Kevin is excited about being back with the passers for a number of reasons. He said that he's walking into an ideal situation.
"Quarterback is a fun position. He's the ultimate decision-maker for the offense," Kevin said. "We're lucky because we have some really good ones here, and I'm just excited to work with these guys. What's really fun about this group of quarterbacks we're working with is that there's veterans, there's young guys, but they all want to learn, and they all want to be coached. They all want to get better."
When Ed makes visits to Minnesota, he proudly stands on the sidelines of the Winter Park practice field and watches his son lead quarterbacks through new plays and game-situation drills.
As he enters his 12th NFL season, Kevin feels positive about his new position and the direction Minnesota is headed. And whether there are bumps along the way or moments to celebrate, Kevin knows that he'll continue to have his biggest fan, his father, in his corner.
"I'm now a Minnesota Vikings fan first," said Ed, a longtime Eagles season ticket holder. "Because it's my son.
"I'm into the NFL … I love this," Ed added. "This group with the [Wilf Family Ownership] and with how Coach Zimmer and [General Manager Rick Spielman] and [Assistant General Manager] George Paton – they're all great people. He's in a very, very good organization, which I'm happy about."