MINNEAPOLIS — Ryan Bailey saved the best for last on his record-breaking adventure.
Bailey, a 33-year-old who lives in North Carolina, attended Minnesota's 36-28 win over Pittsburgh on Thursday night at U.S. Bank Stadium.
And while Bailey got to see a thrilling game, he also made history, too, as he broke a Guinness World Record for attending a game at every NFL stadium in the quickest span.
Bailey watched a home game for all 32 teams this season in just 74 days, which eclipsed the previous record of 84 days.
He ended his chaotic journey at U.S. Bank Stadium, the 32nd and final stop on his cross-country tour.
"It's incredible to end it here and have a first-time experience in a stadium I've never been to," Bailey said. "It's beautiful … and is definitely at the top, being a new stadium. This definitely ranks at the top."
Bailey described the past few months as "insanity."
"If you're just an average football fan or average travel fanatic, you might not make it. It was definitely tough," Bailey added. "Some people have trouble making their schedule for a week. Imagine crunching minutes and seconds for 74 days. There is no wasted time."
Here's why, and how, Bailey planned out his adventure:
A lifelong football fan and travel enthusiast, Bailey decided to combine his two passions into a world-record experience.
"I love traveling and I like to take things to the extreme," Bailey said. "So it's a level of insanity mixed in with my love of football."
But it took plenty of planning — and travel luck from some airlines — along the way.
Bailey, who has a full-time marketing job he can do remotely, began his journey in Week 4 as the Jets played at the Broncos on a Sunday. He then hopped a flight to Dallas to see the Cowboys host the Eagles on Monday Night Football.
That crossed off a pair of stadiums, but was also just the only time he didn't hit the trifecta of a Thursday, Sunday and Monday game each week during the schedule.
"There's not much flexibility, so Thursday and Monday are the anchors of the schedule," Bailey said. "Then you kind of fill in other games on Sundays. I tried to pair a Sunday game geographically close to the Monday game."
Bailey said he would fly in for a Thursday game and then fly home to Charlotte to referee high school lacrosse on Saturday mornings. Then he would take a Saturday night flight to whichever city was next, attend the game and hop on an early Monday morning flight to his next destination.
It was a whirlwind, but Bailey attended three NFL games in a five-day span a total of nine times in the past few months.
And he made sure to attend home games for every team and not just hit every stadium. So that meant two trips to MetLife Stadium to see the Giants and Jets each host a game, as well as a pair of visits to SoFi Stadium to watch the Chargers and Rams.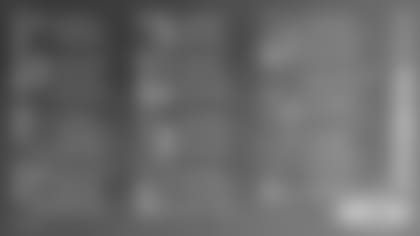 All in all, Bailey saw 10 teams on three different occasions and a dozen others twice. The Vikings were one of 10 teams he saw just once, obviously at their home stadium.
While he put U.S. Bank Stadium near the top of his list, other venues that impressed Bailey featured a mix of new and old. He enjoyed the historic atmosphere of Lambeau Field and the intensity of Arrowhead Stadium, but also had praise for Allegiant Stadium in Las Vegas.
Bailey went to the majority of the games by himself but had a friend with him for the finale.
"I knew I wanted to come to this one with him," said David Bates. "I don't have the flexible work schedule he does, but it's been fun to [follow him along the way]."
Bailey also attended just one game in Week 14 as he set the world record, but don't think for a second that he's about to take the rest of the season off from attending games.
"I need the furthest thing from a break from the NFL. I need more," Bailey quipped. "I plan on attending a few more games and hopefully the Super Bowl, with it being the grand finale of them all.
"First, I broke a Guinness World Record," Bailey said. "Now, hopefully the Super Bowl is next to knock off another item on my bucket list."