Vikings fans will have plenty to keep their eyes on before Sunday night's game against the Packers at sub-freezing Green Bay.
Rather than controlling destiny by winning the final three games of the season, Minnesota now needs some help along the way.
The Vikings are one of 24 teams that remain in playoff contention entering Week 17 and one of nine who need additional help even if they manage to win out.
Not to start the new year off with negativity, but the following scenarios for teams are most easily communicated with "eliminated if" language.
Minnesota is eliminated if it loses and either Philadelphia defeats Washington or Atlanta beats Buffalo.
Atlanta is eliminated with a loss or wins by Philadelphia and San Francisco (over Houston).
Washington is eliminated with a loss or wins by San Francisco, Atlanta and New Orleans (over Carolina).
New Orleans is eliminated with a loss and wins by San Francisco and Philadelphia.
Here's a glance at three games around the league.
Atlanta Falcons (7-8) at Buffalo Bills (9-6)
Noon (CT) Sunday | Highmark Stadium | FOX (regional broadcast)
Outlook: The Falcons face a must-win to keep their faint playoff hopes visible. The Bills can clinch a playoff berth with a win and a loss by Baltimore or losses by the Chargers and Raiders. Buffalo controls its own path to winning the AFC East if it wins out, even if New England does as well.
QB Matt Ryan enters with 366 career touchdowns, tied with Eli Manning for ninth all-time. Ryan's next touchdown will break the tie and make him the fifth player in NFL history with 20-plus touchdown passes in 13 consecutive seasons.
RB Cordarrelle Patterson has career highs in rushing yards (579), receiving yards (523) and scrimmage touchdowns (11 — six rushing, five receiving).
LB Foyesade Oluokun ranks second in the NFL with 166 tackles and is one of four players with 10-plus tackles in 10 different games this season.
QB Josh Allen last week recorded his fifth career game with 300-plus passing yards and at least 50 rushing yards, the second-most all-time.
WR Stefon Diggs is just the second player in Bills franchise history with 1,000 receiving yards in consecutive seasons, joining Stevie Johnson (2010-12).
S Micah Hyde recorded six tackles and two interceptions last week for his second career game with a pair of picks.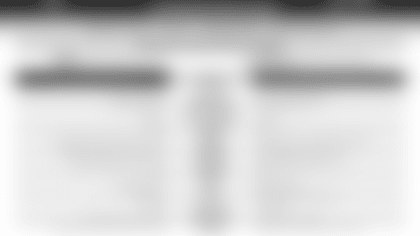 Philadelphia Eagles (8-7) at Washington Football Team (6-9)
Noon (CT) Sunday | FedEx Field | FOX (regional broadcast)
Outlook: The NFC East rivals are meeting for the second time in three weeks, providing another intersection of teams heading different directions. The Eagles have won three in a row, albeit against squads that are a combined 14-31 entering Week 17. The Washington Football Team has lost three in a row, including a narrow loss and a blowout by the Cowboys.
QB Jalen Hurts totaled 296 passing yards and three touchdowns (two rushing, one passing) against Washington in Week 15.
Dallas Goedert ranks fifth among tight ends this season with 759 receiving yards, including a career-high 135 against the Football Team two weeks ago.
CB Darius Slay leads the NFL with 119 passes defended since 2013.
QB Taylor Heinicke, the former Vikings backup, has thrown for career bests of 3,052 yards and 20 touchdowns.
RB Antonio Gibson is one of two players (Green Bay's Aaron Jones) with 1,000-plus scrimmage yards and nine or more touchdowns in each of the past two seasons.
S Landon Collins recorded an interception and recovered a fumble in Week 15 against Philadelphia.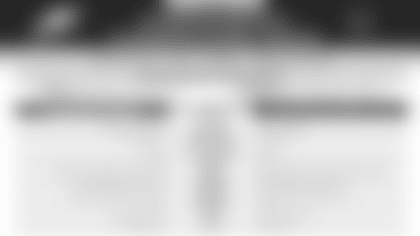 Arizona Cardinals (10-5) at Dallas Cowboys (11-4)
3:25 p.m. (CT) Sunday | AT&T Stadium | FOX (nearly national broadcast)
Outlook: This one doesn't impact Minnesota at the moment, but it's being shown throughout the state, in border states and in most of the states adjacent to those. It also has a direct connection to the Packers. Green Bay can clinch the No. 1 seed with a win over Minnesota and a Dallas loss. The Cardinals have secured a playoff berth and are battling the Rams (11-4) for the NFC West; the Cowboys have secured the NFC East.
QB Kyler Murray needs 216 passing yards to become the fourth ever with 3,500 passing yards and 20-plus touchdowns in each of his first three seasons. He'd join Andrew Luck, Peyton Manning and Baker Mayfield.
RB James Conner ranks second in the NFL with a career-high 14 rushing touchdowns.
LB Chandler Jones needs one-half sack to record 10 or more for the seventh time in 10 seasons.
QB Dak Prescott needs 72 passing yards for his second season with 4,000-plus and at least 30 touchdowns (2019).
RB Ezekiel Elliott recorded his ninth career game with a rushing and receiving touchdown last week. This is his third season with at least 10 rushing touchdowns.
CB Trevon Diggs became the seventh player in the Super Bowl era and first since Everson Walls in 1981 to record 11 interceptions in a season. The single-season record is 14 by Night Train Lane in 1952.