Despite turning 30 last March, running back Adrian Peterson hasn't lost a step – and he proved that in 2015.
ESPN's team of NFC North writers voted Peterson as the division's MVP, and ESPN's Ben Goessling said the decision was **unanimous**.
Peterson received all four first-place votes, sweeping the vote to beat out last year's winner, Green Bay Packers quarterback Aaron Rodgers, who finished four points behind Peterson. Rodgers collected all four second-place votes, while four players – Vikings quarterback Teddy Bridgewater, Lions defensive end Ezekiel Ansah, Lions receiver Calvin Johnson and Vikings nose tackle Linval Joseph – each got one third-place vote.
*Peterson finished the 2015 regular season with 1,485 yards on 327 carries, topping both categories league-wide in winning his third career rushing title. The veteran tied for the NFL lead with 11 rushing touchdowns, and his 80-yard touchdown against the Raiders on Nov. 15 ranked as the fourth-longest run in the league in 2015.
Goessling said Peterson's eight regular-season fumbles were a consideration for the voters but didn't gloss over the contributions he made this season.
After fumbling a league-high eight times during the regular season, Peterson was stripped by Seahawks safety Kam Chancellor in the fourth quarter of the Vikings' 10-9 wild-card loss to Seattle, putting the Seahawks in position to kick the decisive field goal. But the Vikings probably wouldn't have been in the playoffs without Peterson driving their offense for so much of the season as they climbed past the Packers in the NFC North.
On Scale of 1-10, Vikings Rank '7' for Super Bowl Contention
Following the AFC and NFC Championship games last night, NFL Nation reporters covering the 30 non-Super Bowl teams answered this question: On a scale of 1-10, how close is the team you cover to being a Super Bowl contender?
On the scale, '1' is nowhere near being a contender, while '10' is on the brink of appearing in the 2017 Super Bowl.
Goessling rated the Vikings a 7, saying the team is talented but still missing some key pieces.
The Vikings need to fix their ragged offensive line. They need to add a dynamic receiving threat, and they need much more from quarterback Teddy Bridgewater, so they're not asking running back Adrian Peterson to account for nearly one-third of their yards again at age 31. But their defense should be one of the NFC's best again next year, and in Mike Zimmer the Vikings have a coach who has quickly changed the identity of the franchise. A few good offseason moves should have them among the NFC's contenders in 2016.
Green Bay, Indianapolis, Kansas City and Washington also received 7s from their respective writers.
New England and Arizona, both teams that lost the championship games yesterday, received 10 rankings, while Cleveland was the sole team to receive a 1.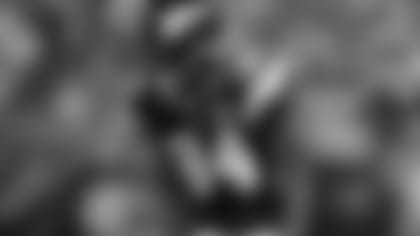 Randy Moss's Son Commits to N.C. State
During his first run with the Vikings, former NFL wide receiver Randy Moss left his mark on the league. Moss made seven trips to the Pro Bowl (five during his time in Minnesota), led the NFL in receiving touchdowns five times, was named to the list of 50 Greatest Vikings and set a variety of other records.
Moss's son Thaddeus will look to carve a similar path to the NFL.
On Saturday, less than three years after his retirement, the world was introduced to another 6-foot-4 Moss with an innate gift for catching passes. Thaddeus Moss, Randy's oldest son, announced his commitment to play for N.C. State next season. The four-star tight end, a product of Mallard Creek High in Charlotte, is the highest-rated commitment of the Wolfpack's 2016 recruiting class to this point.
Thaddeus made the announcement from his personal Twitter account, later telling ESPN that the decision "just felt right."
The younger Moss, who had offers from UCLA, Georgia, Nebraska and Arizona State among others, ultimately chose the Wolfpack over Texas A&M.
Although Thaddeus plays a different position than his dad, he demonstrates a similar finesse on the field and is poised to offer opposing defenses a similar challenge. You can view highlights of Thaddeus' junior high school season here.