EAGAN, Minn. — There's something about surprises that draws Eric Kendricks and Randall Smith together.
A little more than a year ago, the Vikings linebacker showed up at All Square to present Smith and his co-workers with a hefty check for $250,000 for the organization's Fellow & Fellow Alum Fund, which supports formerly incarcerated individuals in their efforts to rejoin society.
All Square is a nonprofit social enterprise that includes a craft grilled cheese restaurant, professional development institute and blossoming Civil Rights law firm.
Smith turned the tables on Kendricks that September day, however, with a surprise announcement that Kendricks had been chosen as the Vikings 2020 Community Man of the Year and nominated for the Walter Payton NFL Man of the Year Award.
"I guess when you're doing something positive, you just align," Smith said with a laugh. "It's like magnets. He's doing his job on the field and being positive, and I'm doing my job in the community and being positive.
"It's only fate for us to come together and build this," Smith said. "The Vikings and him actually want to help and be transparent. They see people that need help and that what we're doing is changing their lives."
The two were up to their usual tricks again Wednesday morning at the Vikings Museum, which is next to Twin Cities Orthopedics Performance Center.
Kendricks once again had a donation for All Square, this one totaling $150,000. The gift came from the Vikings Social Justice Committee, of which Kendricks is a member. (The committee received a boost earlier this month when the Julie & Kirk Cousins Foundation committed $500,000 to the group).
"Obviously, you guys have been doing great work, and we want you to continue doing great work," Kendricks said. "The Vikings support you as well, so we have another check for you guys.
"For the Vikings, and myself included, it's amazing to help an organization that helps in an unconditional way. We have to do things differently to get results that we've never had," Kendricks later added. "It's important for us to partner with All Square because of the great work they do in this community every day. These people are great people. We're trying to be better for the people that come after us."
Smith and others from All Square let out an audible gasp when Kendricks presented the oversized check.
"I'm grateful for you and for All Square and the partnership that we've developed," Smith said. "It means a lot to me, for real."
But Smith was soon without words, as Kendricks had a surprise just for him.
"Randall, shoot, I've known you for a few years now," Kendricks said. "You're a leader, man, for real. And we want you to keep it up.
"But … we want to present you with two Super Bowl tickets," Kendricks added.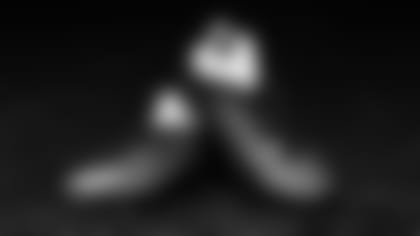 Kendricks' 2020 My Cause, My Cleats featuring All Square
Yes, Smith will be there when Super Bowl LVI kicks off at SoFi Stadium in Los Angeles on Feb. 13, 2022.
It took Smith a few moments to catch his breath.
"I usually have something thoughtful to say," Smith said. "But this is pretty incredible.
"I never envisioned we would partner up with the Vikings or anything like that," Smith added. "At first, [All Square] was something small. All of this is just a blessing."
Smith serves as the Community Director for All Square, working on community outreach in recent months.
"I've been focusing on making sure I'm good for the people that are around me and that I'm bringing positive energy and working as hard as everybody else," Smith said. "Just let them know I'm here with them in the trenches.
"I've been building relationships with different organizations to let them know, 'We're here. And I'm here to help you.' I'm the bridge for us to hopefully make other people's lives better," Smith added.
Yet true to form, Smith was able to make Kendricks light up just as the linebacker was about to go get ready for Wednesday's practice.
Smith revealed that All Square will unveil a sandwich in Kendricks' honor beginning this week.
That new menu item will feature a fried egg, bacon and strawberry jelly on toasted buttermilk bread. It's something that is near and dear to Kendricks.
"If I was ever hungry or it was late at night or I came back from practice or something like that," Kendricks said, "and I said, 'Mom, can you make me a sandwich?' That's what it was."
For more information on All Square's community efforts and restaurant, click here.