They are in the same position group and often line up just a few feet from one another. Their jersey numbers are just one digit apart, and they were born within three weeks of each other.
It's no wonder that Anthony Barr and Eric Kendricks have turned into a package deal of sorts.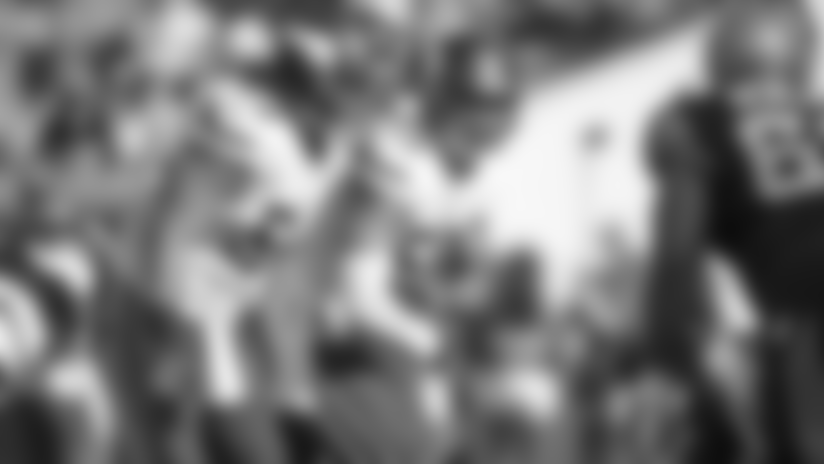 It's rare to see one linebacker and not the other in the close vicinity, whether they're at practice, in a game or out to eat in Minneapolis.
The closeness of a pair that has known each other since they were teenagers has certainly translated onto the field, as Barr and Kendricks have become integral pieces to one of the NFL's best defenses.
At this point, the former UCLA teammates and college roommates said they almost have a telepathic feel for where the other is and what they are going to do on the field.
"It does feel like we're talking less," said Barr, who wears No. 55. "(We're) just a little more comfortable knowing what's going to happen and (with me knowing) what he's going to do in certain situations." 
Kendricks, who sports No. 54, added: "Our verbiage is very efficient. A lot of it us our practice habits and us just being on the same page before the snap."
Even Vikings Head Coach Mike Zimmer, a man who is measured when doling out praise, said there is no doubt the pair works well together.
"They're both good players and they've done a good job, really with everything," Zimmer said.
But what makes them so efficient together?
A pair of Minnesota defensive coaches have their theories.
"I think their familiarity with each other. Their communication because they've done it so much together," said Vikings Defensive Coordinator George Edwards. "The whole thing is understanding leverage, understanding what you're trying to get accomplished and what offenses are trying to do to us.
"When they get caught in those critical matchups they've been able to be successful because they're able to use their ability and understand what it is we're trying to get accomplished," he added.
Vikings linebackers coach Adam Zimmer said the two almost have a big brother-little brother relationship on the field. He noted that Barr, who has one more year of experience in the NFL, sometimes nudges Kendricks when he's lining up.
"I think they feed off of each other pretty well," Adam Zimmer said. "They have a good feel for how each other is going to play things.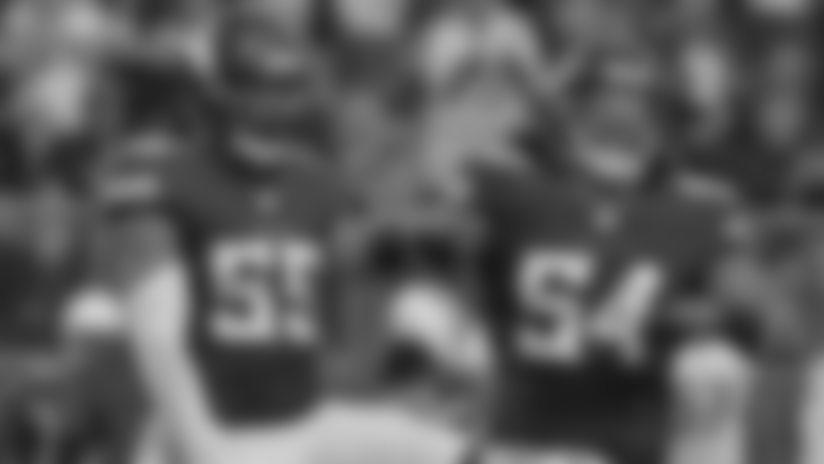 "That's part of being in a defense — now two years for Eric and three for Anthony," he added. "They know where everybody is going to be, and they have a good understanding of our scheme, which helps them on defense."
Barr and Kendricks have certainly made their mark on the Vikings in 2016. They've helped Minnesota rank No. 1 in points allowed (17.3) and No. 2 in yards allowed per game (304.3).
Entering today's game against Indianapolis, Kendricks is second on the Vikings with 88 total tackles and has 10 passes defensed, the second-most on the team.
Perhaps Kendricks' most-memorable play this season was when he returned his first career interception 77 yards for a touchdown in Minnesota's season opener against Tennessee.
Barr said he's impressed by Kendricks' athletic ability in space against tight ends and running backs.
"(I like) the way he competes every play and never takes a play off," Barr said. "His coverage skills are pretty good."
Barr then paused for a second, not wanting to miss a chance to rib his friend.
"Not pretty good," he said with a smile. "Just above average."
Zimmer remarked earlier this fall that Kendricks sometimes looked like he drank too much coffee during his rookie season in 2015, a comment that highlighted the linebacker's constant energy as he led the Vikings with 105 total tackles.
Zimmer recently said Kendricks had toned down his chaotic style of play and seemed more relaxed.
"He's a lot better," Zimmer said. "You'd have to ask him, but I think he's much more comfortable with everything and seeing things and making checks and calls." 
Kendricks agreed with his head coach.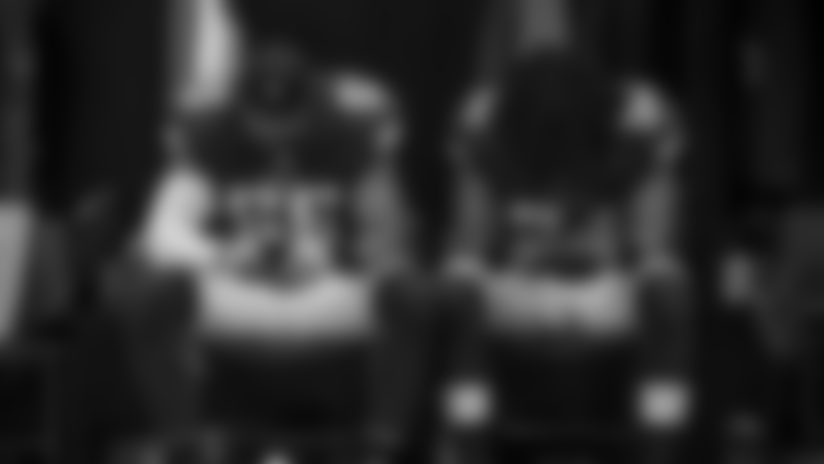 "Throughout the year, I've settled down," said Kendricks, who was a second-round draft pick in 2015. "Last year I was pretty crazy, but I definitely have to keep some of that as part of my game because it's an advantage as well."
As for Barr, the 2014 No. 9 overall pick was the Vikings first draft selection after Zimmer arrived in Minnesota.
The 2015 Pro Bowl selection has 71 tackles this season, good for fourth on the team, and has added 2.0 sacks.
Kendricks said his friend's football IQ helps make him one of the most talentedly well-rounded players on the Vikings.
"(I'm impressed by) his mindset and his mentality," Kendricks said. "He's a very smart football player and knows what's going on at all times. And he can blitz very well."
It's also helped that Barr has missed just six of Minnesota's defensive 846 snaps* *in 2016, a year after he missed a pair of games and played just 77 percent of the defensive snaps.
"That was definitely a goal of mine coming into this season, to be as healthy as possible," Barr said. "The most important ability is availability, so that's what I've tried to do."
The versatility of each player has allowed them to be key pieces in Zimmer's vaunted Double-A gap scheme.
Barr and Kendricks crowd the line of scrimmage in the formation, and it's anyone's guess what they'll do next.
Kendricks and Barr often line up between the defensive tackles in upright positions to show pressure looks on each side of opposing centers. The Vikings have multiple options from this look that include dropping both into coverage, bringing one on a blitz immediately or on a delay, or bluffing and bringing pressure from elsewhere.
"There's a lot of different coverages, blitzes … show blitz, come out in coverage," Barr said. "I think we disrupt the offense if we do it effectively."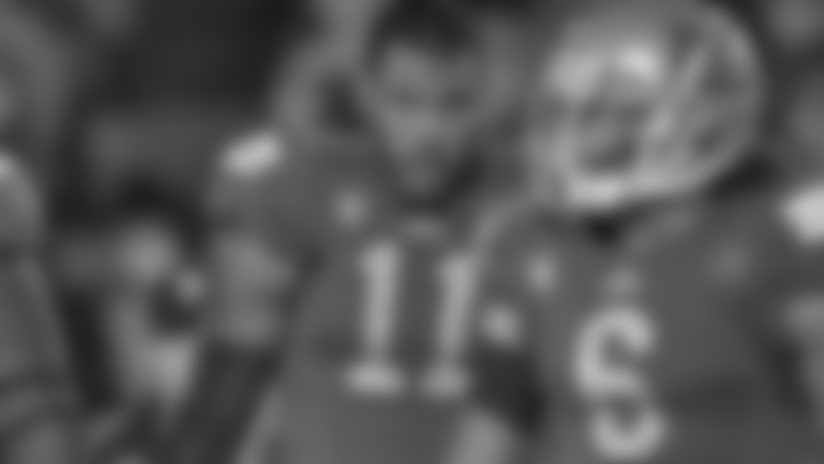 The former UCLA teammates arrived in the NFL a year apart after playing together during the 2012 and 2013 seasons with the Bruins.
Even though the pair of 24-year-olds have played hundreds of snaps and spent countless hours with one another, they aren't sick of each other just yet.
The pair frequent a ramen joint in downtown Minneapolis that has both of their jerseys on the wall. And since the two live in close proximity to one another, they're usually up for some friendly competition involving video games.
"We live in the same building, so it's hard to get away from him," Barr quipped.
Whether it's grabbing a bite or going over film of an upcoming opponent in the linebackers' room, where one goes, the other is usually nearby.
And with the pair still relatively young in their NFL careers, there's a chance they could being seeing one another and making plays for the Vikings for years to come.
"Why not? We've got a good thing going here," Kendricks said. "I never take it for granted, playing on this green grass. 
"And if it's with one of my friends, that's awesome, too," he added.
Said Barr: "I have to agree. It's been a great experience, and we've been lucky to be in this situation."