Years before Randall McDaniel donned the gold jacket at his Pro Football Hall of Fame induction ceremony, he had his helmets fitted and shoulder pads fastened by Dennis Ryan, the Vikings longtime equipment manager.
When McDaniel first entered the Vikings locker room as a rookie in 1988, Ryan was going on his 13th season with the Purple and Gold.
"Dennis Ryan was the only equipment guy I ever had here," said McDaniel, who played 12 seasons in Minnesota before a two-year stint in Tampa Bay to wrap up his career. "I still think he's the best in the business."
Added McDaniel: "If you needed something, it was in your locker before you even asked for it."
McDaniel defines Ryan as down-to-earth and deeply devoted to his work.
The guard recalled arriving at Winter Park some mornings before the sun broke the horizon, but even then it was impossible to get in earlier than Ryan, who was known to sleep on a sofa in his office from time to time.
"His passion to keep doing this, he's the most dedicated guy," McDaniel said.
Former Vikings defensive end Jared Allen (2008-13) came through the locker room seven years after McDaniel left Minnesota, but he described Ryan in the same way.
"If you do any job for 40 years, you have to have a passion for it," Allen said.
"He has relationships with everybody from [Bob] Lurtsema, to myself, to Adrian Peterson, and you go all the way back to probably Fran Tarkenton, you know?" Allen continued. "He's seen so many changes [in the] organization, and he's been the consistency. To survive changes, you have to be good."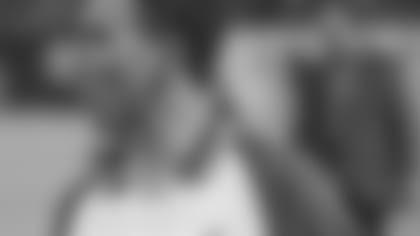 Ryan got his initial front-row glimpse of the Vikings – or maybe vice versa – as a 16-year-old working on the grounds crew at Midway Stadium in Saint Paul. The Vikings and Twins at that time split time at Met Stadium during their respective seasons, so Midway became the Vikings practice field for a portion of each year.
In 1975, then-equipment manager Jim "Stubby" Eason recruited Ryan and others from the Midway staff to form a temporary team that helped load the Vikings locker room and transfer it down to Mankato for training camp.
"On the return trip, Stubby asked for two of us in particular to be on the crew moving back," Ryan recalled. "He requested the same thing the following year and then offered us both jobs for the entire season."
Defensive end Mark Mullaney also was a rookie in 1975. The first-round draft pick still remembers his first impressions of Ryan.
"I just remember them bringing in Dennis Ryan, this young teenage boy with acne, and wondering, 'Who's this guy?' " said Mullaney with a chuckle. "But I quickly came to realize how hard a worker he was … He was a young man of strong character [and] work ethic, and I think he impressed all of the veteran players right away."
Mullaney and his teammates weren't the only ones who needed to warm up to the idea of a kid hanging around the locker room.
When Vikings Head Coach Bud Grant needed some convincing to hire the undersized high school senior, athletic trainer Fred Zamberletti stepped up to the plate. He had been observing Ryan's work ethic and didn't hesitate to put in a good word.
"I told Bud, 'He can do the job. I promise you that,' " recalled Zamberletti, who remains a team consultant to this day. "Bud and I were very close. He knew that if I said it, Dennis could do the job."
In 1977, Ryan accepted a permanent position on the equipment team staff.
Ryan, a Saint Paul native, had been around the gridiron for as long as he could remember. His father was a high school coach, and Ryan played football through his ninth-grade year.
"I weighed a whopping 98 pounds in 10th grade, so I decided I could no longer play guard," he explained with a chuckle.
When the Vikings franchise was founded in 1961, Ryan became a committed fan, falling quickly in awe of Grant and the Purple People Eaters. To then have an opportunity to work side-by-side his heroes was a dream come true.
"It was pretty exciting … doing that sort of thing rather than flipping burgers or pumping gas or something like that," Ryan said. "It was pretty rewarding."
Even after decades on the job, the role of Vikings equipment manager has never become monotonous or dull for Ryan.
"I think just being around the players, being able to run around the practice field with guys of that athletic caliber, just helping out and being part of something like that is huge," Ryan said "Game-day Sunday, whether it's home or on the road, just the excitement of the crowd and being down there on the field is something that I really do enjoy."
From the very beginning, Ryan took his job seriously.
Vikings linebacker Scott Studwell played for the Vikings from 1977-90 and remains with the team as a college scout. He's had a front-row seat to Ryan's career journey with the Vikings and described him as a "grinder."
"I mean, he's conscientious, he's loyal, he's a complete team player," Studwell said. "He's always there for you. If you need something, he'll get it for you."
Allen echoed Studwell's thoughts.
Over six seasons in Purple, Allen built a relationship with Ryan and remains grateful for all of the little things he did to help him be as successful as possible on game day.
"For me, it was always that I liked our throwback helmets better, so the way they rotated the helmets, he always knew which helmet that I liked best," Allen said. "He has a passion for his job, and he takes it seriously."
Studwell and Allen are just two players among many who have emphasized Ryan's attention to detail. Whether he's fitting a helmet, adjusting shoulder pads or making sure a player has a specific-colored Sharpie in his locker, Ryan has always made it priority to remember the little things that make a difference within a football team.
When the Vikings signed Jim Kleinsasser in 1999, they often used the tight end as a fullback.
"I had never really lead-blocked before, so I was horrible at my form and getting in the right position," Kleinsasser said. "I bent facemasks probably every game. And it was so funny because I'd come off the field and, I don't know if D-Ryan was just watching me because he knew that it had happened before, but I'd come off the field and he'd say, 'Give me your helmet.'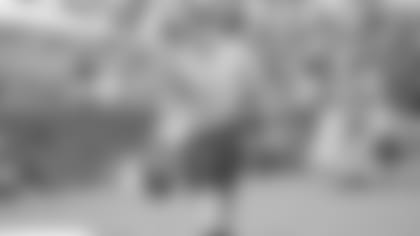 "So I'd take my helmet off, he'd go switch it out, and we were back into it," Kleinsasser continued. "You didn't even really have to seek him out. You'd be on the sideline between a play or personnel package, or the defense is on the field, and all of a sudden you feel something, and there's D-Ryan working on your shoulder pad or something."
Receiver Chris Walsh (1994-2002) called Ryan a "sweetheart of a guy" who would do anything he could to support the team to which he's been loyal for so many years. No matter how minor the request, he made it a priority.
"He wouldn't question it, he wouldn't give you a sideways look," Walsh said. "He would do it so fast and efficient, and we used to always call him 'The Hardest-Working Man in Show Business.' "
Talk to a Vikings player – former or current – and he'll tell you that Ryan saved the day more than once.
One game specifically stands out to Kleinsasser. The Vikings were playing the Cowboys on Thanksgiving Day, 2000, and a downpour hit Dallas early on in the game.
"We were soaked to the bone," Kleinsasser said. "So at halftime we come in, we're cold and just sopping wet, and D-Ryan has fresh equipment in every single locker. We completely changed out of everything and got into entirely new gear – fresh gear, dry gear, warm. We came back out and completely outplayed Dallas.
"He's the only equipment manager that I've seen or heard of that has gotten a game ball," he continued of the team's recognition of Ryan that day. "That level of commitment to your job … We were looking at some rain, he was prepared for it, and to come in at halftime and have it be just like pregame, everything's in your locker. That speaks volumes about his passion and how hard he works."
The following year, the Vikings and Saints were scheduled for a preseason matchup at the Alamodome in San Antonio. Minnesota was designated the "home" team, and it was requested that the team transport its large, inflatable Vikings ship from the Metrodome for player introductions.
Vikings assistant equipment manager Aaron Neumann, who first started under Ryan as a ball boy in 1988, was with Ryan in Mankato at the time of the phone call. He and Ryan were told that the collapsed ship would fit into a container the size of one of the team's laundry hampers, so the equipment manager agreed that it would be manageable.
"We get up here to Winter Park, and the thing is just massive," Neumann remembered with a shake of his head. "I was like, 'There's no way this is going to get on our truck.' Well, Dennis jumped up in the truck and just started moving stuff. He had like 18 inches up on top of the truck, and he's shoving bags back and forth, and sure enough, he somehow got that great big Vikings ship on the truck and down to San Antonio. It was crazy."
Added Neumann: "He never quits until the job is done. It doesn't matter where we're at, what we're doing, what obstacles he's facing – he's always going to get it done."
For years, Ryan's office has been an early morning pit stop for players on their way to the Vikings locker room.
The Norseman logo has been tweaked, uniform designs have changed and locker room walls have been painted and re-painted, but one staple has remained unchanged over the past four decades: D-Ryan's coffee.
Kleinsasser calls it "beautiful oil"; defensive end Brian Robison: "the old Dennis Ryan jet fuel"; Allen: "diesel fuel." But no matter who you ask, they all agree – it's dark, it's thick, and it's strong.
Kleinsasser said the brew is just what the players need.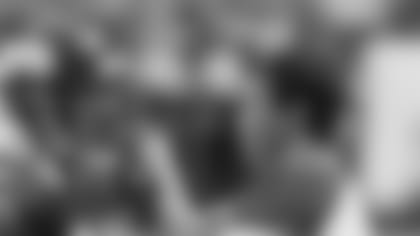 Because more than a shot of caffeine, the coffee served as a symbol of security and solitude when it was needed.
Kleinsasser spent arguably more time with Ryan than any other player, often allowing extra time in the morning or after lunch to sit and connect with the equipment manager.
"Sometimes during the season, he kind of becomes the therapist for you, you know?" Kleinsasser said. "You just kind of say, 'OK, no matter what happens, I have this little spot, I have D-Ryan, I can talk to him about whatever.'
"He's a Fort Knox vault – it's going to stay right there," he added. "D-Ryan always had that for you."
Envision Floyd's barber shop nestled in Mayberry, and it's likely a similar scene to an overturned equipment trunk huddled around by guys like Kleinsasser, Walsh and offensive linemen McDaniel, Matt Birk, Everett Lindsay and Jeff Christy.
"You had your powdered cream and your sugar, and we'd sit back there and have coffee," said Walsh. "We'd play different card games or sometimes a dominoes game."
In more recent years, electronics have been added into the mix. Allen, who spent six seasons in Purple after the Vikings traded for him in 2008, recalled Ryan's space gaining a TV. According to the defensive end, Guitar Hero battles between teammates were not uncommon.
"We had a sort of subculture or mini fraternity back in the equipment room," said Walsh.  
As is common in a frat house, the Vikings locker room commonly set the scene for harmless pranks and goofing off.
Walsh recollected stories of stealing a rookie's jeans, wetting them down and freezing them over the goalpost during Minnesota winters. He said Ryan likely witnessed the group daring Lindsay to drink a gallon of whole milk in an hour, followed by a half-gallon of goat milk in 15 minutes.
Christy added that players used to shut off the lights and throw footballs around.
"We made his job a lot harder," Christy said. "We thought it was fun, but looking back, it probably wasn't the smartest thing to do.
"Dennis used to be a wrestler, so he wasn't afraid to mix it up with some of the players," Christy added. "I know he wrestled me one time … I'm sure I was doing something that I probably shouldn't have been doing, and it wasn't to his liking."
But Ryan rarely showed any real frustration, often responding instead with a chuckle or shake of the head.
"We were never in the way, we were never upsetting him," Walsh said. "He loved us being around, and we loved being around him."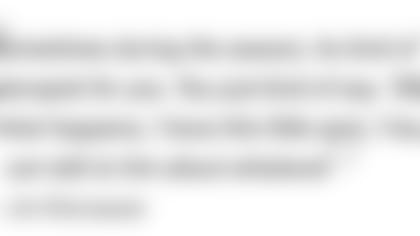 When Vikings alumni return to their former stomping grounds, a stop at Dennis Ryan's office is a nearly every-time occurrence.
In June, Randy Moss was invited to Winter Park and told that he will be inducted into the Vikings Ring of Honor in September. Moss couldn't predict the surprise announcement, but he did know that a trip to the team's facility would include a visit with his longtime friend.
"Dennis Ryan doesn't get a lot of notoriety and a lot of recognition," Moss told Twin Cities media members. "But without Dennis Ryan [and his] staff? These guys are screwing on cleats and getting your shoes tied, [helping when] something's popping off your helmet or your shoulder pads and stuff like that."
"I wouldn't be here if it wasn't for a lot of people," Moss said.
While Moss enjoyed his recent reminiscence back in Minnesota, Allen is still anticipating his first post-career return to Winter Park. He and Ryan have kept in contact through occasional texts and phone calls, and Allen can envision an in-person reunion.
After all, he's always been the same Dennis Ryan.
"I'll come into the building the same way I always do – I'll come knocking on the equipment room door," Allen said. "I'm pretty excited to go back, sit down and have a cup of coffee with D-Ryan one day."
For McDaniel, who has called Minnesota his home since his playing days, the stops are a bit more frequent. Most recently, he set aside time to connect with Ryan this spring when he attended the annual Alumni BBQ.
The Hall of Famer smiled as he returned from the equipment room.
"I always come back and tell him, 'Hey Dennis, you know my head size. I have a big head, so I need a hat that fits," quipped McDaniel. "So he always does that for me. He's been great.
"There's a lot of stories he could tell – he's seen it all; he's done it all," McDaniel added. "His passion to keep doing this, he's the most dedicated guy. He's in there now taking care of things."