EAGAN, Minn. — Dennis Ryan's astonishing streak of durability has come to an end, but his unquestionable run of dependability is likely to resume this week
The longtime Vikings equipment manager missed Sunday's 34-31 victory over the Packers because of COVID-19.
That meant Ryan's streak of consecutive games ended at 705. He hadn't missed a regular-season game since 1979 and had also been to 351 straight home games since 1977.
"Being that it was a win, that makes it a lot better," Ryan told Vikings.com. "It was disappointing to not continue it, but I was fortunate enough to have the health and good fortune to be able to go that long.
"It was a combination of luck and having good health all these years," Ryan added.
And in a cruel twist of fate, one of the most legendary and beloved figures in franchise history missed out on Minnesota's 500th regular-season win. Ryan, by the way, was on the sideline for a whopping 365 of Minnesota's 500 wins.
Vikings Head Coach Mike Zimmer still made sure to recognize Ryan though, reserving a game ball during his postgame locker room speech (Ryan watched the game from his home). Zimmer also handed ones out to Greg Joseph and Kirk Cousins.
"Dennis … I think everybody in this building loves Dennis," Zimmer said. "He's a tireless worker. He told me this week, when he found out he had COVID, that he was going to miss his first game in [almost] 45 years.
"He said, 'Darn, it has to be against the Packers.' Actually, he said more than that. He texted me that we should beat them," Zimmer added with a smile. "Anyway, I just thought it was appropriate [that he get a game ball]. He goes out of his way for everybody in this building … the players, the coaches. He does everything in the building for everyone, so I thought it'd be good."
Ryan got choked up when he saw the video, later using some humor to joke it was the most "unearned game ball" in team history. Ryan said former Vikings Head Coach Dennis Green gave the whole equipment staff a game ball back in 2000, but this was his first individual honor.
"To be honored like that, that's the ultimate team award," Ryan said. "For him to consider me at that point, it was incredible. It was quite an honor that Zim' did that. I was very humbled and proud and touched by the whole thing.
"To put me in there with Greg Joseph, who won the game with a kick, and Kirk, who had a tremendous game … to be considered in the same light, it was quite an honor. Certainly, it's something to be cherished."
Ryan said he never planned on creating such a streak, and noted that it almost ended 20 years ago when his father was in ailing health. But the game Ryan would have missed was rescheduled because the attacks on September 11, 2001.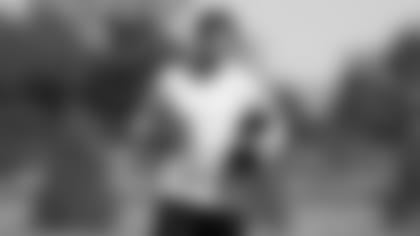 As for Sunday, Ryan praised Assistant Equipment Manager Adam Groene and Equipment Assistant Terrell Barnes for running a smooth operation in his absence.
"I had a lot of contact with Terrell and Adam, just walking through things I would typically do on game day," Ryan said. "I helped those guys along, and they did great."
And what was it like to watch at home rather than be on the sideline?
"It was a strange day," said Ryan, who parked himself in front of his television at 10 a.m. and didn't change the channel. He watched with his wife, Laura, and two dogs, Bear and Beau.
"After Justin Jefferson scored his first touchdown, Bear didn't like my tone of voice," Ryan quipped. "He took off and spent the rest the day away from me.
"Beau hung in there for the whole game," Ryan added.
But even from home, Ryan couldn't escape the weekly drama that has followed the 5-5 Vikings through 10 games in 2021.
Right when Green Bay tied the game at 31 late in the fourth quarter, Ryan's television went into reset mode. He scrambled upstairs to find another television and missed Cousins' near-interception before getting to watch Joseph's walk-off winner.
"Probably a fortunate thing that I did miss that, just to not add to the nerves," Ryan said with a laugh. "I'm always pretty calm on the sideline at the stadium, but it was a little more nerve-wracking to watch it on TV.
"There's nothing I can ever do about anything anyway," Ryan said. "But being there in person settles me down, anyway."
Even though Ryan wasn't in attendance, he still savored a win over Green Bay just like any other time.
"Anytime you have a win over the Packers, it's special," Ryan said. "But then to make it the 500th in the history of the team, it really adds to it.
"It seems like the one team we've had the craziest endings against would be the Packers," Ryan added. "There have been some crazy games, and it's quite the rivalry, being so close. Even if one team is down one year, it's a huge game on both sides of the border."
Ryan said he plans on being back at Twin Cities Orthopedics Performance Center later this week.
And he'll be in action for this weekend's game in San Francisco, where a new streak will start after ending the previous one at 705.
"I just want to get back to work," Ryan said. "But I know I'm not starting a new streak that is going to match that one."