NEW HOPE, Minn. –It's been 10 years since quarterback Daunte Culpepper threw his last pass for the Minnesota Vikings, but to fans it feels like yesterday.
Supporters showed up in droves for the 2016 Rock N Jock Expo at New Hope Cinema Grill on Saturday to meet Culpepper and receive autographs from the three-time Pro Bowler. One fan brought his wife along, and she gushed over meeting her favorite player.
"My wife didn't even like football until the Vikings drafted you," he said. "But she's been a fan ever since."
Minnesota drafted Culpepper 11th overall in the 1999 NFL Draft. During a seven-season tenure with the Vikings, he threw for 20,162 yards and 135 touchdowns. Culpepper achieved a passer rating above 96 and earned Pro Bowl nods for the 2000, 2003 and 2004 seasons.
Culpepper took time to acknowledge each individual at the event and signed all kinds of items, from December 2000 issues of *Sports Illustrated, *to mini Vikings helmets, to throwback No. 11 jerseys.
"It's great to be here," Culpepper said. "These people really support the Vikings – they're crazy about the purple and gold here. I'm just so glad I could be a part of it."
Culpepper, who now lives in Florida, joked about the March snowfall that hit the Twin Cities early Saturday morning.
"You forget about the [Minnesota weather], but it's a quick reminder of how brutal the winter can be here," Culpepper said, laughing.
Rock N Jock Expo is put on by **FanHQ**, a sports memorabilia store. Now with locations in Eden Prairie, Minnetonka and St. Cloud, owner Shaun Hagglund has built a strong rapport with a number of athletes from Minnesota's pro teams and has a reputation for putting on successful fan events. Culpepper partnered with Hagglund and former Vikings safety Tyrone Carter to raise funds for Carter's football camps, TC Elite Training Schools. Specifically, Saturday's appearance supported scholarship funds for the camp.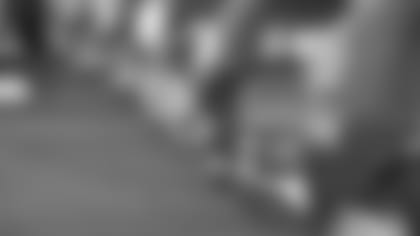 "That's what I'm all about – giving these kids the resources they need to be successful in this world," Carter said. "I try to use football to [reach] them, but at the end of the day, I'm focused on teaching them life lessons and tools. They can use those same tools in the world today, and I always tell them to maximize their full potentials, in anything they do – not just being a great football player. I'm trying to create great men."
Culpepper said helping out Carter was a no-brainer.
"It's great when you can help out a former teammate," Culpepper said. "What he's doing is so important. He's helping out these young kids, getting them prepared, training them to get to the next level – high school or college – and I think it's great."
Carter, an alum of both the Vikings and the University of Minnesota Golden Gophers, signed free autographs for fans while accepting donations toward the scholarship fund. He said having the collegiate and pro connection has always been fun, and he enjoyed meeting fans of both programs.
"I came here at age 17, and the State of Minnesota always showed me so much love," Carter said. "Giving back and having Daunte come back to Minnesota for this event has been great. It shows these kids that what they're looking forward to, it can be possible for them […] When they see these guys that have been there and done that, it helps them continue seeing their goals as reality."
Culpepper and Carter were joined by Vikings Hall of Famers Randall McDaniel and John Randle.
McDaniel, Culpepper and Randle overlapped on the 1999 Vikings team that finished with a 10-6 regular-season record and went to the Divisional round of the playoffs. In addition to visiting with fans, McDaniel also valued the opportunity to reconnect with former teammates.
"Today's been great – it's been fun," McDaniel said. "It's funny – you come to these events and think you'll be able to see all the guys right away, but you all get busy signing. [I'm looking forward] to catching up and seeing how things are going with them."
Randle, who spent 11 of his 14 NFL seasons with the Vikings, said Saturday's event was a trip down memory lane. He appreciated the contrast between meeting fans face-to-face and hearing them from the stands while he was on the field.
"This allows players and retired players to have a chance to talk to fans – connect with them, get personal and actually get to know each other," Randle said.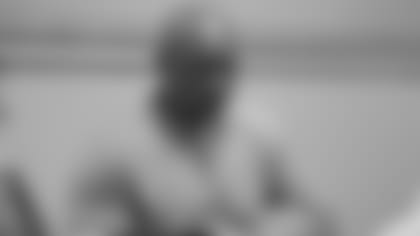 Randle also enjoyed seeing the variety of items that came through his line. While he's often the one being asked for an autograph, Randle enjoys collecting ink of his own.
Although he didn't have a strong memorabilia interest growing up, Randle started the hobby in 1990 during his rookie NFL season. He kicked off the pastime with an autographed Sandy Koufax baseball, and his collection has continued to grow. Among his treasured items are Barry Sanders' last game helmet, Steve Young's MVP helmet from Super Bowl XXIX, a Nolan Ryan baseball and, of course, a football signed by current Vikings running back Adrian Peterson.
"It's a nice little collection – I have helmets from probably 30 different teams," Randle said. "Over the years, things have just sort of fallen into my hands."
Randle's autograph session was slated to finish last. By the time the last Sharpie was capped, hundreds of Vikings fans had filtered through to talk to and take photos with the players, while also having an opportunity to support local young people.
Culpepper's resume holds a number of successful days in Minnesota. A decade after leaving the Twin Cities, he's adding Saturday to that list… even though it did snow.
"Every time I come back, it just feels great to see all these fans and smiling faces."