As the NFL season rolls along, players around the league are likely more cognizant of taking care of their bodies, especially now that every team has played double-digit games.
Dakota Dozier is included in that group.
Dozier has been a mainstay along Minnesota's offensive line so far this season, starting all 10 games at left guard between left tackle Riley Reiff and center Garrett Bradbury.
Dozier hasn't missed a play either, clocking in for all 627 offensive snaps so far this season. That's a career-high for the 29-year-old, who had 11 career starts before this season. Four of them came with the Vikings in 2019 when he logged what was then a career-high 362 snaps.
But even as he's put his body through the wringer in the trenches, Dozier is also having the most fun he's ever had on the field.
"It's been great, and I've truly loved it," Dozier said. "I've definitely had to stay on top of taking care of my body more. Honestly, I enjoy that part of it as well. Just super excited and hoping we can keep it going for several more games.
"I definitely try to make sure I'm getting a massage or seeing the chiropractor or acupuncture, just different things that [I've found out have helped other guys]," Dozier added. "Our bodies are our business, so the more we take care of them, the better we can get out there and play. I try to do everything I can to get the most out of what I've been given."
Dozier's steady play on the line has helped the Vikings offense click over the past month.
Entering Week 12, Minnesota ranks sixth in the NFL with 150.7 rushing yards per game. And in the past four games, the Vikings have averaged an impressive 168 rushing yards per contest.
Dozier, who re-signed with the Vikings this offseason, is originally from South Carolina but said he thinks he's found a home in Minnesota, and he has built a strong rapport with his teammates.
"We've really gotten it to a point where we're all on the same page with everything," Dozier said of the Vikings offensive line. "Just understanding where each other is going to be on each play, it gives you confidence to hit your guy, hit your assignment and do it to the best of your abilities.
"When you can play loose and free like that, it gives you that much more of an advantage," Dozier added. "We go out there and say, 'We're going to do our thing, try to stop us.' It's been really fun to see this offense start rolling."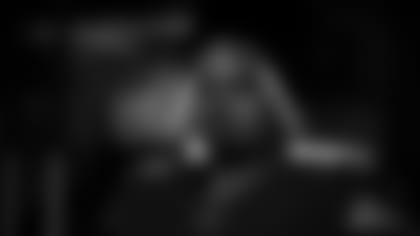 We caught up with Dakota this week for a Water Break, presented by Crown Royal.
Q: You've been a part of helping Dalvin Cook rank second in the league in rushing yards (1,069) thus far. What's it like blocking for him?
A: "It's a ton of fun. Dalvin is obviously a special running back, but he's a special dude, too. You're out there and he's saying, 'I go as far as you go.' It builds you up, and if you can get that guy just a crease, he can do something special. It jazzes you up on game day and throughout the week. He's a great guy, and I'm glad to be his teammate."
Q: You played under Vikings offensive line coach Rick Dennison with the Jets in 2018. Given his background — he has an engineering degree and wrote his Master's thesis in college on fluid mechanics — how much has his teaching personality come out in virtual settings?
A: "I definitely feel like that background for him has helped us. It's almost all been virtual, so he knows how to teach those different things. It's helped us a lot, and he's gotten guys on the same page with a lot of things. The way he uses the game plan has been a big part of what we're doing."
Q: Earlier this season, Vikings Head Coach Mike Zimmer called you a 'conscientious' person? Did you hear that, and what was your reaction to it?
A: "I heard it [laughs]. And I agree I'm the kind of person who's going to go out there and do my job or assignment to the best of my ability. That's something I've always taken to be part of my identity. When I heard that, I said, 'Cool. I'll definitely take that compliment.' "
Q: You were a four-year starter at Furman University from 2010-2013. Do you still have a lot of pride for the Paladins?
A: "I definitely do, especially since I'm the only person in the league from Furman right now. I take a lot of pride in that because it's not a big school … just 2,600 students or something like that. Furman will always be a special place for me. I met my wife [Haley] there, got my degree and a chance to play college football, then got drafted. A lot of great things happened for me at Furman."
Q: You mentioned your wife, and you have a young son, Dak, who is 2 years old. Are you appreciating the extra family time this season because of the COVID-19 protocols?
A: "When March hit and we quarantined, I spent a ton of time with them. I was home with them more than ever. And even during the season, we honestly do more things at home to be safe. Dak got to stay up late and watch the first half of the Monday night [win over the Bears], so my wife sent me a video of him, and he was loving it. He's growing up really fast, so I'm trying to love every moment I can. And with my wife, date night is something we really enjoy. It's harder to do right now, so we've been creative with making pizza at home or playing a board game or something like that. We're just all enjoying spending time with each other."