When Dakota Dozier's wife, Haley, started feeling especially fatigued at 30 weeks pregnant, neither she nor Dakota thought much of it.
After all, pregnancy can take its toll. Not to mention, the couple was traveling consistently between North Carolina and Minnesota – and had a 2-year-old son, Dak, to chase after.
But Dakota and Haley also knew this pregnancy differed a bit from the first. At the 20-week ultrasound, they'd been told Haley had a two-vessel umbilical cord; while typical cords have two arteries and one vein, Haley's had a vein and only one artery.
Doctors expected a lower birth weight but otherwise didn't express much concern.
"She started feeling really tired, but we didn't really think too much of it," Dakota said. "Got to about 31 weeks, though, and things really started unraveling."
Haley went in for a scheduled checkup, where blood tests revealed some red flags – including signs of preeclampsia, a condition characterized by high blood pressure.
When numbers didn't improve the following day, Haley was admitted to the hospital, where she received steroid injections to speed up the development of the baby's lungs.
"They say, 'You know, Saturday you'll get to 32 weeks. You're not getting past that. If you get to 32 weeks, we're gonna deliver this baby,' " Dakota recounted.
"They were kind of prepping us – 'She most likely will struggle to breathe, just because she's so young; we might need to put her on a ventilator right away.' So we have all these things that are going through our minds," he added.
Haley underwent a C-section on July 17, and Evelyn was delivered weighing 2 pounds, 8 ounces.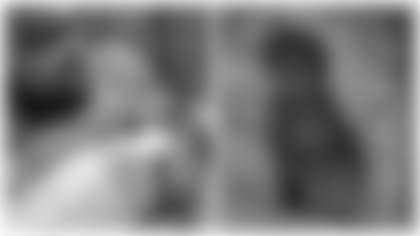 Immediately upon delivery, Haley and Dakota heard a precious sound: Evelyn cried.
"It was just crazy because our son was – I am not a small person," Dakota quipped. "Our son was 8 pounds, 3 ounces, and he was 'normal' sized, and now he's 3 years old, 55 pounds, three-and-a-half feet tall. He's just huge. So we were kind of expecting the same thing, but that wasn't the case this time. Just a teeny little peanut.
"I remember the first time holding her," Dakota continued. "Of course having held a newborn before, I felt confident holding her. But even so, how small she was, it was just crazy to me."
Miraculously, Evelyn never required a ventilator or any significant respiratory support beyond regular-flow oxygen early on, which meant she received plenty of skin-to-skin contact with her parents.
Evelyn did require a feeding tube for some time and remained in the NICU for 50 days.
Requirements to go home included reaching five pounds – the minimum for most car seats – and being able to consume a full day's feeding without a feeding tube.
"The feeding tube was in, and we tried to take it out – couldn't do it. Put it back in, take it out, couldn't do it," Dakota explained. "So it was kind of two steps forward, one step back kind of thing. Just getting her volume up, and slowly and steadily she did."
One week after Evelyn was born, Dakota reported to Twin Cities Orthopedics Performance Center for Vikings Training Camp.
Though difficult to be 1,200 miles from his family, Dakota stayed connected via regular phone and FaceTime calls and watched Evelyn grow and develop daily.
Evelyn has experienced a couple of minor health hurdles, including being hospitalized by the rhinovirus for a week, but overall is thriving.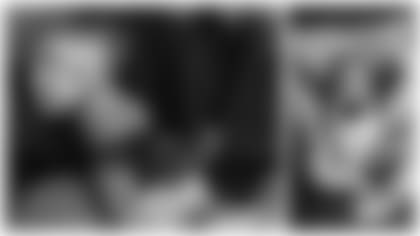 Five-month-old Evelyn now weighs more than 10 pounds and is well-attended to by her older brother.
"I can't imagine what it's like as a 3-year-old, being the only child and then all of a sudden it's like, 'Hey, where's my attention?' " Dakota said. "And we do things, try to show, 'Hey, we're still here,' but with her being so small, so young, there's just a lot we have to do for her.
"But he's always, 'Can I hold her? Can I kiss her? Can I feed her?' It's like, 'Mmmm, sit in the corner. You can hold her for, like, five seconds.' " Dakota laughed. "He'll help, though, throw the diapers away for us. It's been really cool to watch him care for her."
Dakota said the experience with Evelyn has opened his and Haley's eyes to the realities that parents of nearly 400,000 premature babies face every year in the United States.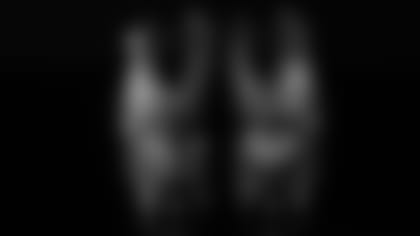 It's why tonight he's wearing cleats custom-painted to represent March of Dimes, which has helped millions of babies survive and thrive in the past 80-plus years.
March of Dimes educates medical professionals and the public about best practices, supports lifesaving research, provides comfort and support to families in NICUs and advocates for all moms and babies.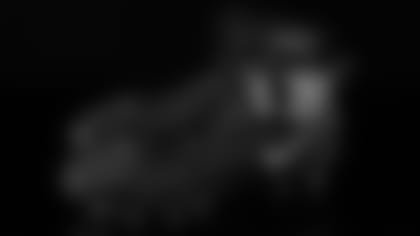 "Just the experience we had with the different nurses and the doctors – how they were able to communicate with us, understand what we're going through and really just be there to help us out [made such an impact]," Dakota said.
"Watching Haley go to the hospital and realizing that she was in danger, let alone the baby, it was kind of scary there for a moment. Because if it wasn't for medicine and everything we know now, there would have been a high likelihood that I could have lost my wife and my child. That hits home," Dakota continued. "After this experience, I couldn't think of anything that would make more sense than to represent March of Dimes for My Cause My Cleats. I'm super thankful."