Offensive linemen and tight ends on Wednesday cleared a path through the media workroom at the 2015 NFL Combine for the quarterbacks, running backs and receivers that are scheduled to appear at media sessions Thursday.
A total of 15 players listed at quarterback, 36 at running back and 44 at receiver have arrived in Indianapolis for a four-day stay that involves being placed under the microscope, physically and mentally, as NFL teams comb through more than 320 top draft-eligible prospects who were invited to the annual event.
Vikings General Manager Rick Spielman told reporters Wednesday that he expects Adrian Peterson **will be back** with the Vikings in 2015.
Head Coach Mike Zimmer's session is scheduled for 10:15 a.m. Thursday. Their primary purpose this week, however, is to intensely gather instead of give information. The Vikings are scheduled to select from the 11th overall spot in the first round of the 2015 NFL Draft on April 30.
Vikings.com's Mike Wobschall (@wobby on Twitter) and the Vikings Entertainment Network will bring fans updates from Lucas Oil Stadium, which turns into the "Center of the NFL Universe" during the annual event.
NFL Media analyst Daniel Jeremiah has two quarterbacks, four running backs and 10 receivers in a list of 50 top prospects that will continue to evolve between now and the draft. Jeremiah's rankings of players scheduled for media sessions Thursday:
Kevin White, WR, West Virginia, Sr.
Amari Cooper, WR, Alabama, Jr.
Jameis Winston, QB, Florida State, So. (redshirt)
DeVante Parker, WR, Louisville, Sr.
Melvin Gordon, RB, Wisconsin, Jr.
Marcus Mariota, QB, Oregon, Jr.
Todd Gurley, RB, Georgia, Jr.
Dorial Green-Beckham, WR, Missouri/Oklahoma, Jr.
Devin Smith, WR, Ohio State, Sr.
Devin Funchess, WR, Michigan, Jr.
Breshad Perriman, WR, Central Florida, Jr.
Jaelen Strong, WR, Arizona State, Jr.
Jay Ajayi, RB, Boise State, Jr.
Nelson Agholor, WR, Southern Cal, Jr.
Ameer Abdullah, RB, Nebraska, Sr.
Phillip Dorsett, WR, Miami, Sr.
NFL Media analyst Mike Mayock agrees with Jeremiah that Winston and Mariota are the top two prospects at quarterback. Bryce Petty, Brett Hundley and Garrett Grayson round out Mayock's top five at the position.
The Vikings believe they identified a long-term quarterback when they traded back into the first round to select Teddy Bridgewater with the 32nd overall pick. Bridgewater set 91 team rookie records, including starts (12), wins (six), completion percentage (64.4) and passer rating (85.2) on his way to being named Pepsi NFL Rookie of the Year in a vote by fans.
Running backs who starred at three Big 10 schools — Gordon at Wisconsin, Abdullah at Nebraska and Tevin Coleman at Indiana — are among Mayock's top five at that position. Mayock held an annual pre-combine conference call with reporters across the country Monday.
"I think Melvin Gordon and Todd Gurley are both first round backs," Mayock said. "I've got second round grades on Abdullah, Duke Johnson, Tevin Coleman and the Boise State kid (Ajayi). Third round grades on David Johnson (from Northern Iowa), T.J. Yeldon."
He projected Golden Gophers running back David Cobb to go in the fourth round.
The chart below compares 2014 and career statistics of Mayock's top five running backs: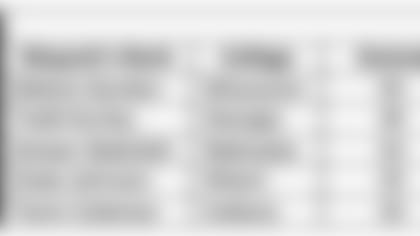 Cobb, by the way, had 562 attempts for 2,893 yards and 20 touchdowns in 35 career games, and David Johnson had 866 carries for 4,682 yards and 49 touchdowns in 49 career games.
NFL Media analyst Charles Davis, a guest in the Wobcast this week, said he revised his thoughts about Cobb after covering the Senior Bowl, upgrading him to the middle rounds.
"I thought he has good vision and excellent balance," Davis told Wobschall. "I feel like he can catch the ball out of the backfield. They didn't do a ton of that at Minnesota, but he's able to do that. He opened some eyes."
Mayock's rankings of receivers almost mirror Jeremiah's. The one exception is Funchess, who played tight end his first two seasons with the Wolverines, in the fifth spot instead of Smith, who helped the Buckeyes win the national title last month.
Mayock said Monday that White, Cooper and Parker are "consensus top-20 picks," and Davis called the trio "top-end guys."
The chart below compares 2014 and career statistics of Mayock's top five receivers: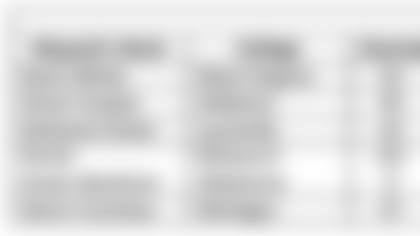 Groups 1-3 (offensive line, tight ends, specialists): Feb. 17-20 (media Wednesday, timing Friday)
Groups 4-6 (quarterbacks, receivers, running backs): Feb. 18-21 (media Thursday, timing Saturday)
Groups 7-9 (defensive line, linebackers): Feb. 19-22 (media Friday, timing Sunday)
Groups 10-11 (defensive backs): Feb. 20-23 (media Saturday, timing Monday)