C.J. Ham isn't much on the formality of opening statements.
His blocks — particularly against Seattle in recent memory — usually do enough of the talking.
But in August (and again at the end of September), Ham stood at the podium for media sessions that have been set up while the Vikings locker room is closed.
Vikings Director of Alumni and Youth Football Communications Tom West had told Ham he could open with a statement, but Ham wasn't enticed.
"He's like, 'Oh, maybe do a joke.' I think he was kidding, but I said, 'Ah, yeah, I'll do a joke,' " Ham explained.
So the fullback asked media members how to make the number seven even. The answer? Take away the s.
Ham's more recent attempt generated a better response.
Q: "What do dentists call X-rays?"
"I think I'm 1-for-2," Ham said in self-critique, although he did fully credit rookie running back Kene Nwangwu for sourcing the dentist joke.
As for other sources of comedic inspiration?
"I watch a lot of Kevin Hart, but I wouldn't say I'm a comedian at all," Ham said. "Some people say I'm funny, some people say I'm not. I guess I'm just being me."
Most importantly, his two daughters, 5-year-old Skylar and 2-year-old Stella "think I'm the funniest person in the world. They think I'm Kevin Hart."
It's likely that infant son Cortez Thaddeus Ham III, whom the family calls Trip, will share the sentiment.
To the kiddos, he's dad. To the Vikings, he's a first-year captain they've been able to count on as a reliable, tough and determined teammate. Finding out he had been chosen as a captain "was very humbling," and wearing the C patch on his No. 30 jersey "still kind of puts me in awe."
"I've been a captain before – in high school and college – but to do it at this level and to help be one of the leaders on the team, it really means a lot to me, and I take pride in that," Ham said. "I just want to do everything I can to make sure I'm doing the right things and make sure if any guys need help, I'm there for them, they can come to me. It really just means a lot."
On Sunday, the C will mean even more. Usually solid, the Crucial Catch patch is accentuated with multiple colors as part of the Crucial Catch cancer awareness games that have become annual sources of inspiration and tribute.
"October means so much more to me than it did before," said Ham, whose mother Tina passed away in May 2020 at age 57 after battling pancreatic cancer. "It was always important, it was breast cancer month, all those things, and we always took the time to acknowledge that, but now it's very personal. October's a special month, and I'm thinking about my mom every game, regardless. But especially in these October games."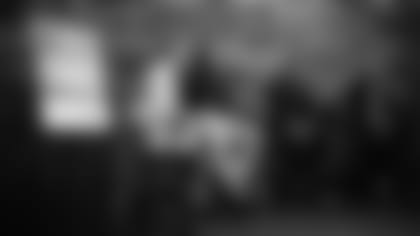 Ham and his wife Stephanie, team staff members that included Chief Operating Officer Andrew Miller, and Sleep Number recently teamed with the American Cancer Society to host 10 cancer patients for a "Pamper Her Purple" event at Omni Viking Lakes.
Pamper Her Purple was introduced this year at the sparkling hotel. It offered a day of relaxation for individuals who have overcome tremendous hurdles. The guests of honor were able to select from a variety of salon and spa services — including massages, facials, manicures and more — offered by Omni Viking Lakes.
The event included a welcome reception, the spa services and a dinner.
Ham said it was great to see the patients and their families step away from the stresses. He credited the patients for their conviction.
"I've seen what they go through, and the battle that they have," Ham said. "Just to see the smiles and the attitudes – the decision to not let their diagnosis control them, that's what my mom had. I saw that in all of them.
"And just to see their strength – everybody needs a day to be pampered," Ham added. "Getting a massage, getting your nails done. So I was super excited to be a part of that and have my wife be able to spend time with them and be a part of that with them. It just meant the world."
We caught up with Ham for a Water Break, presented by Crown Royal.
Q: Have you had to increase your reliance on humor since you became a parent?
A: "Kids look up to their parents as being their everything. If I can be silly, if they had a bad day at school or daycare, or one of their friends said something mean to them or anything like that, just cheering them up, making a silly face, tickling them, getting them to laugh is something I take pride in and I rely on to help us get through the day."
Q: What's been the biggest surprise now that you and Stephanie have three children?
A: "You're not playing man defense anymore. You're playing zone defense. Trip is starting to move around now, too, so I feel like we're really gonna get a taste of what zone defense is like. We have two kids in front of us that can move around, and then all of a sudden you're like, 'Where's Trip?' And he's [trying to crawl] underneath the couch or he's getting into something. It's one of those things, that's the biggest difference – you have to have more eyes on them and play zone defense."
Q: Sounds like you rely on teamwork and accountability that are not dissimilar from playing football?
A: "One-hundred percent. I mean, football is the ultimate team game, and marriage is 100-percent a team game, too. It's not just one or the other. You have to be, you know, my wife is my best teammate."
Q: What's it been like for your family and the Thielen family to 'grow up' together here?
A: "It's been great. Adam was somebody I relied on heavily coming in. We have similar backgrounds; I mean, our stories are somewhat identical, you know? He's at a whole 'nother level, but just how we got here … it always seems like our families are almost exactly the same months apart. Our kids are very close in age, so it's been great for me and him to be able to sit and talk about kids, talk about life, and the same thing goes for our wives."
Q: When and why did you begin painting your eye black in a cross pattern?
A: "Maybe two years ago. It wasn't something that I did – I didn't wear any eye black in my career in college or growing up. I don't even think I did my first couple years in the league. The crosses kind of became a fad, what people are doing, but my faith is apparent in my life, it's very strong, and I feel like that's a way I can show my faith and honor it."
Q: It doesn't mean your faith doesn't get tested; it gets stronger once it's tested?
A: "Faith is tested every single day. We live in a world where there's different beliefs and different thoughts, and you've got people saying different things that are always going to challenge what someone may believe. But I feel like that's why we have faith. I think it's important for our faith to be tested. It's something I don't shy away from. I'm going to stand firm on my faith and my beliefs, and it doesn't mean that I'm better than anybody. I love everyone. I'll listen to everyone, as well. But my faith is really strong, really important, to my family and me."
Q: How did your faith lift you through the tragedy of losing your mom?
A: "You talk about faith being tested. I mean, losing my mom was a time my faith was tested. There's a lot of confusion and anger that comes with losing a loved one. But through it, God has shown me that He's here in my life. And He's going to walk me through it step-by-step and give me strength. That's something I try to instill in my kids – and show them that faith is very important. And we need to love each other, we need to believe in each other, and we need to be there for each other."