The Vikings Play Like a Pro program has enabled youth football teams to take the field at TCO Stadium on Saturdays this fall, attend a home game and ask questions to C.J. Ham.
One recent Saturday the Vikings fullback welcomed two teams from the Jimmy Lee youth football program that has been a storied part of the St. Paul Parks & Recreation Department, which had received a $25,000 youth football grant from the Minnesota Vikings.
"The money helped us have free football for all of the kids in St. Paul, so there was no charge for the football fees that are used for officials, administrative things and equipment costs," said Citywide Programs Supervisor Mike Whaley. "The money makes football really accessible for kids."
More than 300 youth participated in the St. Paul Parks & Recreation youth football programs this fall.
"We're super appreciative," Recreation Services Manager Andy Rodriguez said. "It's a great opportunity for us to showcase some of the St. Paul kids to come out to this beautiful facility."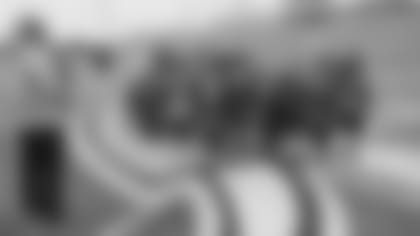 Ham told the youth "These years that y'all are in are some of the greatest years of my football experience."
"I've been playing football for a long time, ever since I was 10 years old, and I still have so many memories of playing with the Green Machine back in Duluth in the West End," Ham said. "I still have so many friends, coaches that I talk to. These friends are going to be people that may be in your life for the rest of your life."
Ham explained how the team structure of football can enrich those relationships.
"I think football is one of the greatest sports ever created," Ham said. "But the thing about football is once we're done playing, if you make it to high school, if you're blessed to play in college, if you're blessed to play in the pros, once you are done playing, it's not something that you can just go to the YMCA and do like basketball, so don't take these moments for granted. Have fun doing it."
Sharing those fond thoughts was only one way the clock turned back to Ham's youth.
The Q-and-A session took it another notch, with enthusiastic hands reaching skyward.
The first questioner asked if Ham watched Elmo when he was little.
The father of three laughed before stating he was "more of a Power Rangers guy," specifically the Green Ranger.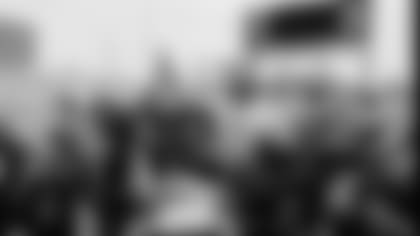 Other questions included how long he's played and if he likes playing fullback.
The answers to those are since fifth grade and a resounding yes.
"It's not a position that is flashy," said the former running back who converted after joining Minnesota as an undrafted free agent in 2016. "Not every NFL team has a fullback, so it's a small group of guys, but I love playing it."
Youth football also may have been a good indicator for the physicality that Ham would bring to the pros.
After all, he survived a collision with a former teammate named Bubba and got tasked with playing linebacker.
"The hardest-hitting guy on the team," Ham said. "I ran him over."
As Ham transitioned from the Green Machine to the Denfeld Hunters to the Augustana Vikings and finally here, he's always looked up to Jerome "The Bus" Bettis for the way the Pro Football Hall of Fame running back played the game. Now, this group of youth can recall the time they met "The Hammer."
"It means a lot to me because I know how important football is for myself and for these kids, to teach them about life," Ham said. "For the Vikings to care about that and take the time and make sure that these kids have the necessary things to get rolling means a lot."
As the event concluded, there was one more question with a proud answer shouted in unison.