EAGAN, Minn. (Oct. 16, 2018) — Chris Doleman sat for a moment and soaked in the image of his own face looking back at him.
"That boy is good looking," Doleman quipped on Saturday at the Vikings Museum.
While some items on display are on loan from individuals, Doleman gifted his bronze Hall of Fame bust to the new museum's collection through an incredible act of generosity.
Doleman, who is celebrating his 57th birthday today, explained why he chose to gift the bust to the organization rather than just loan it.
"It's very meaningful," said Doleman, who ranks fifth all-time with 150.5 career sacks and was inducted into the Pro Football Hall of Fame in 2012. "There are three icons when you become a Hall of Famer. One is the [gold] jacket. The second one is your ring, and the third one is your bust.
"To be able to give [the bust] to the team that drafted me, it means everything to me. I wanted them to have it," added Doleman, who is one of 318 members of the Hall of Fame. "I want them to know how much I care about them. There are 310, 315 of us in the Pro Football Hall of Fame, so to be able to share that with the club means so much."
Doleman traveled from the Atlanta area to the Twin Cities over the weekend to see his bust installed as the newest item in the Vikings Museum, which opened in July, and attend Minnesota's win Sunday against the Cardinals.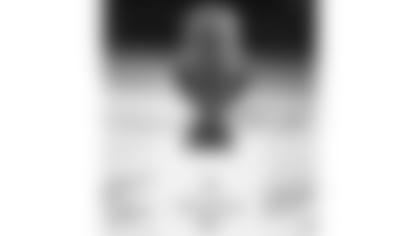 The bust is in a section that celebrates the 1987 team, which marched to the NFC Championship Game. Doleman moved from linebacker to defensive end that season. He had 11 sacks and six forced fumbles in just 12 games and garnered his first of four consecutive selections to the Pro Bowl.
Doleman is currently undergoing treatment for glioblastoma, a type of brain cancer. He sounded the Gjallarhorn prior to Sunday's victory, which was the Vikings Crucial Catch game, to represent those fighting cancer and those who have lost their battle with the disease.
Doleman's wife, LaTresa, said her husband's two main priorities in life are fighting cancer and keeping up with the team that drafted him fourth overall in 1985. Doleman was diagnosed with glioblastoma in January and underwent surgery soon after.
"All he talks about are the Vikings," LaTresa said with a laugh. "I'm from Detroit, so I love my Lions, but he always talks about the Vikings, so now I'm a Vikings fan because of him.
"But he's so positive. What he's going through is tough, but he keeps a positive outlook. And even still, he's always looking to help other people," LaTresa added. "He's working very hard with his physical therapy and his occupational therapy, but he still is trying to find ways to give back, and that really inspires me."
LaTresa Doleman said her husband had been looking forward to his trip to Minnesota for weeks.
"It means the world to him to travel and be here," LaTresa said. "He couldn't wait to come see his bust in here and donate his bust to you guys.
"[The Vikings] are his family, and that's all he talks about," she added. "For him to see this, it just means the world to both of us."
Doleman played for the Vikings for 10 of his 15 professional seasons, racking up 96.5 career sacks in Purple. He was inducted into the Vikings Ring of Honor in 2011.
The man with double-digit sacks in eight different seasons said he hopes his bust inspires current Vikings players to strive for lofty goals.
"When they come through here, they realize, 'I can do this, too. I can be a part of this,' " Doleman said. "My focus was to be able to go out and make plays. It means so much to me to be a part of this. It really does."
Doleman spent more than 15 minutes in the museum admiring his bust as Vikings fans in the space kept peering over for a look at the Hall of Famer.
As Doleman left the museum, he passed by a young fan who looked at him quizzically as if he was trying to figure out who the legendary Vikings player was.
"My bust is around the corner," Doleman said, drawing a smile from the boy.