ST. PAUL – Christmas came early for a group of University of Minnesota Masonic Children's Hospital patients and their families.
On Monday, multiple families joined Vikings tight end Kyle Rudolph in boarding the Rudy's Red-Eye Express for a fairy-tale trip to the North Pole.
Private jets "flew" – with the help of a little holiday magic – the group to the winter wonderland complete with a North Pole Bakery, Toy Shop, candy station, lighted dance floor, inflatable slide, larger-than-life snow globe and even a pair of live reindeer.
Colorful holiday lights sparkled throughout the space, and decorated Christmas trees created the feel of an enchanted forest.
And of course, a trip to the North Pole wouldn't be complete without a visit from Santa and Mrs. Claus.
The jolly couple arrived to the cheers of young people who rushed to give the Clauses hugs and wish lists.
"It's awesome to be able to bring this many people here … and bring them the spirit and magic of Christmas," Rudolph said. "It's a lot of fun."
Aubree, a 9-year-old patient at the U of M Masonic Children's Hospital, most-enjoyed making an airplane with the help of elves at the Toy Shop and showing her 6-year-old sister, Ashlynn, around the North Pole.
"It's pretty magical. It's amazing," said Aubree's father, Ryan Lemke. "Kyle is so generous, and it's very nice of him to pull this off for everyone. It's spectacular; the girls are loving it."
Sarah Anderson expressed similar sentiments as she watched her 3-year-old son, Everett, laughing as he danced to the holiday tunes.
"When we stepped off the plane and started walking through, it was a magical experience. It's nothing like I've seen before – seeing the Christmas lights and all of the children's eyes light up, it's amazing."
Anderson explained that due to complications during her pregnancy with Everett, he had been delivered prematurely and spent the first weeks of his life – which happened to be over Christmas and New Years – at the children's hospital.
"It's great [that he's able] to run free and experience all of the excitement and activities," Anderson said. "He spent his first few weeks in the NICU. Since [that time], he's been a happy and healthy boy, and we're very thankful for the Masonic Children's Hospital.
"The Rudolphs' passion for this event specifically and everything else they do for the hospital, taking time out of their busy schedule and lives with their own families to do this for others, it's amazing," she added.
Monday's event marked the fourth annual Rudy's Red-Eye Express trip to the North Pole.
Rudolph hosted the evening with his wife, Jordan, and their children – twin daughters, Andersyn and Finley, and son, Henry.
"It's awesome. The girls are at an age now, they love Santa Claus, Mrs. Claus. I think we've watched The Santa Clause 1, 2 and _3_ about a million times," Rudolph laughed. "To see the reindeer, all the elves, they love it. They haven't stopped talking about it. It's a ton of fun, and hopefully we can continue to do this each and every year and my kids will have the opportunity to grow up [with the event]."
But he emphasized that the most rewarding part of the evening is providing a memorable holiday experience and time away from the hospital for families experiencing a variety of challenges.
Rudolph has again been selected as the Vikings Community Man of the Year and nominated for the Walter Payton NFL Man of the Year Award. His commitment to the U of M Masonic Children's Hospital is evident all year long, but the North Pole visit is always a favorite event.
"They may not be able to go to the mall to see Santa Claus," said Rudolph, who earlier this month hosted a Holiday Huddle at the hospital. "So, to be able to get them out of the hospital and away from doctors' appointments, put them on a plane, bring them up to the North Pole, celebrate the spirit of Christmas, and just for one night let them kind of escape the tough times they're going through, that's what it's all about."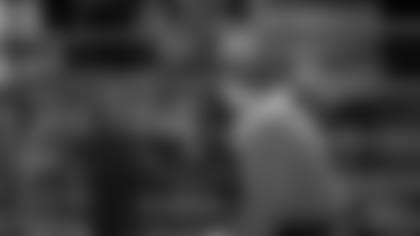 The evening's festivities also impacted Rudolph's teammate, Vikings punter Britton Colquitt, who went along to the North Pole with his wife and four children.
"We went through the portal, and here we are – at the North Pole!" Colquitt exclaimed. "It's such a cool idea. It's really amazing. He told me about it when I first got [to Minnesota]. We've just loved it. It's very sweet to see all the kids and their happy faces. … Our kids are able to interact with them, and it's really great."
Since signing with the Vikings in September, Colquitt has taken notice of Rudolph's dedication to giving back and has felt inspired to do more himself.
"We try to support some [causes], but the fact that Kyle does something [almost] every week during the season is incredible," Colquitt said. "It's really cool that he's partnered with the children's hospital. It's amazing. He's a great role model in that aspect for me and everybody.
"It [touches] my heart to really know how blessed we are, how we really haven't had to deal with a lot of these hardships. It puts a lot of things into perspective when you see these kids and how joyful they are even in some difficult circumstances – and the parents, as well," Colquitt added. "We've talked to some of the parents here, and they're just so thankful for what they do have. … It's humbling, and it makes you thank God for what you have and for the things that really matter in life."