It's not often that one finds a hockey stick at a football camp.
This particular piece of equipment, however, perfectly personified the mission of Chad Greenway's annual Day to REACH camp: Sports are so much more than scores or rivalries.
The neighboring Minnesota communities of Hutchinson and Litchfield are hurting after the tragic loss of Litchfield's Dylan Falling, who passed away on June 8 from brain trauma suffered from a car accident three days prior. He was 16 years old.
Greenway learned of Dylan's passing through REACH Program Director Chad Harlander, who knew the Vikings linebacker would want to help.
"Of course your heart drops, and then you just start to lead with your heart," Harlander said. "The first thing that I did was reach out to Chad and say, 'Hey, Litch is our second home, and they have a family that's going through a very difficult time.' "
The tragic news hit home for Greenway, a dad to four daughters.
He recalled starting his Lead the Way Foundation with his wife Jenni after their oldest daughter, Maddyn, was born, and wanting family to be a focus of the foundation. The Greenways have helped support numerous families going through difficult circumstances, and his heart went out to Dylan's parents, Dustin and Michelle.
"They were enjoying a great kid. Dylan was a great kid, most importantly," Greenway emphasized. "He was a great athlete, but he was just a really good person. To kind of put into the perspective of, that's a really hard thing to do, to lose somebody that close to you, somebody you raised – I just can't even imagine.
"For us as a family, you look at a situation like that and just say, 'What can we do? What can we do, if anything, to help?' Because it's just such a terrible situation," he added.
Although the Day to REACH camp typically is held in Hutchinson, it has been temporarily moved to Litchfield on a couple of occasions, including one year that Dylan attended.
"He really enjoyed it," recalled Dustin. "And I know it's not just a camp of skills. It's a camp that focuses on being a good person and life goals … It has a lot more meaning than just running some football drills."
Those values were demonstrated when Dustin, Michelle and their 14-year-old daughter Morgan were invited to Hutchinson by Harlander and Greenway for a special moment honoring Dylan's memory.
There, the family was surprised by seniors from the Hutchinson hockey team. Typically rivals of the Litchfield Dragons for which Dylan played goalie, the young men presented the Fallings with a goalie's stick signed by the entire Tigers team.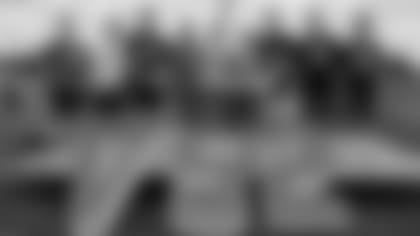 Dustin, who coached Dylan in hockey over the years, called the gesture "an absolute surprise." The sentiment behind it, though, was less so.
"We're a little different out here. Though there could be a 30-, 40-mile distance and a rivalry there, when something happens, we're kind of like the same community," Dustin said. "At the end of the day, it didn't surprise me that Hutchinson would do something like that."
The Hutchinson and Litchfield communities have become family to Greenway and Harlander, as well, who surprised the Fallings with a check for $5,000 to help start a scholarship in Dylan's name.
"We've been doing the camp out there for so long, and it's always really important for us to do something that kind of gives back," Greenway said. "Hutch and Litchfield [are] rivals on the field but very similar communities and in very close proximity. Everybody knows each other, and it's a lot of back-and-forth.
"One thing about our camp, we've always talked about family – and when you're there, it's about meeting somebody new and doing something different and connecting with somebody that's not exactly like you," he added. "So our camp [overcomes] that rivalry with the two schools – it kind of cuts through that. I just felt we had to do something, and this seemed like a really appropriate thing to do."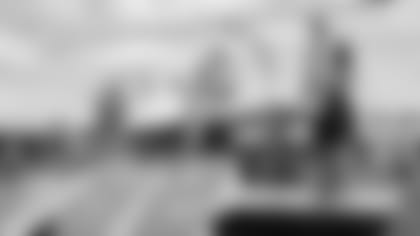 Dylan displayed high character as a standout goalie, running back and track-and-field participant. He was an A-honor roll student and a caring, funny young man.
In blog posts written for school, Dylan emphasized the role of faith and spirituality in sports. He will be remembered for a kind heart off the field and an intense mindset on it.
"In football, his quarterback said he was an 'angry runner.' We always talked about, for lack of better words, it was 'hit or be hit' type of thing. You need to be aggressive on the field," Dustin said. "He was a good teammate."
Dylan loved the Vikings and rooting for his favorite players. The Falling family attended at least one Vikings game per season together, usually making it an all-day affair.
Dustin recalled bringing Dylan and Morgan to the Vikings Locker Room store at U.S. Bank Stadium and surprising them, telling them to pick out any jersey they'd like. Dylan chose a Purple 22.
"He liked the whole team, but he really liked the Hitman," Dustin said of Dylan's affinity for Harrison Smith. "That was an annual thing, going to the Vikes game … we're really going to miss that."
The family enjoyed watching Greenway before he retired following the 2016 season, and his genuine care for Dustin, Michelle and Morgan in the wake of tragedy has touched all of their hearts. For Dustin, the linebacker's readiness to help a family he'd never previously met only confirmed what he'd always thought of Greenway.
"Even before this, [I'd thought], 'Gosh, he seems like a good dude.' He's never said a bad thing, he's down-to-earth, and I took that away from that day, too," Dustin said. "You could tell the care in his voice, his concern and his willingness to kind of help in situations like this.
"That's a true testament to his camp that he puts on," Dustin added. "That's a direct reflection of him as a person, what he's trying to teach people. It's not just a façade saying, 'I've got to keep a good image.' That's him."
Harlander said that Greenway and his wife, Jenni, are "what athletics are all about."
"They lead with their hearts. There are people that talk the talk, and there's people that walk the talk. The Greenways walk the talk," Harlander said. "When Chad got in the league, [they said] they were going to give back to the community. What are we, 14 years later, and they're are still doing that with their Lead the Way Foundation."
In addition to the scholarship started by Day to REACH + Lead the Way Foundation, the Falling family plans to support young student-athletes in their community through a foundation that will be established in Dylan's memory. The 1 Foundation will help provide athletic/academic scholarships, local Catholic school scholarships and mental health resources for young people. Click here to learn more or to donate.