EAGAN, Minn. – Longtime sportscaster James Brown has spent years watching Kirk Cousins but met the Vikings quarterback for the first time this week.
Needless to say, he was impressed.
Brown sat down with Cousins at Twin Cities Orthopedics Performance Center to conduct an interview that will air at a later date on Trinity Broadcasting Network, an international Christian-based network.
"He's unabashed in his faith," Brown told Vikings.com. "He's [authentic], and by any definition, that's a man of character, a man of integrity and one who is truly a team-oriented player."
Brown called him "a wonderful conversationalist." And as much as he appreciated getting to know Kirk Cousins the person on the afternoon of the Vikings "Victory Monday," he had equally positive things to say about Kirk Cousins the athlete.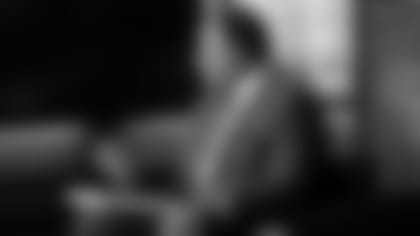 Brown referenced The NFL Today (on CBS) co-host and former NFL Head Coach Bill Cowher, who broke down a football season in the following manner:
"He said the first four games of the season, because of [the lack of contact in OTAs and] even in minicamp, a lot of coaches and players are just getting a handle on what kind of team they have through the first four games of the season. And then they can tweak what they do to minimize the weaknesses and maximize their strengths," Brown explained. "The middle eight games, you're navigating the murky waters of the season. And then you want to go into the last four games with good, strong momentum."
In other words, it's how Cousins and the Vikings have performed after Week 4 that most determines their trajectory.
"They're finding themselves," Brown said of the Vikings. "The other night at Dallas, Kirk maximized the running game by giving that ball to [Dalvin Cook] as often as possible. Kyle Rudolph got involved, and he had another weapon with Adam Thielen out.
"I'm loving his play, in that now he's recognizing where everybody is, and [he's] maximizing the tools that he's got on that team," Brown added.
Most NFL defenses can adjust to one-dimensional or even two-dimensional teams, Brown reminded, but Minnesota has "weapons galore" in the 2019 offense led by coordinator Kevin Stefanski.
He added that Cousins is not playing for the fans, the press or the stat sheet.
"It's whatever it takes to win," Brown said. "If that means throwing 15 passes because he's got the running game being maximized so strongly, fine; if it means him going to Rudolph because Thielen is out, [fine]. Stefon Diggs didn't score a touchdown, but again, the team won.
"Winning is a great deodorant," he added. " 'Let's just be about winning,' and that's what I'm seeing with you guys."
Looking ahead to Sunday's game against the Broncos, which will air on CBS, Brown emphasized the "any given Sunday" concept, that Minnesota cannot overlook a 3-6 Denver team.
Every game in the NFL is important, and the Vikings have one more between them and their bye week.
"There are only 16 of them, so you've gotta play each week to go 1-0," Brown said. "[The Broncos] are pretty proud, too."
After remaining notably healthy through nine games, the Vikings were without key pieces in Thielen, Trae Waynes and Linval Joseph against the Cowboys but still managed to notch their seventh win of the season.
Brown called it a "tremendous confidence booster" for Minnesota to win in Dallas with starters sidelined and said it's important now to finish strong because the NFC North division is no cake walk.
"Looking at the big picture from playoff positioning, they want to make certain they at least secure themselves well enough for one of those Wild Card spots, but there is nothing to say that they can't get it," said Brown, who added that the Vikings-Packers Monday Night Football matchup on Dec. 23 will be "an awesome, titanic battle" at U.S. Bank Stadium.
The Vikings control their own destiny as they look ahead to the final stretch.
"They've just need to keep it going," Brown said. "When that defense [operates] at the peak efficiency that it's typically known for, going along with what's going on [offensively], I mean, Minnesota could be a very scary team."