MANKATO, Minn. –Cayleb Jones had the opportunity to go deep in the first full training camp practice Thursday afternoon, and he took advantage of it.
Jones hauled in the Case Keenum pass through pressure from three defenders and hung onto the ball as he went down to the ground.
"I feel like a lot of guys have been catching balls the last couple of days," Jones said of Vikings rookies and select teammates who reported to camp on July 24 along with him.
"But [that catch] was just them giving me a chance and it working out," Jones added. "You know, I've just been getting acclimated and getting comfortable."
Jones has spent a good portion of his life on the gridiron, playing football along with his two younger brothers – Levi, a linebacker at USC; and Zay, who was drafted by the Bills in April.
Jones recalled a high school game in which he and Zay teamed up to make the highlight reel.
"I was a senior and my brother was a junior," Jones said. "I caught like a post over the middle, was getting tackled, and I pitched it to Zay, and he scored. That was probably one of our coolest moments."
The brothers will get a chance to share the field once again when the Vikings face the Bills in a preseason game on Aug. 10.
"I just really want him to do well, and he wants me to do well," Jones said. "It's something pretty special for our family.'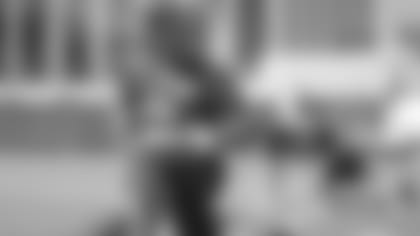 Jones, who initially signed with the Eagles as an undrafted rookie last spring, was waived in September and then signed with the Vikings as a free agent in December. He spent the remainder of the season on Minnesota's practice squad.
Speaking highly of the Vikings locker room and coaching staff, he said he's grateful to have landed in Purple.
"From the time I got here in December, the guys have been so helpful just with teaching me the ropes, teaching the younger guys what to do and how to work, what to do to be successful," Jones said. "I feel like we have a really good group, a close-knit group. The older guys are doing well with helping us, and they set a good example."
Jones referenced Jarius Wright and Stefon Diggs as being two of the teammates who have been especially helpful, and he also spent time training with Laquon Treadwell in the break between minicamp and training camp.
"The whole group does a really good job of not being selfish and just helping other people out," said Jones, who believes it's a reflection of the high-character players Vikings Head Coach Mike Zimmer has emphasized having on the roster.
"It's important – growing, establishing yourself as a young man and being a good person, establishing a good reputation," Jones said. "Being in this league helps you grow up a lot."
As he participates in his first training camp with the Vikings, Jones said he's learned a lot and already improved as a player as a result of working with receivers coach Darrell Hazell and Special Teams Coordinator Mike Priefer.
Both are detail-oriented instructors who have helped Jones hone his skillset and draw on his strengths.
"Coach Hazell, he's such a good dude that you don't want to mess up anything," Jones said with a smile. "He's really sharp, he expects perfection from us. He's a good teacher."
Receiving reps on special teams is a whole new experience for Jones, but it's one he has embraced whole-heartedly and is excited about.
"Everything in special teams, I'm playing all new positions and just learning different facets of the game, different details of the game," Jones said. "You think you know football, and then you come in and learn a whole different phase [with Priefer], and it really changes your perspective."
Looking ahead to the 2017 season and around him at the competition of a deep receivers room, Jones said his mentality is to be a well-rounded and hard-working player who will hopefully catch the coaches' attention.
"All-around, I think the most important thing for me is being an unselfish player – blocking, running my route when I'm supposed to, even when I'm not getting the ball," Jones said. "Just the details of being a receiver."