Captain Munnerlyn heard many times growing up that the NFL wasn't a reality. He defied the odds, and now, he wants to put the NFL dream just a little more within reach for others at his alma mater.
Munnerlyn returned to his hometown of Mobile, Alabama, over the weekend, where he was honored at Murphy High School during halftime of its game against McGill-Toolen. While there, Munnerlyn also made a $50,000 donation to the school.
"Being from Mobile, Alabama, where they say you can't make it to the NFL, you can't make it to the next level – that donation was just giving back to my community, to my high school," Munnerlyn said. "I've been blessed to play this game, now entering my eighth season.
"[I'm] letting them know I haven't forgotten where I came from," he added.
When he was first invited to his 10-year high school reunion at Murphy, Munnerlyn told his classmates he probably wouldn't make it, due to practice in Minnesota. That's when they gave in and told Munnerlyn they had a presentation planned for him during the game.
The Murphy High School program retired Munnerlyn's No. 2 jersey in recognition of his accomplishments on the field.
"It's taken them forever," Munnerlyn joked.
In addition to retiring his number, Munnerlyn's alma mater is also naming the school's weight room after the alum. Munnerlyn said hearing about the Captain Munnerlyn Weight Room was a little surreal.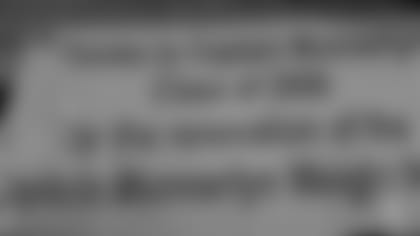 "It's truly an honor," Munnerlyn said. "I've been in the league for a long time now, so it's definitely an honor to get a building named after you. It's something I can say that I left behind when I'm gone, and people will always remember me."
Munnerlyn said he talked to Vikings Head Coach Mike Zimmer about traveling to Mobile for the ceremony. Zimmer expressed pride in Munnerlyn and congratulated him, but he had a little fun, too.
"Coach Zim' even had a joke," said the 5-foot-9 Munnerlyn. "He said, 'Man, is it a big building or a little building?'
"Trying to be funny because, you know, I'm a small guy," he added.
Though he might be one of the smaller players in the NFL, Munnerlyn's also one of the scrappiest.
Munnerlyn earned his feisty reputation back in high school. He always planned on making it to the NFL, and he didn't let anyone tell him differently. As a senior, Munnerlyn helped the Murphy Panthers to a 10-2 mark and earned All-State honors. He then received a scholarship to play at the University of South Carolina, where he excelled defensively.
Munnerlyn was selected in the seventh round of the 2009 NFL Draft by the Carolina Panthers, where he played for five seasons before signing with the Vikings as a free agent in 2014. During his time in Minnesota, Munnerlyn has totaled 125 tackles (102 solo), four interceptions and 14 passes broken up in 32 regular-season games.
Of numerous highlight-reel plays during his high school career in Mobile, one particular play still tops the list.
During a game against Williamson High School, Munnerlyn stepped into a special teams role and waited downfield as a punt returner. When the punt dropped, however, it bounced back nearly to the 2-yard line.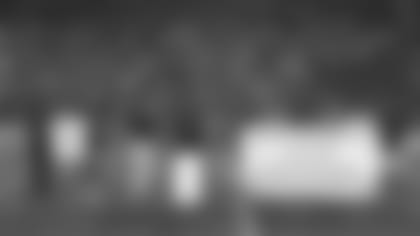 "I still went back there and got it," Munnerlyn said. "It seemed like I broke like six or seven tackles. Guys were jumping on me, and I was still up."
Munnerlyn ran the pigskin back more than 90 yards, juking defenders and breaking tackles, before being stopped just short of the end zone. Within the next couple of plays, the Panthers offense capitalized off Munnerlyn's return and scored a touchdown.
"I remember my coach on the sideline, like, 'No. No. What is he doing? What is he … go, go!" Munnerlyn said. "That was probably one of the best plays in my life – they just could not tackle me. Big guys were bouncing off of me.
"It seemed like the whole team hit me," Munnerlyn said excitedly. "But I stayed on my feet and was able to maneuver around."
Aside from his annual football camp, Munnerlyn said he doesn't often have an opportunity to return to Mobile, so that made the recent visit even more special. It also felt fitting to be honored at the game against McGill-Toolen, located just over a mile down the road.
"It's our biggest rivalry," Munnerlyn said. "They have a 'Murder Murphy' week, and we have a 'Kill McGill' week."
Although the Panthers lost Friday's game, Munnerlyn said it was a night to remember. From being welcomed by a standing ovation, to reconnecting with former classmates and teammates, the evening went above and beyond what Munnerlyn expected.
"I was overwhelmed by the turnout," Munnerlyn said. "Just to see some of the faces and talk to classmates I haven't seen in a long time. It turned out really well."
Even after flying back to Minnesota, Munnerlyn's influence will continue to be felt in Mobile. The entirety of his donation will provide renovations to the weight room so that athletes have the space and equipment necessary to take care of their bodies and continue pursuing their goals on the field.
"It wasn't 'Wow' before," Munnerlyn said. "But it's going to be 'Wow' now."