The Vikings ranked last in the NFL in points allowed in 2013. Early in 2014, they hired Mike Zimmer, a well-respected defensive mind, as their new head coach. And General Manager Rick Spielman disclosed this past weekend that he'd like to come away from May's NFL draft with at least 10 selections.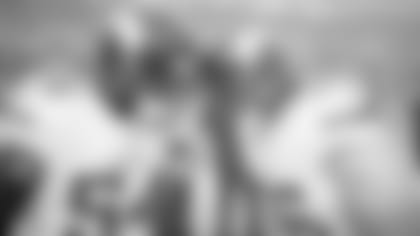 Add it all up, and the Vikings seemed destined for a defensive makeover of some degree over the next couple months. But before we assume it's a "tear it all down and start over" situation, let's keep in mind that several solid pieces are already in place. Sharrif Floyd, hopefully Everson Griffen, and Brian Robison are good building blocks along the defensive line. Chad Greenway continues to pile up the tackles on the second level, and Harrison Smith and Xavier Rhodes give the Vikings a quality duo in the secondary.
In addition to those established foundational pieces, the Vikings also have a host of young players who are looking to take the next step in their career. Included in that group is a pair of linebackers selected in last year's draft – Gerald Hodges and Michael Mauti. Both were core special teams contributors as rookies in 2013, but both have aspirations of becoming defensive stalwarts in the NFL. The Vikings share that vision with them, which is why the organization spent a fourth-round pick on Hodges and a seventh-round pick on Mauti last April.
So, can either player take the next step? Let's take a look…
Gerald HodgesI went back and watched the tape of every snap of Hodges' 2013 season – 94 defensive snaps in the preseason and 185 special teams snaps in the regular season. He was a four-phase special teams contributor and improved as the season progressed. In my opinion, he was at his best on kickoff coverage and punt coverage. Defensively, I was impressed with his movement skills, redirection technique in pass coverage and play diagnosis. He has a quick first step and is no match for fullbacks or tight ends who try to block him in the run game.
On the flip side, Hodges can improve on his shedding ability; pulling offensive linemen blocked him too easily. I also thought there were times when his pursuit was average, perhaps because he was adjusting to the increased speed of the pro game compared to the college game. The most common notation I made in watching Hodges' preseason defensive snaps was " athleticism" and "good play recognition."
Overall, Hodges is an intriguing prospect with a high ceiling and I expect he will take the next step for the Vikings and become a contributor to some degree on defense as well as remain a core member of special teams. His limitations to this point (shedding blocks, angle of pursuit) are fixable with coaching and experience. And many of his strengths (athleticism, instincts) are things that aren't coachable and can't be realized with work in the weight room.
Michael MautiAnyone who watched Penn State football the past five years and then watched the Vikings in 2013 knows what Mauti brings to the table – instincts, leadership, production, resiliency and toughness. You all know the story by now – Mauti made it to the NFL despite undergoing three serious knee injuries and surgeries in college. His first season in the NFL was a good one, as he served as a multi-phase special teams contributor and finished third on the team with 13 special teams tackles.
While Mauti didn't play much defense during the regular season, he did play 89 defensive snaps in the preseason and I went back and watched each of them. Mauti is what you typically see from productive Penn State linebackers – instinctive versus the run, a good tackler with a nose for the ball, gap disciplined and tough. Even when Mauti is blocked, he maintains his gap integrity and can either make a play or force the ball carrier into the arms of a teammate. Mauti is very good at following his keys (leading fullback, pulling lineman), shedding and then shuffling to string out a run or fill a hole against the run; essentially, Mauti can flat out run and tackle plus he has great instincts.
Where he can improve is in pass coverage, particularly when dropping into zone coverage, and also against misdirection plays and double moves.
Overall, given his injury history and the fact he was a seventh-round pick, one can argue that Vikings already "hit" on Mauti with his production on special teams last season. But in my estimation, Mauti isn't finished. He seems destined to compete for time at MIKE linebacker this offseason and, at a minimum, can be a reserve linebacker while also serving as a four-phase special teams contributor.
A few of Mauti's top moments during the preseason included:
-- Second snap of the game vs. Houston when he came downhill to fill the A gap and teamed with Hodges to stop RB Cierre Wood for 2 yards.
-- 1st-and-goal snap in the 3rd quarter vs. Houston when he scraped to his left and met Wood head-on in a hole and stopped him for no gain.
-- Goal line series vs. San Francisco in which he made tackles on 1st and goal and 3rd and goal to stop a would-be touchdown. He was also in position to make a touchdown-saving tackle on 4th down but the ball carrier leaped over him as he went low to make the stop.
-- A series midway through the 3rd quarter vs. Tennessee in which he shed the block of a pulling center and strung out a run wide to left, followed by good man coverage in space on the next snap. Later in the same series, Mauti once again got around the block of a pulling lineman – this time a tackle – and strung out a run wide to his right by Darius Reynaud.
-- A 1st and goal play early in the 4th quarter vs. Tennessee in which Mauti picked up a key (pulling guard), beat his blocker to a spot and tackled Reynaud for a gain of 1.
-- Mauti also displayed impressive change of direction skills multiple times against Tennessee, which along with his ability to beat blockers to the spot and string out runs to the outside, demonstrates that Mauti is regaining some of the athleticism he had prior to his knee injuries.