Editor's Note: This feature is included in the Vikings-Colts Playbook game program. The print deadline was before Smith decided to retire from football. We wish Cam all the best and wanted to share this feature about one of his emerging talents.
Cam Smith often wakes long before the sun.
He settles himself behind the curtain of a camouflaged duck blind in time to see a soft pink glow chase away the sky's inky darkness.
Sometimes, Cam raises a shotgun and slowly squeezes the trigger; other mornings, he trades in a scope for a viewfinder and presses his camera's shutter button.
It's not uncommon for him to wait patiently for the perfect shot – of either variety – in a flooded cornfield or icy pond waters in Sumner, Missouri, mid-February. For many, not the idealist of conditions.
He wouldn't use the word "calming," he says when asked about the activity; but it certainly makes him happy.
More than a decade before the Vikings selected Cam in the fifth round of the 2019 NFL Draft, the linebacker fell for all the outdoors had to offer.
Cam grew up in Granite Bay, California, where he regularly fished with his father, John. The two shared an appreciation for mornings spent in a boat or fishing for smallmouth bass off a nearby dock.
John didn't hunt, but Cam's maternal grandfather did. Cam found himself intrigued by the pastime at an early age, and when he started high school he learned even more about hunting, sometimes joining friends on their trips.
Where his love for hunting really took off, Cam recalls, is as a senior at Granite Bay High. The passion didn't slow at all throughout his collegiate career at Southern California, and – if possible – it only grew during his first two NFL seasons, when he regularly traveled between football fields and those lined with tall grasses.
"Every chance or opportunity I got, whether it was during bye week or right after the season, I'd jet back up north and hunt with buddies, just spend as much as I could out there," Cam said.
He compared hunting and fishing to his teammates' varied hobbies, such as Adam Thielen's affinity for the golf course or Eric Kendricks' time spent driving fast cars.
"This is where I spend a lot of my money; this is where I spend a lot of my time and conversation," Cam said. "It's everything that I enjoy doing. Being in a duck blind or with a pole in my hand, it just allows me to feel like I'm away. It's really when I'm happiest in life, doing one of those activities."
He's developed an interest in photography over the past two years, as well, and has combined pastimes.
"I'm a very passionate person. I have a lot of interests and a lot of hobbies. Some would say too many – I would say that you can never have enough," said Cam, who also became a vino connoisseur while working at a winery during college.
He credits a fellow photographer, Brandon Fien (@brandonfienphoto on Instagram) for inspiring him. At just 19 years old, Fien is among those to set the standard for wildlife photography – particularly within the social media world.
"His ability and his talent at such a young age, it kind of changed the game for other photographers," Cam explained. "And I think a lot of people starting out, like myself, would say that they looked to him because everything he was doing was so creative and so skillful.
"I fell in love with it," Cam later said. "The photography part of it was that piece of, I want to be able to capture my hunts and remember it for more than just, 'Remember that time where we shot 14 [ducks].' I now have pictures of that. I have the memories. I have the emotions of it. And that was where it really took off for me."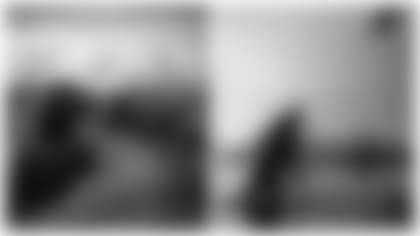 After starting out by simply snapping photos on his iPhone, Cam soon decided to invest in a digital SLR camera. He's learned all he can about the importance of lighting, aperture and ISO settings, and he appreciates the strategy behind photography.
"It's also kind of complicated because you're dealing with an expensive camera around a bunch of water," he admitted with a laugh.
Just like he might be hard on himself after a missed tackle on the gridiron, Cam is the first to critique his own photographs.
"There's a lot for me to get better at, and by no means am I feeling like [I've arrived]," Cam said. "I don't honestly think my shots are all that great. People compliment them and I'm like, 'Ah, OK. I appreciate it.' But you're still your own worst critic.
"You keep growing, keep getting better based off what you want to see," he added.
He's had brief conversations around photography or hunting and fishing with a couple of teammates, but overall, Cam has appreciated separating his time in camo from his time in a Purple jersey.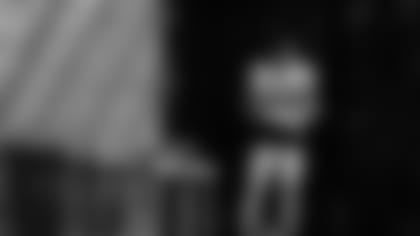 A lot of his hunting friends, he noted, "don't even care about football" – and that's just fine with him.
"They don't necessarily watch it – it's just not part of their lives. Which I like. Because I [never wanted] to be characterized as 'football is everything to him,' " Cam said. "I obviously love the game, and it's what I loved to do, but at the same time, I want to have a little more depth to me. So building relationships with people outside of football is important to me."
Some of those relationships he's built have shown up on his photography-specific Instagram page, @cam.smith.photo, which features several downed ducks but not a single pigskin.
In one of Cam's favorite photos, Zach Stratton is pictured walking with his Lab Rugger against the backdrop of a feathery blue sky.
"This was our second hunt together. I met him last year. It was closing weekend, and there was this big levee filled with a bunch of bushes and cover, so when he and his dog walked to retrieve and when he was coming back, I was perfectly positioned for this shot that was framed with him walking with his head down, and his pup was looking right at me," Cam explained. "I really liked that because when I was editing it through Lightroom, I just felt like it had the least amount of work I needed to do. It was, 'Wow, this came out perfect.' I just [tweaked] a few things.
"I feel like every photographer's job is to try to get a picture that speaks to their viewers, and I felt like this had more of a message than just another picture of somebody hunting," Cam added.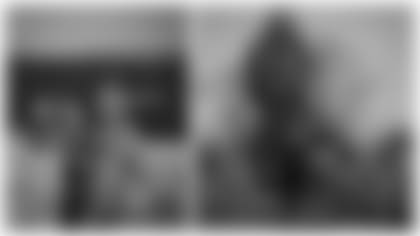 Another photo captures Cam's first hunt in Missouri.
He first met Clint Mann, kennel manager and lead trainer at Habitat Flats Kennels, when Cam brought his own black Lab, Melly, for extra coaching. After dropping Melly off, Cam received a spur-of-the-moment invite to join Clint on a hunt the following morning.
Seemed like a no-brainer for Cam.
"He knew nothing about me and photography, and it was actually, I don't know what it was, but the lighting that whole day was perfect," Cam said. "I got this one of him walking back after he shot … we shoot a lot of bull sprig in California but not so much, really, anywhere else. So when he shot this bull sprig and he sent his dog Gus on a really long retrieve, and he was just really fired up because he came back with it.
"He was walking back and just had a huge smile on his face," continued Cam. "I just feel like [the photo caption, "Flooded corn is a duck hunter's happy place,"] speaks to people who have hunted in flooded corn and just the atmosphere and the vibe – it's just such a great time."
Cam's passion for the craft has caught the eye of Vikings team photographer Andy Kenutis, who called it "exciting" to see the linebacker's growing creative eye.
"Hearing the story of his photo of Clint was very inspiring. I feel the best photos make themselves, and the experience he describes proves that," Andy said. "He was present in the moment and took the opportunity to spend time with someone he just met.
"I think this experience describes exactly what I love about photography. Allowing yourself to be present in the moment and capturing what presents itself," Andy added. "I think both photos tell a story through the emotion and facial expressions and body language. I look forward to following more of Cam's work and seeing him continue to share stories through his photography."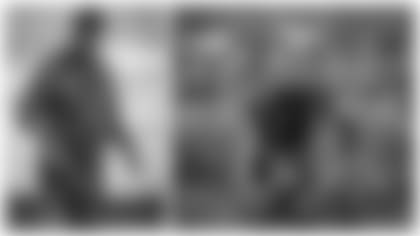 This past Saturday, Cam amazingly returned to the football field after undergoing open-heart surgery a year ago. He had accomplished his goal of making it back and feeling the emotions. Unfortunately, he suffered a concussion.
Knowing he had what it took to make it all the way back, Cam has now made the decision to step into retirement, he doesn't take anything for granted.
He's grateful he had the opportunity to put on pads, lace up his cleats and play five games in 2019. He'll forever be appreciative of the roar of more than 66,000 fans at U.S. Bank Stadium and the swelling rhythm of the SKOL Chant before a 2020 season played in front of empty seats..
And although it certainly wasn't easy undergoing major surgery that ultimately re-routed his football career, Cam is thankful for the opportunities that presented as he recovered.
"I actually hunted more than I ever have in my life this past year because of my surgery. As soon as I could shoot a gun again, I was shooting all through January and February, and then I would go and find different spots to take pictures like twice a week during the season," Cam said.
Time behind the viewfinder has provided Cam with a new perspective.
"Photography is something where I'll go sit in freezing-cold water and not even pull the trigger on a gun," Cam said. "But I'll just squeeze that shutter button and flick away at all my friends, all my buddies and those special moments.
"It's kind of taken off, and I've had some fun with it, and I look forward to doing more," he added.